CXO Hits Big Silver and Finds New Copper Targets
PUBLISHED: 07-07-2014 11:33 a.m.
One of our favourite microcap copper explorers with a silver lining just keeps on going... In Core Exploration's (ASX:CXO) tiny sub $5M market cap comes a steady pipeline of drilling events in the Northern Territory over the coming months. CXO have been busy scouring their 100% owned Albarta Project lately, undertaking quality, methodical exploration. It seems to be working – from their recently completed maiden drilling program, 16 out of 17 drill holes hit anomalous silver levels – that's greater than 10 g/t silver. The drill program uncovered 2 high grade prospects that appear to be part of the same big system... Further drilling this quarter should uncover more details. In addition to the drill results, CXO identified anther two copper prospects which will be explored in greater detail shortly. The beauty of CXO is that housed in their tiny market cap sit about 20 other prospects with potential for copper... or silver... or nickel... or rare earth elements... These have all been identified on the huge underexplored wilderness that is CXO's Albarta Project. The action doesn't let up in CXO as they turn to their next drilling campaign this quarter...

CXO are a fast moving company, with a steady stream of drill targets lined up over the coming months – due to CXO's tiny market cap, the company is leveraged to big results. We are keeping a close eye on them. This article will elaborate upon CXO's initial silver drilling results from the Blueys and Inkheart Prospects with its Albarta Project in the Northern Territory. CXO has also unveiled a couple of new copper prospects in the Albarta Project. CXO have 100% ownership of 20 tenements comprising 2,000 km 2 – a sprawling copper and IOCG exploration hotspot: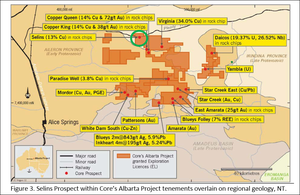 As promised, CXO have been drilling at the Blueys and Inkheart prospects, below 4kg silver per tonne rock chips and super high silver in soil anomalism. You can see Blueys and Inkheart to the south in the above map. In addition to the drill results, CXO released further information on work to date on the Selins and Virginia copper prospects. With a pipeline of drilling to come, CXO investors have plenty to look forward to. As explained in our original article, CXO has some of the best mineral exploration ground in the country: BHP Circling... Micro Cap Neighbour to Drill Mammoth Targets And with frequent "price sensitive" drilling and exploration updates, there has rarely been a dull moment for CXO investors, The Next Small Cap took you through the recent drilling events in these articles:
Let's reacquaint ourselves with all the latest at CXO.
Drilling Intercepts 1kg per tonne Silver plus 8% Lead
CXO recently completed its much awaited maiden drilling at the Blueys and Inkheart Prospects, and the results were promising. It seems both Prospects are part of the same big system.

Amongst other high grade hits, CXO delivered results of 1 metre at 1,070g/t silver with 8% lead at Blueys. Other results included 2 metres at 843g/t silver with and 5.9% lead within in a broader halo of 17 metres at 116g/t silver and 0.83% lead. The first ever drilling at Inkheart hit a 4 metre grading 195g/t silver, 5.24% lead and 2.49% zinc, and this hit included 1 metre at 354 g/t silver & 17% combined lead and zinc. CXO has only drilled one traverse at Inkheart so far and hit high grade – CXO now has over 2,000m of high grade target to test in the next drilling program.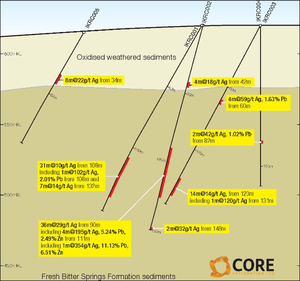 And the high grade mineralisation was intersected in structurally controlled veins surrounded by a broad envelope of metallic anomalism. 16 out of CXO's 17 drill holes hit anomalous silver levels of greater than 10g/t... You can see all the significant assays in the image below: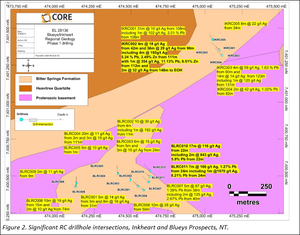 These assays, together with downhole geology, have confirmed that mineralisation at the Blueys and Inkheart Prospects are part of the same big mineralising system. This opens up tenement-wide potential for the discovery of economic base-metal deposits. These new results validate CXO's belief that Blueys geology could pan out to be an entirely new silver-lead-zinc province. Approvals for follow-up drilling have already been submitted by CXO to further investigate this potentially company-making silver-lead-zinc deposit. Drilling is planned to start again as early as September... CXO is planning over 3000 metres of reverse circulation... as you can see below the next round of drilling is quite comprehensive: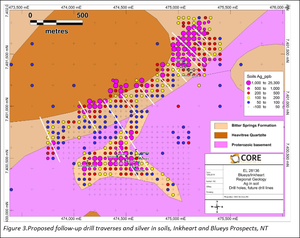 So it's not long before we find out just how big a deal Inkheart and Blueys really are.
Our Track Record
Regular readers of our sites will be familiar with our long-standing interest in high potential stocks. To note just a few:
Following the Next Oil Rush article on ASX:TPT – Drilling Just Weeks Away for Tiny Explorer Targeting 1.6 Billion Barrels of Oil
– TPT's share price has risen as high as 80%.
After the Next Mining Boom covered ASX:SGQ in the article BHP Gives Away Potential Global Scale Nickel Project – its share price has risen as high as 70%.
Since the Next Small Cap article Sirius went from 5c to $5... New Upstart Explorer Has More Land, More Drilling Targets on ASX:SEG, its share price has risen as high as 100%.
After the Next Small Cap covered ASX:NML in the article Tiny ASX Company in Race to Discover the 'Australian Andes' , its share price has risen as high as 100%.
The past performance of these products are not and should not be taken as an indication of future performance. Caution should be exercised in assessing past performance. These products, like all other financial products, are subject to market forces and unpredictable events that may adversely affect future performance.
More High Grade Copper for CXO at Virginia?
CXO's recent IP survey identified some very interesting chargeable drill targets , down dip from surface copper mineralisation at the Virginia Prospect: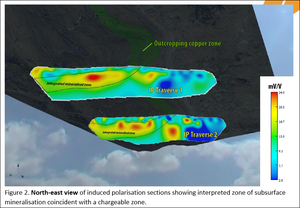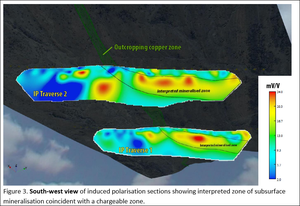 You can see that large zones of copper surface outcrops coincide with the red and yellow chargeability anomalies. CXO also assayed 75 rock-chips which averaged 2.4% copper, and up to a whopping 34% within a copper horizon over 1km in length. And the subsurface copper drill targets are shallow, generally less than 100 metres below surface. Geophysics or drilling have never been conducted at Virginia before... So it's not surprising that CXO has immediately got to work on drilling approvals. The aim is to enable drilling of these compelling new copper targets this quarter.
CXO Uncovers Yet Another Vast Copper Trend
CXO has discovered yet another potential copper region at Selins, within the sprawling Albarta project group. Copper occurrences have been identified along a new 5 kilometre trend...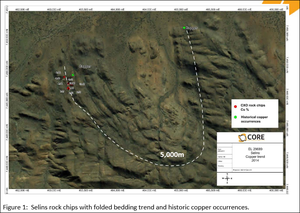 There are now almost too many copper anomalies at Albarta to poke a drill at! Seriously, look at them all! Selins is circled in green: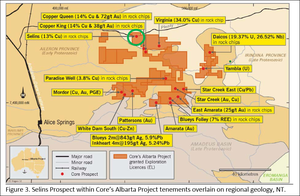 Mapping and rock chip sampling retuned assays up to 13% copper and follow-up geochemistry has been prioritised to refine drilling targets. Judging by the appearance and size of historical workings at Selins as shown below...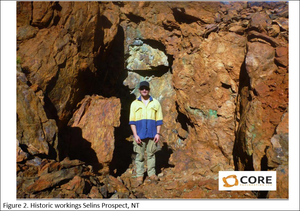 We are hoping that drilling can have a reasonable shot at hitting copper on a large scale!
Shaping Up for Another Big Financial Year
CXO has just capped off a milestone year with the high grade silver-lead-zinc discoveries at Blueys and Inkheart. But the CXO story is still in its infancy... With more silver-lead-zinc drilling shortly, and multiple copper drilling campaigns in the pipeline, CXO may be building towards something substantial. All this is just from its Northern Territory projects... Let's not forget about CXO's prime IOCG land wedged in between BHP, OZL, and the Woomera Prohibited Area in South Australia... CXO has also demonstrated the crucial ability to raise funds on attractive terms and deliver exploration outcomes on time and on budget. Still capitalised at well under $5 million, CXO still has significant upside growth potential...
---