CXO Drilling Now in Australia's New Exploration Province
PUBLISHED: 19-09-2014 17:00 p.m.
Core Exploration (ASX:CXO) is gearing up for multiple drilling programs over the coming months across their NT tenement package. CXO are exploring for copper and other valuable minerals in the Australian outback, have recently raised $1M, and are now well funded for the current drilling program. Drilling is happening right now at their Bluey's and Inkheart Prospects – CXO is chasing an extension to the high grade silver, lead and zinc mineralisation it has already found. Capped at just $9M, CXO appear leveraged to success – but as with the case with all small explorers, they do remain a speculative investment. Once that drilling has taken place, further drilling programs will kick off at the Virginia and Copper Queen Prospects – both of which have strong IP targets with 1-5% copper at surface and 34.0% in rock chips. The other big news relating to CXO is a recent discovery made by KGL Resources Ltd, on ground surrounded by CXO. CXO's tenements are just 500m from KGL Resources Bellbird discovery. CXO are creating an expanding pipeline of drill targets in a highly prospective region, and aim to test them one by one in the coming months.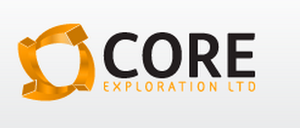 CXO has been seriously busy in 2014. We kicked off our coverage back in February 2014 . After that it was all acceleration as CXO moved forward with their exploration, you can follow their progression in these articles: CXO Drilling Directly Below 4 KG/t Silver at Surface... In Just a Few Weeks CXO Drill Bit Now Probing for Silver... Results in Weeks CXO Hits Big Silver and Finds New Copper Targets CXO has been up as high as 125% since we first covered it: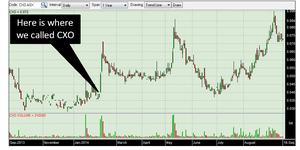 The past performance of this product is not and should not be taken as an indication of future performance. Caution should be exercised in assessing past performance. This product, like all other financial products, is subject to market forces and unpredictable events that may adversely affect future performance. CXO have just kicked off another round of drilling at their Inkheart and Blueys Prospects:

Even though it's highly leveraged to success, CXO needs to top up the tank every now and again to keep the show on the road. The main thing is to keep the drill bits turning at the Albarta Project in the Northern Territory. Now that CXO have accumulated a series of drill targets, they have raised $1M to fund this drilling, backed overwhelmingly by sophisticated and professional investors :

CXO had firm commitments for 18,181,818 new shares at an issue price of 5.5 cents per share to raise $1M – this was a premium to the 15 day VWAP at the time... It seems some heavy hitters are interested in what CXO are up to in the Outback...
Multiple prospects, 100% owned
CXO has 100% ownership (subject to ministerial approval) of 20 tenements totalling 2,000km 2 of land right in the middle of a sprawling copper and IOGC exploration hotspot: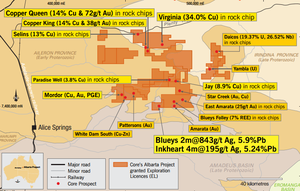 The last time we looked at the company's work in the article CXO Hits Big Silver: Finds New Copper Targets it has just undertaken their maiden drilling campaign and uncovered some very promising clues. High-grade silver was found along with lead at the Blueys prospects and silver mineralisation at the nearby Inkheart prospect (you can see both in the bottom box that's indicated in the map above). 16 out of 17 drill holes hit anomalous silver – that's greater than 10 g/tonne silver. Here are the discovery drill intersections:

Here's the cross section from Inkheart showing how rich the grade is: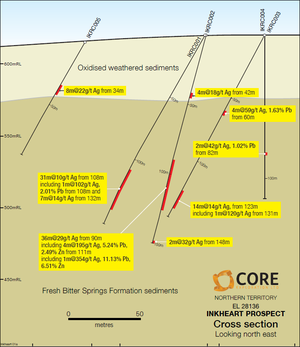 Now CXO is drilling again at these prospects... armed with the knowledge of the previous campaign, we are hoping for some strong follow up results. Drilling will be completed in 2 to 3 weeks, and assay results are expected shortly after that.
Our Track Record
Regular readers of our sites will be familiar with our long-standing interest in high potential stocks. To note just a few:
Since the Next Small Cap article on Segue Resources (ASX:SEG), Sirius went from 5c to $5... New Upstart Explorer Has More Land, More Drilling Targets , SEG has been up as high as 200%.
Following the Next Mining Boom article on Apollo Minerals (ASX:AON), Drilling Results in Days: Billionaire Backer Hunting Mammoth IOCG Deposits with Tiny Explorer , AON has risen as high as 90% since.
After we released the Next Mining Boom article on NSL Consolidated (ASX:NSL), Tiny Miner's First Sales Days Away: Stockpiles Waiting to Be Processed, Delivering Instant Cash Flow , NSL has risen as high as 80%.
Following the Next Oil Rush article on Austin Exploration (ASX:AKK), $20M to $5.6BN: Can He Do It Again? Multiple Catalysts In Weeks , AKK has risen as high as 130% since.
The past performance of these products are not and should not be taken as an indication of future performance. Caution should be exercised in assessing past performance. These products, like all other financial products, are subject to market forces and unpredictable events that may adversely affect future performance.
Drilling happening now
Inkheart and Blueys are both are being hit with a drill bit right now:

The objective of the program is to extend mapping of the high grade silver, lead and zinc mineralisation that has been identified at surface and intersected by drilling at depth. Here is a photo of drilling from the previous campaign: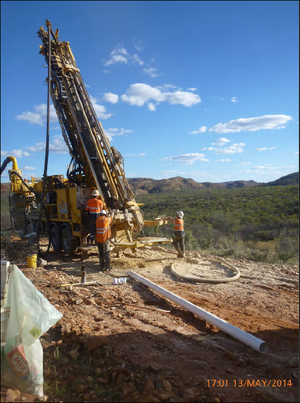 CXO has planned a 2,500m RC (reverse circulation) drilling program for both prospects and the whole thing is anticipated to take three weeks to complete. Investors could see assays from the drilling a few weeks later. So drilling now, results soon. Inkheart and Blueys are very close together, have excellent geology and a raft of promising drill results. Now the goal is to firm those figures up and get more of an idea of what's in the ground as well as find more high grade mineralisation in the primary/sulphide zone in both deeper and shallower parts of the system.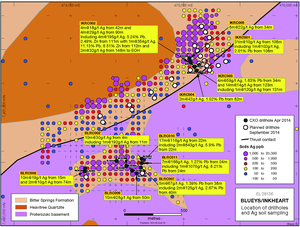 CXO is calling this the "focussed discovery phase" of its operation at Blueys and Inkheart. It's done all of the preparation, proven that the ground is worth investigating, and put all of the elements into place. Hopefully this drilling can lead to something substantial... But if not, CXO has 20 tenements in the Northern Territory and the Blueys & Inkheart Prospects are just the beginning...
Virginia and Copper Queen drilling next
CXO is going to be drilling for copper at its Virginia and Copper Queen prospects after they are done at the Blueys and Inkheart Prospects:

At the Virginia Prospect CXO will be drilling under 1-5% copper (up to 34%) zone at the surface identified over 1km of strike with strong IP targets as shown below.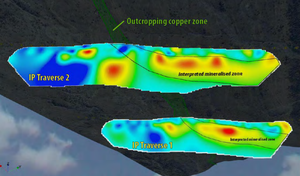 Over at Copper Queen it's a similar story – promising 20% copper and 72g/t gold samples have been detected at surface. Go deeper at Copper Queen with IP chargeability surveys and it looks like this: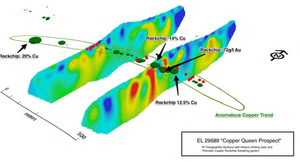 All of CXO's exploration work at Copper Queen has unearthed: • Up to 20% copper and 72g/t gold rock chips • 31 samples exceeding 5% copper • 132 samples exceeding 1% copper and averaging 2.0g/t gold Now, it's drilling time. We expect drilling to start after the current Blueys and Inkheart campaigns, especially now CXO is all cashed up and ready to go. And there's more:
CXO surround KGL Resources
So this just happened to KGL Resources: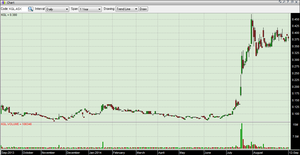 The past performance of this product is not and should not be taken as an indication of future performance. Caution should be exercised in assessing past performance. This product, like all other financial products, is subject to market forces and unpredictable events that may adversely affect future performance. Why? Recent drilling by KGL Resources Ltd in the centre of the Jervois Domain reported several new, very high-grade discoveries and drill intersections and now a large 25.3 million tonne Resource grading at 1.1% copper and 22g/t silver. Both CXO and KGL Resources are working here – it's in the highly prospective Jervois region, 200km north east of Alice Springs, NT. KGL's Bellbird drill intersection of 13m @5.75% Cu, 23.2g/t Ag, 0.32g/t Au from 20m(Hole JOC090) is right next door to CXO's adjacent EL 29581 – barely 500m away . Now, CXO has just announced it's defined a large prospective zone at Jervois Domain and is planning Airborne electromagnetic (AEM) surveys to define drill targets within a 20km zone, with similar structural and magnetic features to KGL Resources' Jervois prospects. CXO's four 100% owned tenements at Jervois Domain cover 280km2 and are marked by the blue and white lines in the map below which surround KGL Resources' tenement – marked by the green and white lines: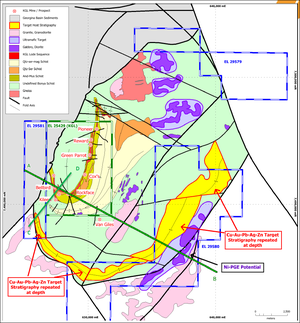 What we're interested in is the big yellow j-shaped curve in the picture above. That's a band of potential mineralisation that cuts through two of CXO's tenements. A similar magnetic band was explored by KGL Resources at its Bellbird prospect. So the question is, can CXO work up something similar or even better?

If CXO's exploration model in the Jervois region is correct, the mineralised host stratigraphy is repeated under shallow cover on the eastern side of the Jervois Domain and runs through its tenements. But the only way to find out is to explore more and drill. KGL Resources can attribute part of their success by using electromagnetics (EM) on their ground to map mineralised conductors. CXO is following KGL Resources lead and proposing an AEM survey has the potential to map and model 3D conductors to 300-400m depth. CXO is kicking off with soil surveys and reconnaissance mapping which will be followed by AEM surveys – preliminary results are expected in the coming weeks.
New prospect for CXO – More surface outcroppings of mineralisation
CXO's Albarta Project is rather large – 20 tenements covering 2,000km2 of land right in the middle of Australia's new exploration hotspot. The top four so far are the Blueys Prospect, Inkheart, Copper Queen and Virginia, where strong mineralisation has been detected and is about to be drilled. Well, there's now another one to add to the list – The Jay Prospect.

Mapping and rock chip sampling has found outcrop grading of up to 8.9% copper at the newly identified Jay prospect, 100km north-east of Alice Springs in the NT. CXO's geologists were following up on a copper in soil anomaly overlying a 2km long J-shaped magnetic feature in the Greater Paradise Well area, when they stumbled across this: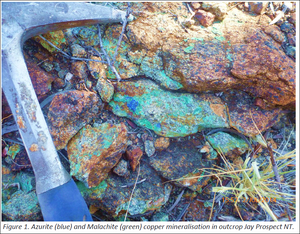 That's malachite and azurite (copper minerals) replacing primary sulphides at the northern end of the copper in soil target... it could be the start of something much more here. This find adds to the already gushing pipeline of potential drill targets that CXO is pursuing at its Albarta Project. There are already three drilling programs planned at Blueys; Inkheart and Virginia and Copper Queen and over coming the months who knows – maybe Jay will get added to the list?
Next in the pipeline for CXO
It's all about drilling for CXO right now – and into the future. At the Blueys and Inkheart Prospect in the Northern Territory drill rigs are turning the earth and we could have initial results very soon. Both prospects have been well mapped and drilled so far with loads of targets and promising leads – could we see a discovery to rival KGL Resources soon? Only time and lots of drilling will tell. It's the same story up at the Virginia and Copper Queen, prospects that are part of CXO's 20 tenements in the Albarta region. Both have good targets developed by CXO and we're keen to see what the drill bits turn up. Jervois Domain is the wild card – the one that's been very quietly developed while the other prospects get all the headlines. KGL is operating in the same area and just had a huge re-rate on the back of some very positive drill results. If CXO finds something similar in its exploration programme just a stone's throw from KGL Resources' discovery, CXO investors could be in for a ride... Drill CXO, drill!
---