CXO Drilling Directly Below 4 KG/t Silver at Surface… In Just a Few Weeks
PUBLISHED: 19-03-2014 13:10 p.m.
It's been a month or so since we first brought you the news on Core Exploration (ASX:CXO). CXO have since revealed they are gearing up for a significant milestone – drilling underneath those rock chip assays of 4 KG per tonne silver, 10% copper and 25% lead at their Blueys prospect next month... The projects are now 100% owned , and CXO is fully funded to drill.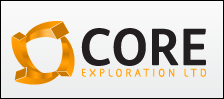 Blueys is just one of their super-high grade mineral targets within its sprawling Albarta project in the Northern Territory. And Albarta is just one of their sprawling projects within a portfolio of enviable multi-metal exploration and development assets... Don't forget about their IOCG tenements in OZ Mineral's backyard, and on BHP's doorstep. CXO has been up as high as 80% following our initial coverage and has now consolidated around 30% higher. CXO is still only capped at $4.8 million .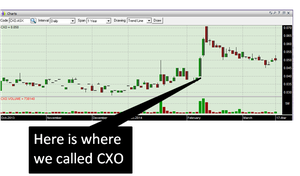 The past performance of this product is not and should not be taken as an indication of future performance. Caution should be exercised in assessing past performance. This product, like all other financial products, is subject to market forces and unpredictable events that may adversely affect future performance.
Our Track Record
Regular readers of our sites will be familiar with our long-standing interest in reporting on high potential stocks that we uncover. In addition to CXO, to note just a few:
– TRF has risen as high as 110%
And who could forget our tip of the decade, TSX:AOI, which has since a rise as high as 600% (!) since we called it in the report East African Oil – Hot Tip of the Decade!
It's happening – deep drilling at Blueys
The rigs are due to start turning in April... not long to wait at all for this 2,000m campaign to get started. CXO's biggest chargeable IP targets appear to be at 75 to 150m depth, and directly below the silver soil anomalism and mineralised rocks at surface. All signs are pointing to the source of the 4.5 kg silver, 10% copper and 25% lead sitting right underneath. Discovery of a big silver-copper-lead system would make us very happy campers indeed. Drilling has never been conducted to these depths at Blueys ... previous drilling only went down to 52m, at its deepest. And, the minerals at surface are within carbonate... this is important as carbonate-hosted silver deposits are generally large AND high grade. We are pretty easy going guys, and we don't mean to sound bossy, but we insist that you watch the 3D Fly-through video of CXO's upcoming drilling below, with special commentary from the MD, Stephen Biggins: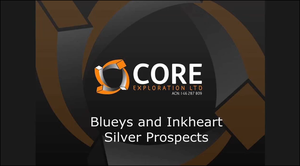 The map below is a great illustration of CXO's 100% owned Albarta projects. Blueys is highlighted in blue, and is obviously the main focus right now. But look at the surface assays from the Copper Queen, and Virginia prospects... 72 g/t gold and 34% copper , amongst others... not a bad little back-up!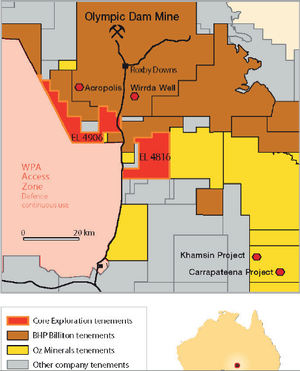 CXO deliberately secured 100% control of Albarta before drilling
CXO has very intentionally secured full ownership of all of its Albarta tenements, including Blueys (they were previously under joint venture). Why before drilling? Maybe because they are confident of a shiny, high grade discovery, and want it all to themselves. If they waited until after a potential discovery, the asking price might be a lot higher. CXO shareholders now have complete, 100% upside to the drilling programs at Albarta.
CXO are fully funded for this deep exploration campaign
CXO has just banked $1.25 million, thrown at them by sophisticated investors and existing shareholders for new shares at 5c apiece. They have very important plans for that cash – deeper drilling of ultra-high grade silver and copper targets at Blueys in the NT... Grades of 4 KG per tonne silver, 25% lead and 10% copper at surface... with that surface to be pierced in the next few weeks. CXO will also be refining drill targets at the Copper Royals and Virginia Prospects to unveil the geology that underlies those rock chips of 34% copper and 72 g/t gold... Plenty to look forward to in the coming months.
New Copper Prospects
CXO just announced yet another batch of potential discoveries in the Albarta Project. Paradise Well is another of the swathe of tenements, this particular one is 100% owned by CXO. There are now a total of 4 copper prospects within the greater Paradise Well area:

These prospects where identified following successful mapping, rock chip sampling, and soil sampling campaigns, you can clearly see the copper in these rock chips:

Near BHP's Olympic Dam, CXO has more assets
CXO's Roxby Downs covers 400km2, and is the single closest neighbour to BHP's big new discovery at Wirrda Well, majors included . A recent geophysical survey covered CXO's tenement – the new survey along with old WMC surveys identified multiple, high priority IOCG drill targets .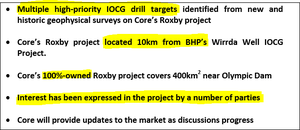 Targets so compelling, that CXO has already been approached by a number of Australian and international companies looking for exposure to the potential deposit. CXO is also the only listed microcap explorer in between BHP's Olympic Dam and the Woomera Protected Area. Check it out... everything brown is BHP, the yellow is OZL, and the red is CXO :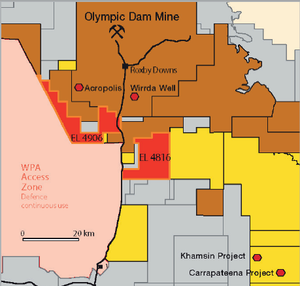 Where is CXO headed, short term?
Nothing is certain in the digging game of course, but CXO are buried in evidence pointing toward a valuable deposit beneath their sky high grades of silver, lead and copper at surface. Possible near term catalysts, besides the drilling at Blueys, include:
Drilling at the equally impressive Copper Royals and Virginia prospects;
Farm-out or sale negotiations with suitors for Roxby, and;
Interest from any of the numerous mining giants in the area.
Remember, that at just $4.8 million, CXO has the smallest market cap of any listed company with ground so close to Olympic Dam... CXO's drilling at Blueys is going to be one to watch – and in just a few short weeks the window for results will open.
---