Countdown to Gold Production: Locals Green Light RMX's High Grade Mine
PUBLISHED: 02-06-2015 10:14 a.m.
It helps to have friends in high places – but for Red Mountain Mining Ltd (ASX:RMX) it all starts locally.
The company has just secured the full support of the Lobo Municipal Government – the local power – for its Batangas Gold Project in the Philippines.
This crucial step comes as RMX finalises its Definitive Feasibility Study and enters the final round of approvals to get the project underway.
With total local support, RMX has established a solid foundation to enter high-grade gold production in the near term and establish itself as a premiere gold, silver and potentially copper miner far into the future.
Early cash flow is on the horizon for RMX, as soon as this year, with plans for early mining well advanced at its indicated and inferred 82,000oz Lobo deposits, including the South West Breccia (SWB) lode's outcrops of high-grade gold at the surface.
RMX wants to mine this high grade surface material first and generate quick cash flow to unlock the rest of Lobo via on site processing, and then mine a second, bigger resource it has next door – the 363,000oz Kay Tanda deposit on the Archangel MPSA.
The company has just found a 50m extension to the high-grade gold strike zone at the SWB, and there could be more gold showing soon through its drilling.
Plus its project partner has just chipped in another US$220,000 to fast track the DFS and permitting for the processing project.
RMX's plans are coming together, and coming together quickly.
In the coming weeks and months RMX should see permits signed, the DFS done and larger resources confirmed – all geared toward early mining and imminent cash flow...

The Next Small Cap first covered RMX in March 2015 with the article Tiny $3M ASX Gold Miner Set for Near Term High Grade Production .
That article gives you all the vital information about RMX's Batangas Gold Project , which sits on the tip of the main island of the Philippines – Luzon – about 120km south of the capital Manila.
The project has a 444,000oz JORC 2012 indicated and inferred resource in place split between two granted mining permit areas – Lobo MPSA and Archangel MPSA: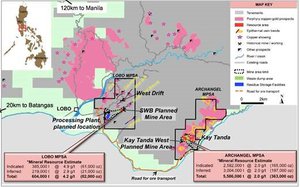 Lobo features an 82,000oz indicated and inferred (604,000t @ 4.2g/t) which also includes the South West Breccia (SWB) lode, which has an average open pit mining grade 6.8g/t and is where RMX is aiming to enter early production.
Then there's the Archangel area, which currently holds 363,000oz (5,586,000 @ 2.0g/t) and will be mined from year three of the project, once RMX gets the SWB and Lobo mines firing on all cylinders.
The big plan for RMX is to mine 100,000oz of high grade gold over the initial five years at Batangas, and use the cash flow to fund expansion and exploration.
To get things started, RMX is targeting early mining at the SWB, which we covered in the article High Grade Surface Gold Mining Imminent for RMX .
RMX has just taken some significant steps to getting that early mining underway, indeed to jumpstart the whole Batangas Project. In this article we're going to run you through all the latest developments, starting locally...
Yes we can – all local leaders back RMX
RMX's Batangas Gold Project has just been fully endorsed by the Lobo Municipal Council, the big local power in the project area:

Back in January 2015, RMX was fully endorsed by all ten Barungay (township) councils. The final local sign off, however, was in the hands of the Lobo Municipal Government Council, which has now fully endorsed RMX's gold project.
RMX has been working hard behind the scenes to support the local community and maintain what it calls its social and environmental 'license to operate' among the communities that surround its operations in the Philippines.
RMX currently employs 54 Filipino employees, including 32 from the local Batangas-Lobo area, and many are involved in social, community development and environmental programs.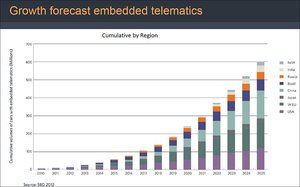 And of course, when the Batangas Gold Project is up and running, many more locals will be employed by RMX.
So winning local municipal approval is a big step for RMX – without strong local support, the Batangas Gold project would have a hard time progressing through the rigorous approvals processes.
But now that the immediate locals are behind RMX, these upcoming reviews should be a lot easier.
RMX has submitted a new Social Development Management Plan to the Philippines Government for approval, as well as a Batangas Project development plan.
In the coming weeks, the final round of reviews for the Environmental Impact Statement (EIS) and Environmental Compliance Certificate (ECC) will be completed, ahead of the central government's, Environmental Management Bureau's (EMB), final review of the project.
RMX is aiming to have all approvals done and dusted by the third quarter 2015 – and that's only a few weeks away now.
Our Track Record
Regular readers of our sites will be familiar with our long-standing interest in high potential stocks.
To note just a few:
The past performance of these products are not and should not be taken as an indication of future performance. Caution should be exercised in assessing past performance. These products, like all other financial products, are subject to market forces and unpredictable events that may adversely affect future performance.
Trenching extends high grade early mining zone
RMX's immediate goal is to get Batangas into production and create quick cash flow from early mining.
The company is already in discussions with a Shandong, China-based operator interested in purchasing high-grade gold ore concentrate.
Discussions have also commenced with a local small processing plant operator for potential processing trials and toll treatment of material RMX mines first.
The target for this early mining is this:
Source: Red Mountain Mining
The South West Breccia (SWB) lode shown above is part of an Indicated and Inferred resource at Lobo of 604,000t @ 4.2g/t for 82,000oz.
The SWB itself contains 221,000t at 6.3g/t gold – and RMX is planning to mine the SWB first to generate quick cash that can pay for the development of the rest of the Batangas project.
Breccias are high-grade gold bearing rocks that as outcrops, literally stick up from the surface – so mining them first for quick profit is the logical move.
To firm this all up, and potentially make it bigger, RMX has been conducting trench sampling in the targets right along the SWB's 500m of exposed strike length – SWB Extended, Japanese Tunnel, Trench 7 Area and the limestone target.
Initial results from the SWB Extended and limestone target set a strong flow of gold readings supporting the case for an open cut mine there.
And now, RMX has made its early mining zone at the SWB even larger :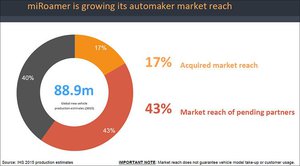 The high grade early mining zone at the SWB could be up to 50m larger after trench sampling by RMX along the strike came up with more strong surface gold readings: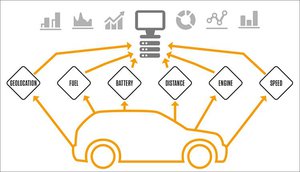 These results further strengthen the case for early mining at the SWB, and RMX is now working to create a new resource model for the area, which could see a significant increase to the overall resource size there.
And who knows, perhaps there's more gold beyond the new 50m extension?
RMX is going to keep hunting with more trenching and drill testing.
This development comes as the Definitive Feasibility Study (DFS) for Batangas comes closer to completion...
Batangas Gold Project DFS almost done
The DFS for RMX's Batangas Gold Project has just entered its final stages with the full results expected between the end of June and early July.
RMX recently released some interim results from the DFS that show Batangas is very much on track to be a low cost, high-grade operation.
The key findings so far are that it should have a mining inventory for 5.2 years of 3 million tonnes @ 3.3g/t Au, 10.3g/t Ag and a production target of 100,000oz Au and 250,000oz Ag from processing of 1.03 million ore tonnes.
Operating costs (excluding taxes, royalties and sustaining capital) are set at US$703/oz Au (A$873/oz Au).
Right now, RMX is focused on process engineering at Batangas to determine the final plant and mine operating costs, as well as designs for the project's wider infrastructure and communications, such as road works.
When the DFS is finalised, RMX will be able to push the Batangas project to the Bankable Feasibility Study (BFS) stage and draw up definitive plans for its mining operation.

More funding secured
To pay for all of this permitting and project analysis, RMX has sewn up US$1M in strategic funding from Bluebird Merchant Ventures Ltd – followed by a further US$4.5M, expected to come following completion of feasibility and permitting, which it will use for further development. That will result in an eventual 50:50 joint venture being formed with Bluebird to develop the project.
RMX has just received an additional US$220,000 , taking the total up to US$500,000 to date. This cash injection will be used to fast track the DFS and final permitting stages as efficiently as possible.
In parallel to the DFS work, RMX has been conducting additional drilling to further define the 'at surface' resources it's going to target for early mining and quick cash flow...
What's next for RMX
In the immediate term, we expect to see a number of important catalysts for RMX hit the markets very soon.
First up, the permitting for the project and the DFS are set for completion next quarter, and these important steps will allow RMX to push the project into production.
We could also see a larger resource at Lobo and the SWB with continued strong high grade surface gold results extending the strike length further.
RMX has financing in place, strong local support, and well-developed resources with a mining plan that's fast coming to fruition.
The coming months will see all of these elements come together and as long term investors, at The Next Small Cap we're pleased to see RMX making such fast progress.
---