Vulcan Energy Resources
(FWB:6KO, ASX:VUL)
Battery Metals - Lithium
| Entry Price $ | Current Price $ | Current Return | Highest Price $ | Highest Return |
| --- | --- | --- | --- | --- |
| $ 0.180 | $ 2.260 | 1156% | $ 2.540 | 1311% |
Overview
Vulcan Energy Resources (FWB:6KO, ASX:VUL) is our top pick of the year for 2020.
Vulcan has developed the world's first and only zero-carbon lithium process and plans to produce battery-grade lithium hydroxide from geothermal brines pumped from wells with a renewable geothermal energy by-product.
VUL also has Europe's largest lithium JORC Resource (13.95Mt contained LCT) at its Zero Carbon LithiumTM Project in Germany — the world's fastest growing lithium market.
The large resource size is significant and provides Vulcan with the opportunity to become a major supplier of lithium chemicals into European Union markets.
Vulcan aims to use its project to produce the lowest CO2-eq. footprint lithium hydroxide for electric vehicles in the world.
Recent Activities by the Company
Appointment of former Tesla director Jochen Rudat to Business Development team.
Taro license grant and increased global Mineral Resource Estimate.
Appointment of lithium industry expert Vincent Pedailles to Business Development team.
Appointment of lithium chemistry expert Dr. Katharina Gerber to the Executive team.
Excellent recoveries of over 90% from lithium extraction test work on Upper Rhine Valley brine.
Securing EU backing support package, and EU-backed investment agreement into the Vulcan Zero Carbon Lithium® project.
$4.8m institutional and ESG investor equity placement.
Agreement to acquire 3D seismic package to accelerate project development.
Commencement of lithium test work for Pre-Feasibility Study.
Completion of positive Scoping Study.
Released updated Indicated and Inferred lithium-brine (Li-brine) Resource Estimations for its Taro License in the Vulcan Zero Carbon LithiumTM Project.
The Taro resource has grown by 60% since VUL released its maiden resource in August.
This higher confidence resource area is now being integrated into VUL's PFS, which is on schedule for completion.

Why we have invested...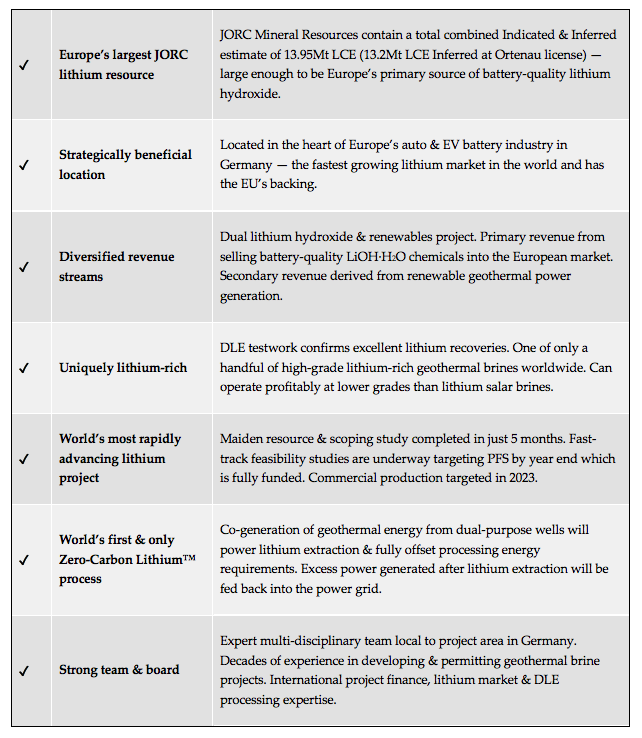 Research Reports
September 29th 2020 -Alster Research: "Path to lithium plant further broadened and bolstered"
June 1st 2020 - WiseOwl Research: "World's First Zero Carbon Lithium Project"
Our Latest Articles on Vulcan Energy Resources