Province Resources Ltd
(ASX:PRL)
Zero Carbon Hydrogen
| Our Entry Price $ | Current Price $ | Current Return | Highest Price $ | Highest Return |
| --- | --- | --- | --- | --- |
| $ 0.023 | $ 0.078 | 239% | $ 0.145 | 530% |
Overview
Province Resources Ltd (ASX: PRL) formerly known as ScandiVanadium (ASX: SVD), has acquired a Zero Carbon Hydrogen project located in the north of Western Australia.
The company will develop the HyEnergy Carnarvon Basin project in the Gascoyne region in Western Australia and is aiming to be Australia's first truly Zero Carbon Hydrogen producer.
PRL is proposing to produce approximately 60,000 tonnes of green "Zero Carbon Hydrogen" or up to approximately 300,000 tonnes of green ammonia using renewable energy.
This is a ground floor entry investment, with significant upside.
Here is why we like PRL
It's early stage, but is the first green Hydrogen project on the ASX.
We believe it's the first "Zero Carbon Hydrogen" project in the world
Green Hydrogen an emerging hot global investment thematic
PRL is brought to you by the same team that pulled together Vulcan's Zero Carbon LithiumTM deal into Koppar Resources in 2019 (before it rebranded to VUL)
The chairman of Vulcan (Gavin Rezos) has invested $450k AND has signed on an advisor to PRL
Vulcan Co-Founder and CEO Francis Wedin has invested in PRL
PRL set to conditionally acquire a private company with applications on 7 licenses in one of the hottest and windiest areas in the world (Northern Western Australia) - huge solar and wind potential
Licenses are near the ocean (for export) and existing pipeline and other key infrastructure
PRL has strong ESG credentials
PRL Developing its project in a high supportive political environment
We think PRL could emulate with Green Hydrogen exports what Woodside Energy did with LNG over the last 40 years - large offtakes to rapidly decarbonising Asia
PRL has $5.2M in the bank, market cap ~$20M
Like Vulcan - Performance shares are in place for the PRL team to deliver (1) a positive scoping study in 18 months, (2) a pre feasibility study in 30 months and finally (3) an offtake agreement\ project sale in 42 months
Why we have invested...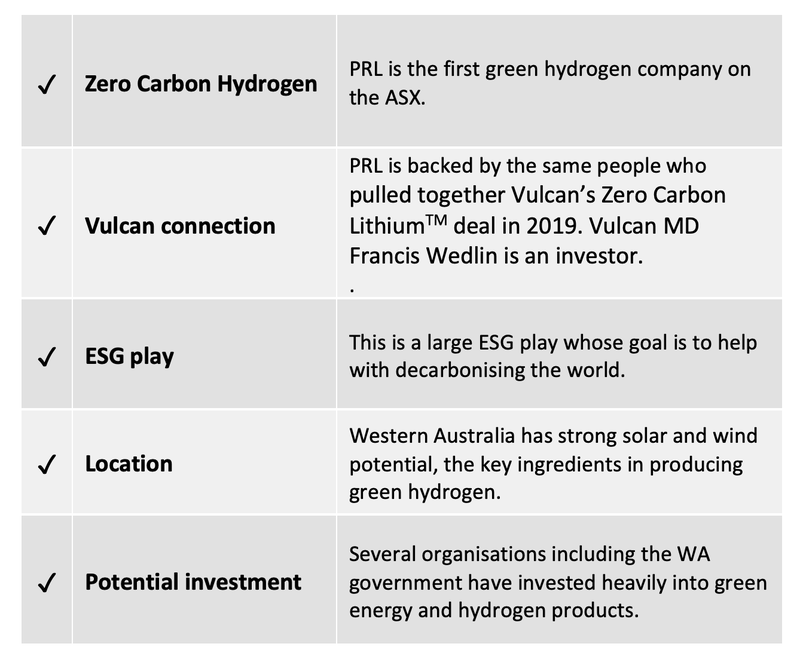 Our Latest Articles on Province Resources Ltd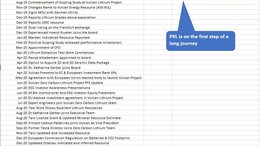 PRL is on the Start of a Long Journey
Feb 21, 2021
PRL announced acquisition of a Zero Carbon Hydrogen project located in the north of Western Australia. Even though PRL's new project is very early stage, the market clearly liked the new Zero Carbon Hydrogen theme, sparking a fast rise in the PRL share price... probably a bit too fast.