Rumble Resources
(ASX:RTR)
Overview
Rumble Resources Limited (ASX:RTR) is an Australian-based mineral exploration and development company established for the purpose of acquiring a portfolio of highly prospective exploration projects or near term development projects in Australia and abroad.
However, in light of the ongoing uncertainty surrounding global commodity markets, and nickel in particular, RTR has implemented a strategy to seek out potential acquisition opportunities to complement RTR's existing projects and activities, as well as opportunities in other sectors with the objective of increasing shareholder value.
The information on this page should not be the only trigger for your investment decision. Click on the links below for a more in-depth and informed examination of the company. We strongly recommend you seek professional financial advice whenever making financial investment decisions.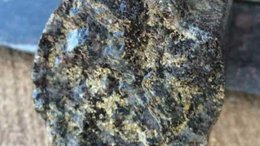 Fraser Range Drilling Update by RTR – Downhole EM Survey Results Imminent
Dec 9, 2014
It took Sirius 17 drill holes to hit a width of nickel in the Fraser Range. On hole 24 they hit the mother lode and discovered the Nova nickel deposit. Rumble Resources Ltd (ASX:RTR) has just reported initial results from its first three drill holes made on their Fraser Range ground, and the results have exceeded expectations.