88 Energy
(ASX:88E, AIM:88E)
Oil Exploration
| Our Entry Price $ | Current Price $ | Current Return | Highest Price $ | Highest Return |
| --- | --- | --- | --- | --- |
| $ 0.006 | $ 0.010 | 67% | $ 0.011 | 83% |
Overview
88 Energy operates the majority of the vast 475,000 acre Project Icewine, targeting oil on the world class North Slope of Alaska. The company's goal is to build a successful exploration and production company that delivers material benefits to its shareholders and contributes to the development of the regions in which it works.
It aims to achieve this by targeting overlooked or emerging play types where its small team of experts can move quickly to capitalise on opportunities prior to larger industry players moving in.
88E has merged with XCD Energy. 88E will continue exploration across both sets of assets, including evaluation of their prospects, strategic relevance, funding requirements and financial performance.
Why we have invested...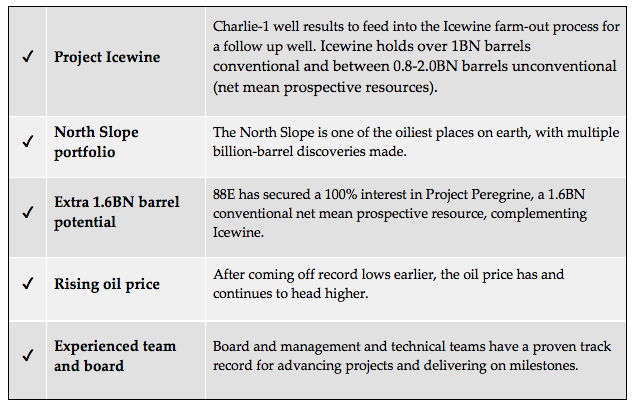 Our Latest Articles on 88 Energy