Cobalt Exploration Underway and Assays Flowing in for CLA
PUBLISHED: 18-01-2018 10:24 a.m.
The Next Small Cap presents this information for the use of readers in their decision to engage with this product. Please be aware that this is a very high-risk product. We stress that this article should only be used as one part of this decision making process. You need to fully inform yourself of all factors and information relating to this product before engaging with it.
Cobalt, lithium and graphite are taking the commodity world by storm. Demand is being driven by the rapid growth in lithium-ion battery powered electric vehicles, smartphones, and other new age technologies.
The commodities most highly leveraged to growth in rechargeable batteries are lithium along with cobalt, while there's also growing demand for copper, nickel, graphite, and some others.
Celsius Resources (ASX:CLA) is now a well established ASX listed company looking to leverage off the lithium ion battery boom. With over 1470 square kilometres in land tenure in the mining friendly African nation of Namibia, the company has logged some early success.
CLA plan to define a large cobalt Resource at its 95%-owned Opuwo Cobalt Project in Namibia as soon as this quarter. It has recently completed a 17,000 metre resource drilling campaign at its Opuwo Cobalt Project, while further drilling, sampling and mapping programmes are due to begin this month.
Drilling assays from the recently completed programme are due to flow in over January and February, from which the maiden JORC-compliant Resource will be reported.
The most recent of those results from four batches of assays demonstrate the highly consistent nature of the expansive mineralised zone at Opuwo and the significantly, deeper mineralisation which has again been confirmed in DOFD0103, this time on the western side of the Project area.
CLA has positioned itself for success as a commercial cobalt producer.
This is still some way down the track and investors should seek professional financial advice if considering this stock for their portfolio.
If CLA can prove up a significant cobalt Resource in coming months, the A$90 million-capped company may not stay a small cap for long.
The company is on track to report its maiden Mineral Resource in February, and report a large number of significant drilling results in its lead up.
CLA's most-recent lab tests demonstrated that it can achieve an 88% cobalt recovery rate in rougher sulphide concentrate through conventional flotation. This is an excellent starting point and means CLA is likely to improve its recovery rate over time and therefore, improve upon the project economics of the Opuwo Cobalt Project.
Catching up with: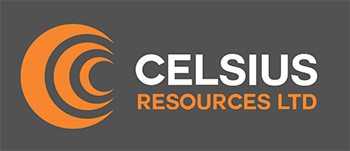 Celsius Resources
ASX:CLA
Celsius Resources (ASX:CLA) entered the battery metals arena at just the right time in early 2017: base and precious metals are in strong demand thanks to growth in energy storage technology and new consumer products that require lithium, cobalt and graphite.
Other metals such as zinc, copper and nickel have also enjoyed the rising tide.
CLA's Opuwo Cobalt Project is CLA's well-advanced flagship project, where the company is aiming to define a long life, reliable source of cobalt.
Since we last updated you on CLA back in early-September with the article, CLA Expands Opuwo Project and Intersects New Mineralised Cobalt Zone , the company has completed its initial resource drilling programme at its Opuwo Cobalt Project, and assay results are now starting to flow in.
Highlights of the latest batch of assays include:
· 6 metres at 0.15% cobalt and 0.51% copper, including 2 metres at 0.25% cobalt and 0.52% copper
· 5 metres at 0.13% cobalt and 0.66% copper, including 2 metres at 0.15% cobalt and 1.11% copper
· 3 metres at 0.21% cobalt and 0.41% copper, including 1 metres at 0.35% cobalt and 0.39% copper
· 5 metres at 0.12% cobalt and 0.56% copper
· 5 metres at 0.12% cobalt and 0.37% copper
· 4 metres at 0.14% cobalt and 0.60% copper
The developments at Opuwo have been celebrated by investors who pushed the company's share price up from 4.9 cents on 5 September 2017 to a peak closing price of 13.5 cents. It went on to trade as high as 15.3 cents — a 150% gain in less than six months and today sits at 11.5 cents.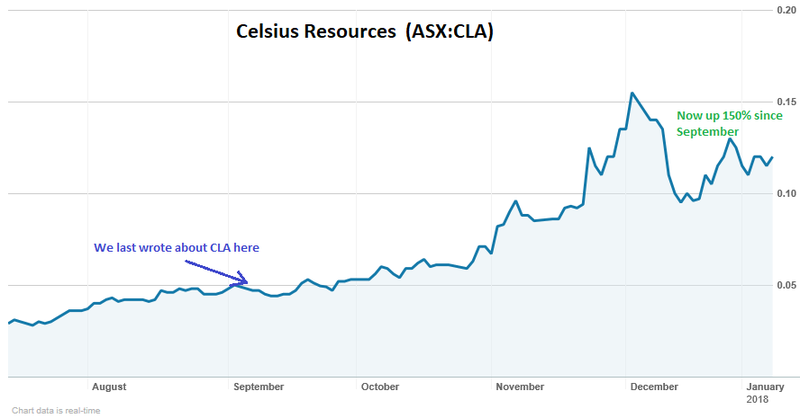 The past performance of this product is not and should not be taken as an indication of future performance. Caution should be exercised in assessing past performance. This product, like all other financial products, is subject to market forces and unpredictable events that may adversely affect future performance.
The Opuwo Cobalt Project
CLA highlights the advantages of its 95% owned Opuwo Cobalt Project as it being large scale, having favourable mineralogy of cobalt and copper sulphide minerals, and being low in deleterious elements: notably arsenic, cadmium and uranium.
As a future potential cobalt mine, the project offers the best exposure to the rechargeable battery and electric vehicle boom of all commodities. On top of that, it is located in a mining friendly, politically stable and safe location with excellent infrastructure.
Namibia has none of the political or sovereign risks associated with cobalt projects in the DRC. When you consider the DRC is subject to headlines such as this...
...Namibia offers an excellent geographic alternative to African mining stocks that reduces investment risk.
Opuwo Cobalt Project consists of four Exclusive Prospecting Licences covering approximately 1470 square kilometres. The project area was increased by 782 square kilometres when CLA acquired new licences from its largest shareholder, Gecko Namibia, in September 2017.
The agreement with Gecko brought CLA's cobalt-copper prospective horizon to over 100 kilometres.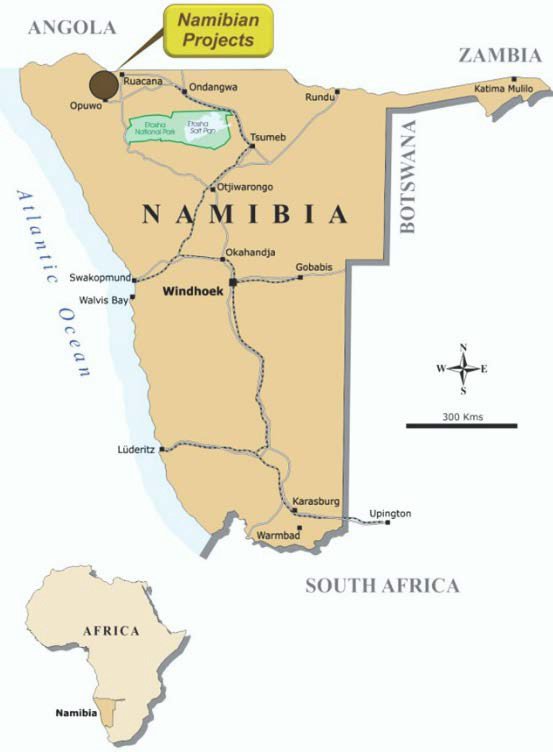 The project is located in north-western Namibia, approximately 800 kilometres from the capital, Windhoek, and 750 kilometres from the port at Walvis Bay. Good quality bitumen roads connect Opuwo to Windhoek and Walvis Bay limiting the required infrastructure-spend.
The Ruacana hydro power station, which supplies the majority of Namibia's power, is located nearby and a 66 kV transmission line passes through the eastern boundary.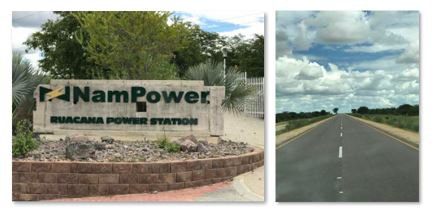 When Opuwo is compared to other cobalt sulphide projects, its cobalt metal content and the grade of cobalt present rates very well...
These cobalt sulphide projects are generally lower cost than other types of cobalt projects including nickel laterite, copper oxide, and nickel sulphide.
Partnership with Gecko Namibia provides institutional funding and an expanded portfolio
Earlier this year, CLA acquired a 30% stake in Opuwo and committed to spending at least $500,000 on exploration within six months. On September 4, CLA announced a deal to increase its stake in conjunction with its joint-venture (JV) partner Gecko Namibia, as well as acquiring new licenses surrounding Opuwo totalling 782 square kilometres.
The deal took CLA's landholding of the expanded Opuwo Project to approximately 1470 square kilometres. The remaining 5% of the project licences will be retained by Amor Investments, a local Namibian Company owned by historically disadvantaged Namibians.
The move to increase its stake from 30% to 95% is a significant milestone for CLA and solidifies its position in the region, as well as entrench the company's goal of commercialising a cobalt project in tandem with a peaking of cobalt demand globally.
It should be noted, however, that CLA remain a speculative stock and investors should take a cautious approach to any investment decision made with regard to this stock.
Importantly for CLA, from an explorative perspective, the newly-acquired licences extend the prospective cobalt and copper stratigraphic horizon to over 100 kilometres.
Resource drilling at Opuwo
CLA kicked off its maiden drill programme in March last year, and has since completed the resource drill programme and identified a significant extension to cobalt mineralisation at Opuwo.
In order to test the potential upside to the depth of the resource, a single diamond drillhole (DOFD0077) was drilled approximately 300 metres north of the resource drilling area. This hole has intersected 4 metres at 0.13% cobalt and 0.40% copper, from 480 metres to 484 metres down hole , consistent with other near surface results in the area.
This aggressive cobalt resource drilling program aims to position CLA to take advantage of the current boom in lithium-ion battery related minerals, and to ensure that the company is well positioned to capitalise on its early-mover advantage in the cobalt space.
Resource drilling hole locations and assay reporting progress :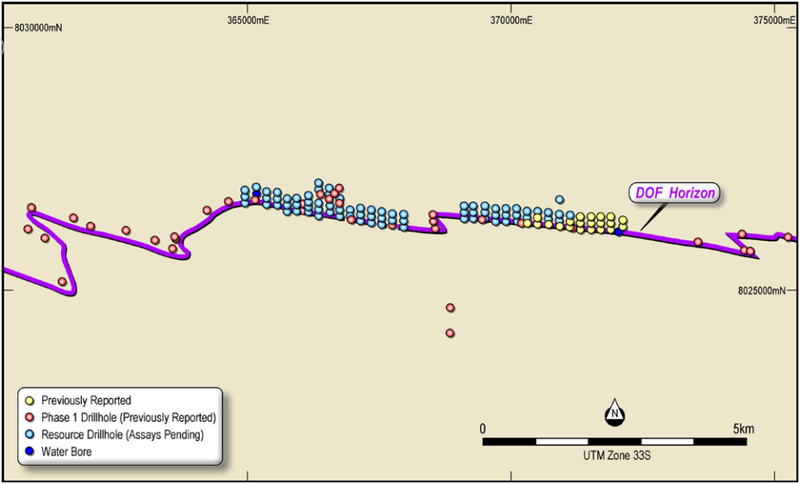 Geophysical surveys
CLA's geophysical contractor will commence downhole electromagnetic (EM) surveys this month, assessing four of the deeper drill holes at Opuwo. The aim of the surveys will be to search for strong conductors in the vicinity of the holes that may represent thicker zones of massive sulphide mineralisation.
A ground audio magnetotelluric (AMT) survey has also been planned, consisting of 12 line kilometres, to test the areas to the north of the DOF outcrop for the presence of deep-seated conductors. There is speculation that this may represent the source of the extensive mineralisation seen at Opuwo. This survey will also be conducted this month.
Exploration going forward
One diamond drill rig will re-commence operation at the project this month. It will aim to extend the resource drilling area to the west, on a nominal 200m x 100m grid. This area has been deemed a priority based on visual observations during the recent resource drilling campaign (though assays are pending).
CLA will drill in the gap between the eastern and western resource drilling areas, on a nominal 200m x 100m grid. It will also conduct further definition drilling in areas where multiple mineralised horizons were identified during the recent resource drilling programme.
Testing of any conductors identified by the geophysical surveys being conducted in January. A sampling and mapping program will be conducted at the DOF North prospects, located on licence EPL 4351, with the aim of further defining drilling targets for testing this year. These can be seen on the map below.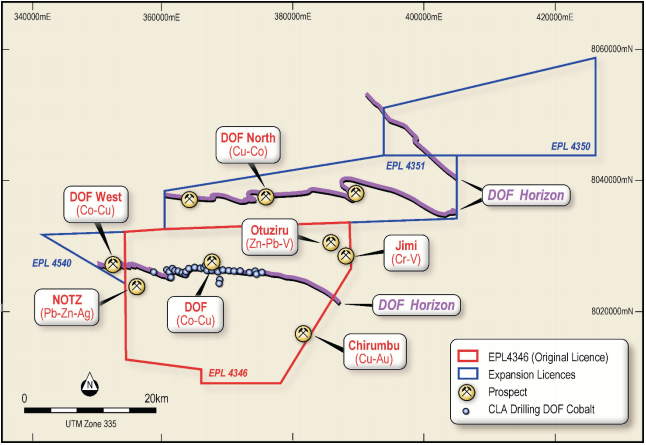 CLA is currently evaluating a combination of open pit and underground mining methods as part of the Scoping Study for Opuwo.
A team of mining engineers from the Freiberg University of Mining and Technology in Germany will be on site at Opuwo in late January to advance the evaluation of underground mining feasibility and costings for the deeper parts of the Opuwo mineralisation.
Cobalt and Copper in a brave new world of energy
Here's a sample of how cobalt has been grabbing the headlines (and investors' antennae) over the past 12 months: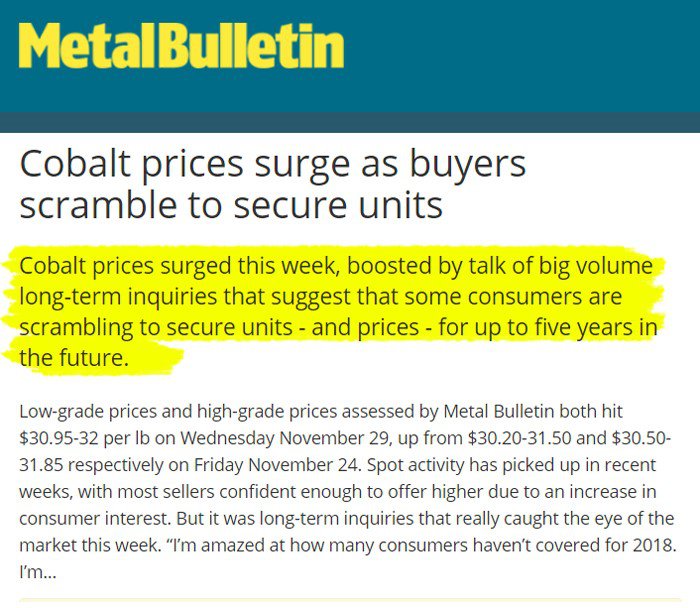 The emergence of high-tech industries related to power storage has most definitely put the cat amongst the pigeons in the world of commodities. Dozens of companies are scampering into the field to discover marketable quantities of elements expected to reshape modern manufacturing and industry.
And it's the early-movers, such as CLA, that could deliver the most outstanding returns, although it's still early days and there is a lot more exploration to do.
Commodities such as cobalt are already benefitting from the ramp-up in lithium-ion battery use. The most influential factor on the expected level of cobalt demand has been electric-vehicles (EVs) which are expected to dominate car sales in all global regions over the coming decade.
Some countries such as France, have even vowed to ban combustion engines in favour of EVs before 2020. Other countries such as the US and China are also rapidly growing their EV industries which is creating a boon for soon-to-be producers such as CLA.
Also note that in 2015, 25% of the global cobalt supply entered the battery market, yet by 2021 this figure is forecast to rise to 50%, or an additional 4000 tonnes. Much of this has to do with a shift by Chinese EV manufacturers towards cobalt based lithium-ion batteries, on top of the overall growth of EVs.
Here are the one year price charts for cobalt and copper on the LME.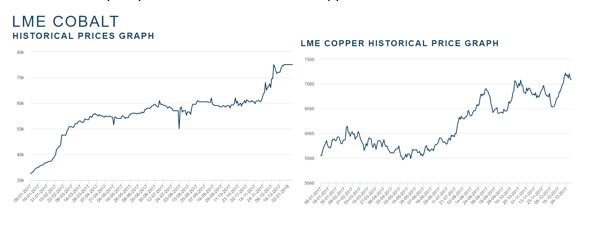 Clearly, cobalt and lithium are back in vogue, alongside several other energy-storage-sensitive commodities such as graphite and rare earths. This is only going to continue as the world move towards 100% electric-powered vehicles — a move that it already well underway.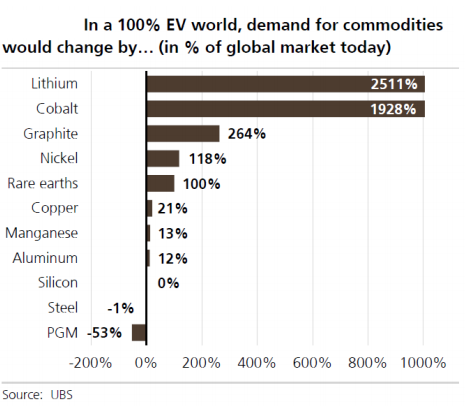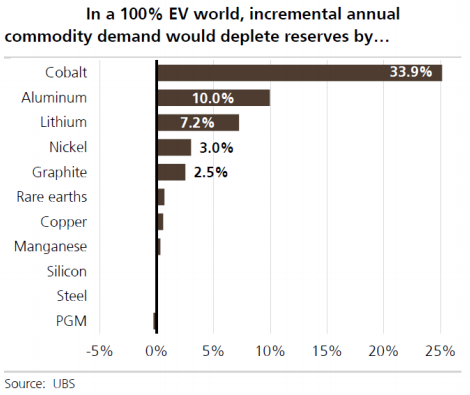 As illustrated in the charts above, cobalt demand will be 1928% of current demand, while cobalt reserves will be depleted by 33.9% annually. The rise of electric vehicles will also have a meaningful impact of copper demand.
Keep in mind though that commodity prices do fluctuate and caution should be applied to any investment decision here and not be based on spot prices alone. Seek professional financial advice before choosing to invest.
Take a look at what Anthony Poole from Platts had to say on cobalt: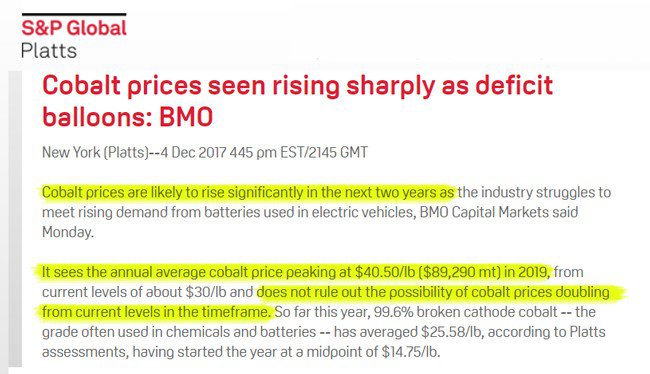 Capital boost received
With respect to keeping its Namibian exploration well-funded, CLA successfully raised approximately $3.94 million in October last year by issuing 72 million shares at an issue price of 5.5 cents per share.
This round of capital raising was heavily oversubscribed and attracted strong interest from a large number of institutional and professional investors. Project vendor and substantial shareholder, Gecko Namibia, used the capital raising to increase its stake in CLA.
The additional $4 million means CLA is now fully-funded through to seeing the results of its Scoping Study and establish a maiden JORC Resource.
Processing ...
Furthermore, CLA may also find additional market traction on the back of what it does with its ore (not just how much ore it digs out).
CLA is optimising its flotation processes at Opuwo, to further improve the rate of recovery and cobalt grade. Leaching test work has now commenced with a view to demonstrating the viability of producing cobalt sulphate from the sulphide concentrates.
The continuing test work is aiming to improve the grade of the concentrate whilst maintaining high recoveries by cleaning and removing minerals such as pyrite and carbonates from the concentrate.
Concurrently, a series of initial leaching tests are underway to determine the feasibility of producing cobalt sulphate chemical from the Opuwo mineral concentrates. Cobalt sulphate is a key precursor chemical for the production of cathode material for the lithium-ion battery industry.
Building up a cobalt Resource in time for new markets
With the upcoming Scoping Study and the recently completed drill programme CLA is taking all the right steps on its path towards becoming a viable cobalt producer.
CLA has a potential large-scale project, hosting favourable mineralogy, all in a mining friendly and proven location. Furthermore, CLA's chosen commodity and market timing are in alignment. Cobalt demand is growing and encouraging increasingly more resource companies to turn their attention to this once overlooked metal. Commodities such as coal, oil and gas are gradually being gazumped from the forefront of energy production and being replaced by tomorrow's crop of energy storage commodities.
Even more encouraging is that CLA's mineral recoveries are impressive — even at this early stage with the company on-site for less than 12 months.
CLA will continue with further drilling, sampling and mapping programmes throughout January. With rising cobalt and copper prices supporting their endeavours, the company's management have confirmed that their primary focus is to 'rapidly advance' the project this year.
---