Cobalt Assays Imminent for RIR
PUBLISHED: 18-05-2017 09:24 a.m.
There are extensive opportunities on offer to get in on the booming rechargeable battery market via investing in lithium and cobalt explorers.
It is no secret to The Next Small Cap readers that these explorers could be the future suppliers of crucial battery materials.
One of these explorers is Riva Resources (ASX:RIR), which could be sitting on a parcel of land in Western Australia poised to recover some of the most significant cobalt grades in the country.
When we last updated you on the company's progress it was gearing up to begin its maiden drill programme at the Tabac Cobalt Gold Project in WA's Northern Goldfields.
This decision had been in large part due to historical drilling at the project, with results including the significant intercept of 80 metres at 0.77% cobalt from 170 metres, with 10 metres at 1.47% cobalt.
These earlier results were so impressive that they caused RIR to shift the bulk of its attention to its cobalt ambitions and conduct follow up drilling.
Which it did, drilling its first hole in quick time.
Assays for this first hole are due imminently.
Early results suggest, RIR is sufficiently encouraged by the geological evidence gathered to expand its drill programme and collar a second hole at Tabac.
Of course it should be noted that RIR is an early stage play and investors should seek professional financial advice if considering this stock for their portfolio.
Following what looks to be a successful initial drill, and a second drill underway, combined with the highly promising historical drilling data, RIR has good reason to be optimistic.
More certainty around the project's potential will be revealed shortly with RIR, and its shareholders, eagerly awaiting initial assay results.
Reconnecting with...

Riva Resources

Small-cap ASX explorer, Riva Resources (ASX:RIR) has a multi-metal portfolio of cobalt, gold, base metal, and iron ore assets across Western Australia. Yet its current focus is squarely on its 100%-owned Tabac Cobalt-Gold Project on the Goldfields Highway, 30 kilometres west of Wiluna in the Northern Goldfields Region of WA.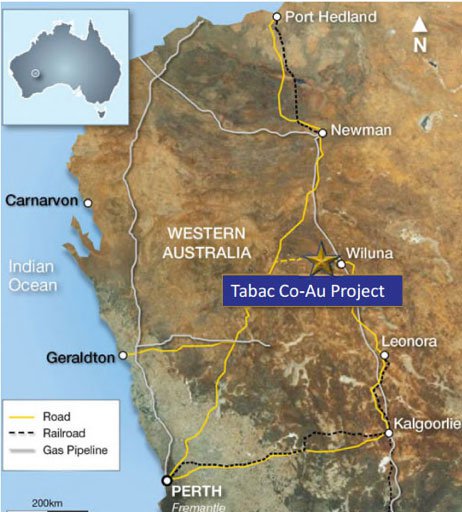 This project, for which RIR obtained exploration licences earlier this year, represents a significant cobalt-gold exploration target. This has been confirmed by prior drilling at the target which more than demonstrated its scale and grade potential.
Those results were so significant that they compelled RIR to conduct follow up drilling and focus the bulk of its attention on its Tabac Project.
The project sits adjacent to the Paroo Station Mine— previously known as the Magellan Lead Mine — and RIR benefits from being able to access the existing infrastructure, including camp, office, communications, and the Goldfields Gas Pipeline and associated power generation infrastructure. RIR is currently in advanced discussions with the owner of the Paroo Station Mine, Rosslyn Hill Mining, regarding a farm-in agreement on their tenements.
When we last updated you on RIR on April 12 the company was getting ready to drill its first hole at its Tabac Cobalt Gold Project.
This decision to drill was supported by the significant results from historical drill holes at the project, along with the fact that the land shares geological similarities to other highly prospective cobalt locations, offered good reason to be optimistic.
Previous exploration identified two significant drill holes
In the first quarter 2017, RIR was granted two exploration licence, 53/1891 and 53/1895, at Tabac. They cover a combined area of 111.5 square kilometres, as seen on the map below. You can also see that these ELs include two stratigraphic drill holes (PP011 and PP009).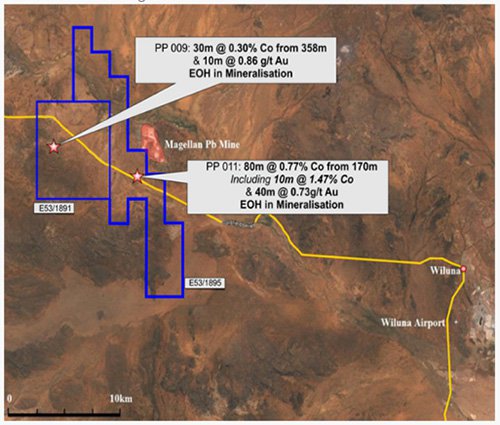 These historical holes reportedly intersected cobalt-bearing stromatolitic carbonates when drilled by Australian Consolidated Minerals (ACM) in the early 1980s.
In the years from 1982 to 1984, ACM drilled 10 stratigraphic holes across the Yerrida Basin. Of the 10 holes, only two intersected high grade cobalt mineralisation.
The most significant was PP011, which had reportedly intersected cobalt bearing stromatolitic carbonates, returning the significant intercept of 80 metres at 0.77% cobalt from 170 metres , including 10 metres at 1.47% cobalt .
As a reference, these intercepts compare to an average of 0.08% cobalt across Australia's cobalt projects.
Here's a cross section of the cobalt-bearing stromatolitic carbonates intersected by holes drilled by ACM in the early 1980s: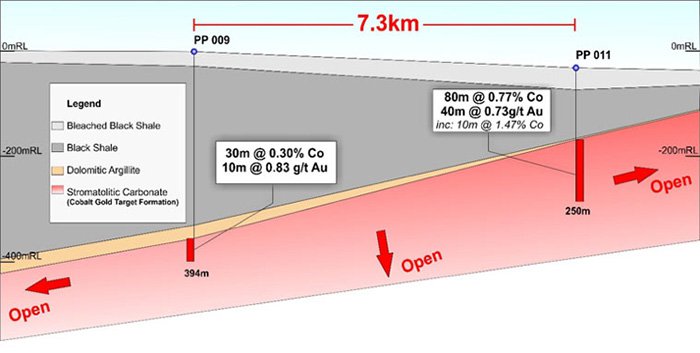 As these cobalt intercepts were of such a high grade, ACM suggested that the original drill samples may have even been contaminated, and never sought to follow-up.
As discussed in our last article , RIR's completed due diligence finds ACM's position wanting and believes the ground warrants testing. The company has cited as proof, drill and surface geochemistry results from around the Yerrida Basin performed by other companies in the 30 years of subsequent exploration.
In any case, assay results a from RIR's first drill hole will provide a definitive answer and hopefully confirm high grade cobalt mineralisation, as is anticipated.
'The most anticipated cobalt drill hole in Australia...'
...or so say RIR, of its recently completed drill hole TDD001 at Tabac.
With such impressive cobalt grades reported from historical drilling at the project, RIR could be set to make waves if the upcoming assay results are similar or RIR is able to replicate the success of Hole PP011. At the very least it will address any current uncertainty around the accuracy of ACM's results.
This has the potential to see the Yerrida Basin emerge as a new cobalt province and source of supply of this core ingredient in the rechargeable battery revolution.
According to research group, Research and Markets, cobalt supply will fail to meet demand in coming years.
"First, in recent years, the cobalt price has been hovering at a low level, some cobalt mines have reduced or ceased production, and no large cobalt mines have been put into production, resulting in the slowdown of the cobalt supply.
"Second, the cobalt metal demand has soared quickly as the demand for new energy vehicles continues to grow. It is expected that the global cobalt market will face a tight supply situation in 2017-2021, with the gap of 12,000 tons by 2021.
Potential cobalt bearing zone intersected at first Tabac drill hole
Drilling is now complete at RIR's first drill hole and while we are still awaiting assays, the programme looks encouraging based on evidence to date.
On May 3, the company announced that drilling was complete at its first hole at Tabac had intersected substantially altered and brecciated stromatolitic Bubble Well Member (BWM) — the target horizon with potential cobalt bearing mineralisation.
The target BWM, with potential cobalt bearing mineralisation of 110 metres in width, was intersected at 148 metres below a thick package of monotonous graphic shale, interpreted as forming a part of the Maraloou Formation.
Small-cap investors took the news well, pushing the share price up by more than 40% on the market's open.
Although, it should be noted that It should be noted share trading patterns should not be used as the basis for an investment as they may or may not be replicated. Those considering this stock should seek independent financial advice.
You can read more about RIR's performance in this article from Finfeed.com: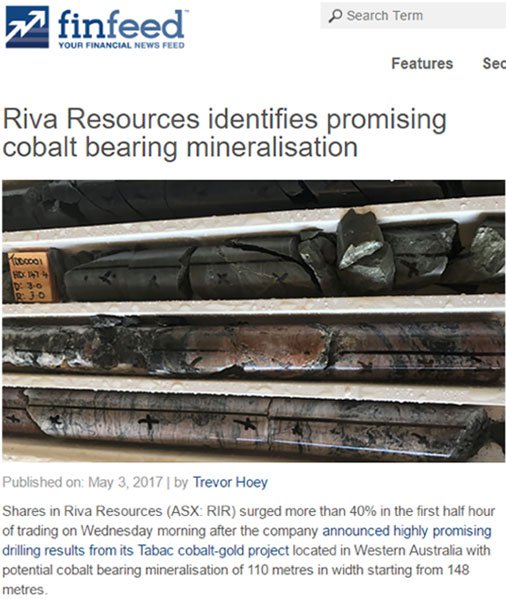 But before we move further into RIR's performance details, let's first update you on the announcement that drilling of this first diamond drill hole at Tabac had commenced.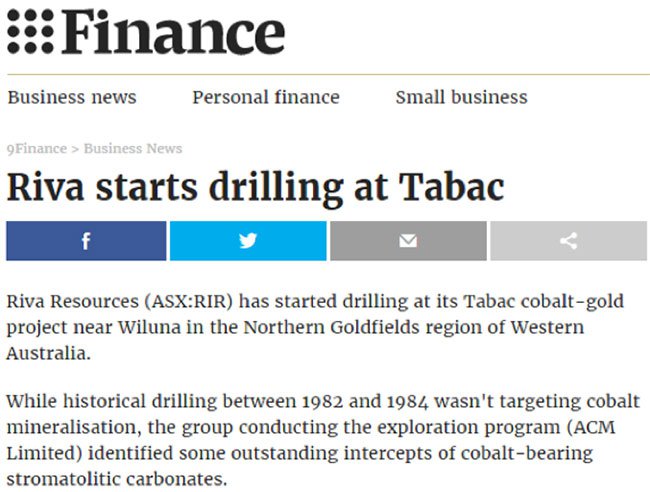 RIR first reported that its first diamond drill hole, drilled to a depth of only 293 metres, intersected similar stratigraphy to that historical hole. Core recovery throughout the hole's development, including within the BWM, was reported to be excellent.
Development of this initial drill hole is now complete, having been drilled to a final depth of 360 metres.
RIR's interpreted stratigraphy largely correlates with that of the earlier results reported by ACM, yet differs significantly in the geological detail. In particular, the target BWM is extensively brecciated, altered, replaced, and mineralised — as can be seen in the image below — supporting the likely presence of a substantial mineralising system.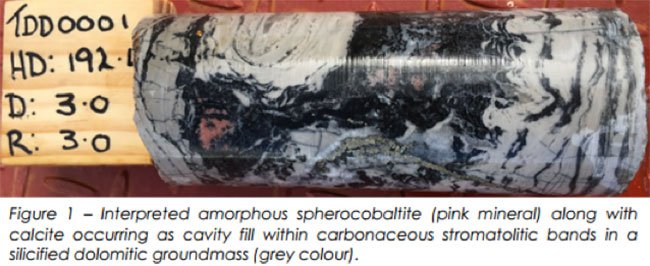 The target BWM was intersected at 148 metres below a thick package of monotonous graphic or 'black' shale interpreted by the GSWA as forming part of the Maraloou Formation (MF):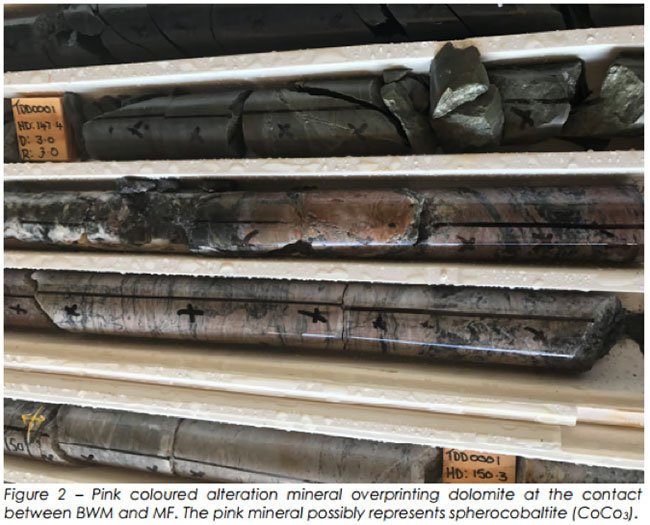 The contact between the BWM and the MF features widespread brecciation and overprinting by an amorphous pink mineral that is richest in colour adjacent to reduced materials such as the graphitic shale, or the carbonaceous layers within the stromatolitic beds, and is possibly indicative of redox processes.
The mineral's hue diminishes with the lesser presence of carbonaceous material, resulting in discernible pink-grey coloured dolomite, which extends throughout the intersected length of the BWM and into the upper parts of the underlying Finlayson Member.
At least two generations of sulphide mineralisation are present in the extensively silicified and bleached BWM, including:
Finely disseminated pyrite and arsenopyrite hosted within fine black carbonaceous layers that defines the stromatolitic texture, and
A zone of semi-massive sulphide mineralisation, dominated by pyrite, with lesser sphalerite and arsenopyrite, and a fourth unrecognised sulphide species.
The sulphide-rich interval lies between 203 metres and 214 metres and overprints the BWM. Numerous thin sulphide-rich veins of various thickness extend throughout the BWM and are thought to be related to this mineralising event.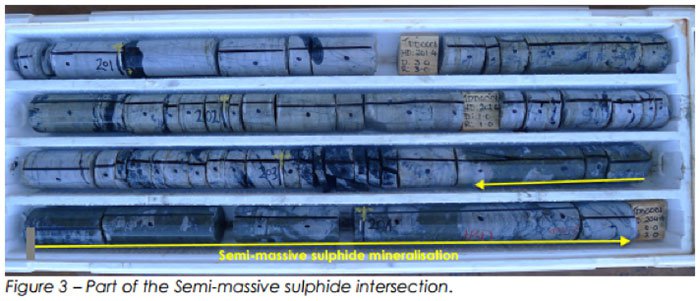 The gold mineralisation reported in ACM's historical drill holes generally lie beneath the main zone of cobalt mineralisation.
RIR's first hole, TDD001, penetrated the underlying Finlayson Member at 258 metres, a mature, red to brown coloured thinly to thickly bedded quartz sandstone and quartz siltstone.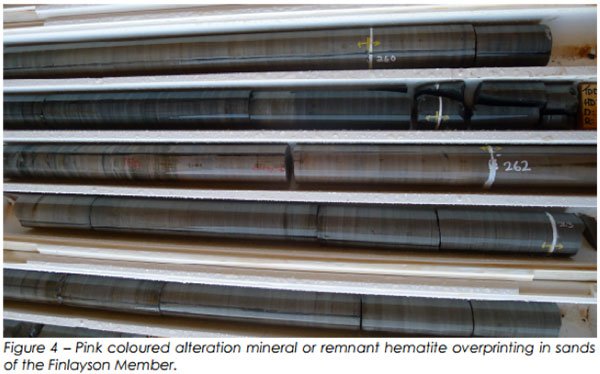 Petrology and assaying is required to confirm the mineral identity, which is thought to possibly represent spherocobaltite (CoCo 3 ).
Samples of the entire carbonate interval and potentially mineralised upper portions of the Finlayson Member will be submitted for petrology and analysis.
These first assay results are expected to be available in mid to late May.
This geological evidence, above, combined with the promising nearby historical results, give RIR the impetus needed to get to work on drilling a second diamond drill hole at its Tabac project.
Drilling of a second hole has commenced at the Tabac Project
The decision to collar a second diamond drill hole came after RIR was sufficiently encouraged by the weight of geological evidence gathered through development of the first diamond hole.
On May 8, RIR announced that drilling had commenced on a second diamond hole (TDD002).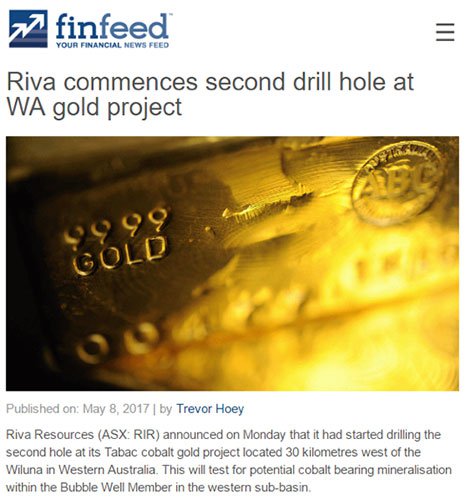 This second drill hole is located 1,750 metres west of RIR's first drill hole (TDD011), between that first hole and the nearby historical hole, PP011, drilled in the 1980s.
In the following map you can see RIR's tenure with the completed drill hole and the second, now underway, drill hole.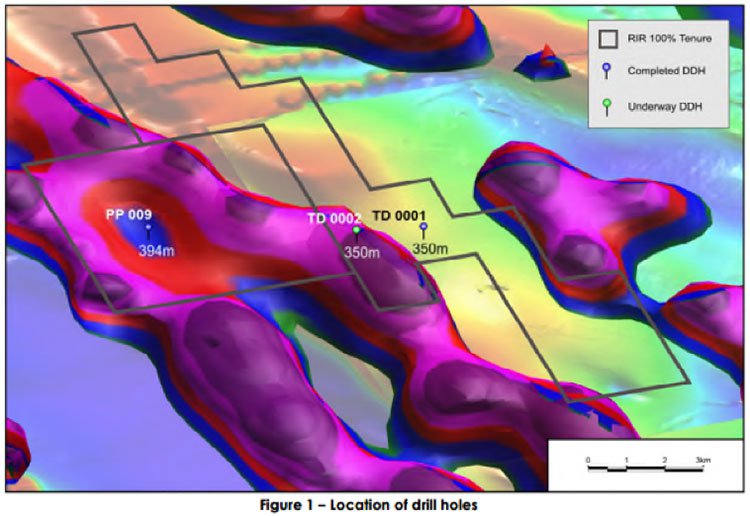 An RC drill rig was mobilised to the site to expedite drilling of pre-collars of additional infill and extensional drill holes.
From a strategic perspective, the second drill hole is focused on testing the Bubble Well Member (BWM) for potential cobalt-bearing mineralisation on the eastern flank of the western sub-basin.
The RIR-Rosslyn Hill JV is being finalised
Not only is RIR enthusiastic about the upcoming assay results, it's also optimistic about the immediate benefits on offer from its proposed farm-in agreement with Rosslyn Hill Mining, the owner and operator of the adjacent Paroo Station lead mine.
RIR is close to finalising the exploration farm-in agreement with Rosslyn Hill in regards to a 46 square kilometre tenement package, located immediately east and south of the Tabac Project.
Here are the tenements subject to the proposed farm-in agreement. RIR's existing tenements are highlighted in blue, while Rosslyn Hill's are in brown. The location of the two historical drill holes can also be seen.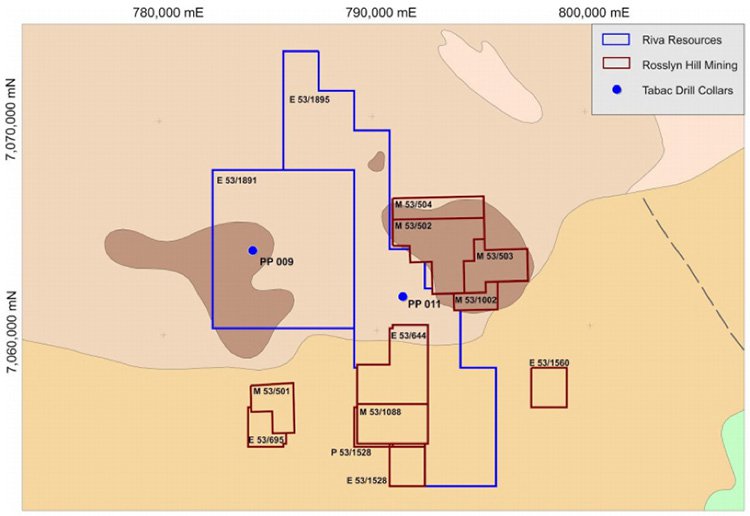 The agreement will give RIR access to Rosslyn Hill's project database and infrastructure, plus give it the right to earn 75% of the cobalt, gold and copper mineral rights on its tenements.
Bright future for Cobalt as demand set to intensify and supply to be crunched
Until recently cobalt has been an important but little known part of battery based energy storage.
In rechargeable batteries cobalt is important for conductivity and energy density, and it also adds to safety and longevity. Cobalt has a key role in the cathode part of a battery, with lithium batteries said to contain more cobalt than lithium, as the active part of the cathode contains up to 60% cobalt.
Cobalt is seen as crucial to the future of battery based energy storage, and the main driver of medium and long term demand is expected to be electric cars. But, as explained earlier, supply has been a major issue.
Almost two-thirds of all cobalt is sourced from the Democratic Republic of Congo. The problem being that as much as a fifth of Congo's production comes from small-scale operations that rely on child labour to extract minerals by hand, say Amnesty International.
This has put pressure on manufacturers, particularly the growing number of manufacturers making or using lithium-ion batteries in their products, to source cobalt from locations with the combination of more ethically run mines and significant cobalt-bearing mineralisation.
Australia, and Western Australia's Yerrida Basin in particular, is one of these locations — home to RIR's Tabac Cobalt-Gold Mine. It is geologically analogous to the Zambian Copperbelt, which encompasses DRC's cobalt heavy region ... all without any of the political risk or ethical concerns.
As you can see this combination of supply-demand factors is pressuring the cobalt price: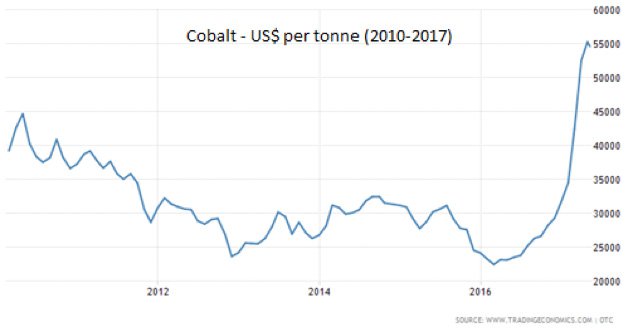 Yet commodity prices do fluctuate and caution should be applied to any investment decision here and not be based on spot prices alone. Seek professional financial advice before choosing to invest.
Onwards and upwards
The announcement on May 3 of RIR's landmark hole intersecting potential cobalt bearing mineralisation sent the company's shares up 35%, from 1.7 cents to 2.3 cents.
That's a nice gain, but pales in comparison to the longer term rally — well at least the one year return. Since mid-May a year ago, the stock has logged an impressive rise of more than 630%.

The past performance of this product is not and should not be taken as an indication of future performance. Caution should be exercised in assessing past performance. This product, like all other financial products, is subject to market forces and unpredictable events that may adversely affect future performance.
With the company still only valued by the market at $14 million, and some significant announcements on the horizon, it looks like it is still early days for RIR and its investors.
Further clarification around the project's potential is still to be seen, when the first assay results are made available. These results are now being expedited and are anticipated to be available by mid to late May.
If the assays live up to their promise — that is, the weight of geological evidence collected to date, combined with nearby historical results that support the likely presence of a substantial mineralising system — then their upcoming announcement may prove to be a significant near-term catalyst for this aspiring producer.
While there are certainly no guarantees, the upcoming announcement of assay results for RIR's first drill hole, plus completion of the second diamond drill hole should provide support for the share price, that is if high grade cobalt-bearing mineralisation is confirmed.
---