CLZ Uncovers High Grade Gold at Forrestania
PUBLISHED: 15-05-2018 10:00 a.m.
Emerging gold junior, Classic Minerals (ASX:CLZ), has released a clutch of impressive drill results as it attempts to firm up a story that's 18 years in the making.
Located in a highly prospective gold mining region of southern Western Australia, CLZ's Forrestania Gold Project has remained almost entirely unexplored for close to two decades.
When we last updated you on CLZ and its activities at the Forrestania Gold Project on April 18 with the article, Gold Drilling Underway at CLZ's WA Forrestania Project, the company was powering ahead with its exploration activities.
The project already has a JORC compliance Resource of 5.3 Mt at 1.39 g/t for 240,000 ounces of gold. It also comes with some encouraging nearology. Check out CLZ's tenements in relation to Kidman Resources and Western Areas holdings in the region: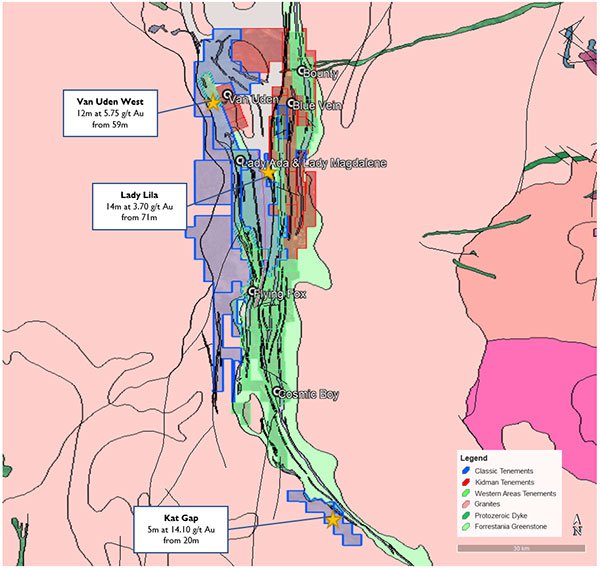 A gold deposit at project's Lady Lila prospect bears a striking resemblance to the $747 million capped Kidman Resources' (ASX:KDR) Bounty and Blue vein ore bodies, which are historically prolific, high-grade gold deposits in the region. Add to that the nearby Tianye/Minjar's Marvel Loch Processing Plant located approximately 100 kilometres north of the Forrestania Project to which CLZ secured processing rights to in March this year.
CLZ does have a lot of work to do to reach the heights of some of its neighbours, so investors should seek professional financial advice if considering this stock for their portfolio.
CLZ had one clear goal when it commenced drilling on April 16 — to upgrade the current Mineral Resource at Forrestania. To reach that outcome, CLZ had two main objectives for the drill program at the project site.
Uncover an entirely new and untapped system of gold mineralisation through maiden drill testing at the Van Uden West prospect.

Increase the existing known mineralisation at the Lady Lila and Kat Gap deposits.

We can now check number 1 off the list with CLZ today announcing that it has unearthed high grade gold at the project's Van Uden West prospect.
Not only that, but at a cost of just $50,000, including all associated assays and technical work, CLZ's first pass regional drilling campaign at Forrestania has been nothing less than an overwhelming success.
CLZ encountered thick, high grade zones of mineralisation at each of the drill targets which remain open along strike, and come with high priority zones that require urgent follow up.
This success all comes down to the company's carefully planned exploration activities and its ability to keep a tight control on costs, ensuring that shareholder funds are wisely spent.
With results like those reported today, it seems that the company is well on the way to meeting its earlier announced target of updating that Resource sometime during the third quarter of this year.
All the latest from,

Classic Minerals
ASX:CLZ
The Forrestania Gold Project isn't Classic Minerals' (ASX:CLZ) only project on the go, but is its flagship operation and the subject of today's update.
CLZ has an 80% interest in the gold rights of the project (excluding Lady Lila and Kat Gap of which CLZ holds 100%), while Hannans Limited (ASX:HNR) holds the remaining 20% interest. HNR is more concerned with the non-gold rights in the area, with CLZ prospecting for gold in the area.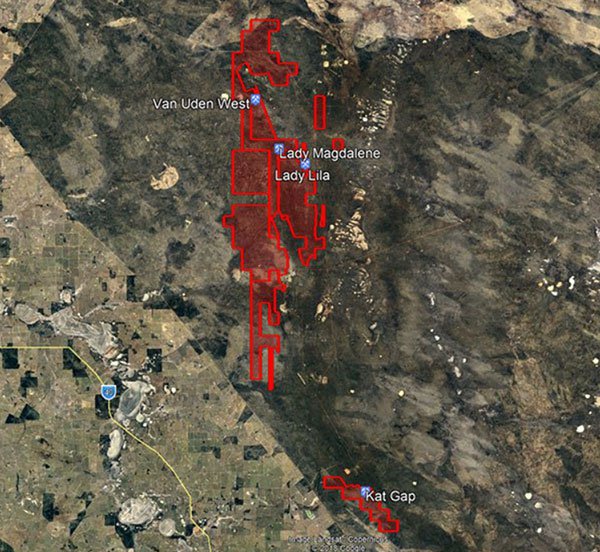 The project has a JORC (2012) Resource across the project's Lady Ada, Lady Magdalene, and Lady Lila prospects of 5.36 million tonnes of gold at an average grade of 1.39 grams per tonne for 240,000 ounces of gold, as detailed below:

CLZ is confident of the gold prospectivity of the project area, because for CEO Dean Goodwin the project represents unfinished business. As explained to finfeed.com (a related entity of S3 Consortium), Goodwin effectively firmed up targets when working for a Canadian company some 18 years ago.
At that time, the company spent more than two years firming up over 300 targets in the broader area. But by the time it came time to test those targets with the drillbit, the business effectively went broke and had to shut down operations...leaving plenty of unexplored yet promising targets.
CLZ has about 90 of the original targets from 18 years ago, which still haven't been tested. While other owners of the tenements have come and gone in that time, CLZ are the only ones to have the tenements AND the associated data sets.
When Goodwin joined CLZ, he analysed old data and generated maps that no one had seen for 17 years. It was like a time capsule — all this info had been lost due to the previous company going into administration and administrators not collecting or passing on the data.
All that remains to resurrect the old project is to keep drilling targets — and hopefully continue to unearth results like those reported today from Van Uden West.
Van Uden West – a brand new discovery
As announced today, CLZ has a brand-new gold discovery... which comes in addition to the project's existing Mineral Resource.
What's important to note here is that the target is just 11 kilometres along strike from the project's Lady Magdalene and Lady Ada prospects, meaning a gold hit at Van Uden West could very well open up the entire strike length.
Van Uden West is surrounded by historical gold mines, but its potential — until now — has been overlooked. And that was for good reason: the target was effectively masked by transported cover that is masking the top 10-20 metres of the potential gold mineralisation.
This makes delineating gold targets from the surface a difficult task, and the only real way to figure out whether there's gold under the cover is to drill. There was some AC drilling done there previously, but the company was of the opinion that this drilling effectively missed the most promising mineralisation.
Yet the target has an excellent structural location on the contact between granite and greenstone and it is the belief of the company that the previous shallow, wide spaced air core holes inadequately tested the target.
The decision to test the Van Uden West target is based upon an anomalous air core drill result from the late 1990s.
With two drillholes (and subsequent assays), CLZ has effectively proved its thesis and opened up a new zone.
Both holes drilled at Van Uden West intersected significant gold mineralisation potentially striking in a north-west/south-west direction with a shallow easterly dip — mineralisation remains open.
Drill highlights include: 12m at 5.75 g/t gold from 59m, including 1m at 25.60 g/t gold from 59m.
These can be seen on the below diagram of the Van Uden West X-Section Looking North: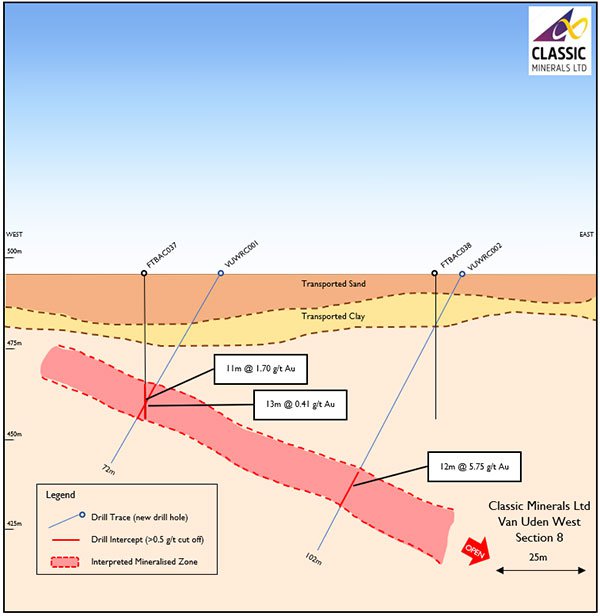 At the very least, these results demand follow-up drilling by the company — and that drilling program may result in an update project JORC Mineral Resource.
Though this is speculative on our part and investors should take all publicly available information into account and take a cautious approach to any investment decision made with regard to this stock.
Kat Gap – near-term monetisation?
CLZ's 100% owned Kat Gap prospect was discovered in the 1990s and was the subject of a Resource estimation and scoping study in 2003.
There's plenty to like about this prospect — it's shallow, under-drilled, and high grade. That's enough to pique any gold mining investor's curiosity.
CLZ have now drilled four holes at the prospect for a total of 210m. The drilling effectively confirmed the company's theory that gold mineralisation strikes in a north-south direction. What's more, mineralisation remains open.
Adding to that, CLZ say there's an additional five kilometres of strike of prospective granite-greenstone contact along strike from Kat Gap which demands follow-up drilling.
Drill highlights include 5m at 14.1g/t gold from 17m, including 1m at a whopping 48.4g/t gold from 20m.
Normally a mining company may be able to prove up a gold Resource, only to find it at such depth that it needs to borrow a whole heap of cash to get it out of the ground.
The fact that mineralisation is so shallow suggests that mining is potentially simpler than it was at depth. Along with the fact that CLZ doesn't need to build its own processing facility — having recently secured processing rights at Tianye/Minjar's nearby Marvel Loch Processing Plant — this could translate to earlier than expected cashflow.
It should be noted here that this remains a speculative stock and investors should seek professional financial advice of considering this stock for their portfolio.
A bit more drilling is likely required before there's a Resource upgrade here, but exploration is so far on the right track.
Lady Lila – filling in the gaps
CLZ's 100% owned Lady Lila is approximately four kilometres east of Lady Ada and has been the subject of previous drilling. However, this drilling was only shallow in depth.
CLZ decided to dig a bit deeper in hopes of firming up more gold at the prospect. It focused on previous air core drilling at the site and drilled on 100m spaced lines. It tested either side of this drilling, and came back with some encouraging results...
CLZ confirmed that the mineralisation extends both north and south of the previous drilling along strike, and most importantly remains open at depth.
Results from the drilling included 14m at 3.7g/t gold from 71m, including 1m at 13.2 g/t gold from 79m.
Here is a cross section diagram of Lady Lila, looking north: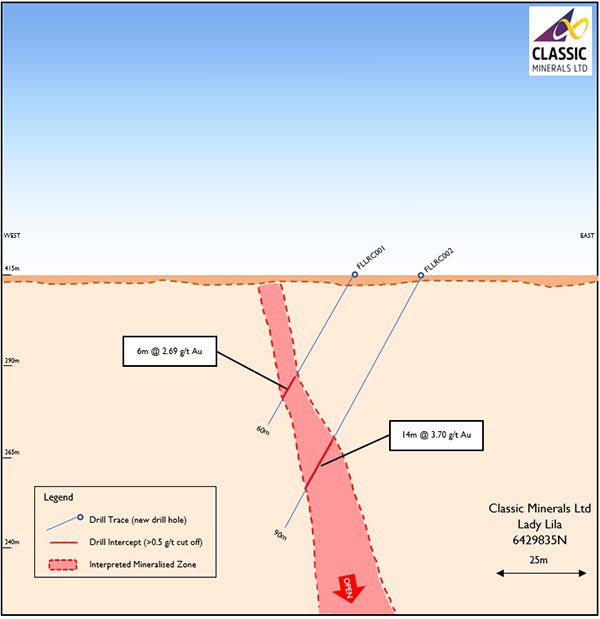 CLZ plan to immediately undertake additional drilling to continue to expand the prospect. Given that the previous drilling was done on 100m spacing, there's plenty of room to both fill in the gaps and to drill a bit deeper to chase a larger Resource.
What makes this prospect particularly interesting is that it has similar geological characteristics to Kidman Resources' (ASX:KDR) Bounty and Blue Vein prospects in the area, which are prolific and high-grade.
If it walks like a duck...
So, what's next?
CLZ now has a raft of follow-up drilling to do. At Van Uden West, it will conduct follow up drilling by the end of June.
At Kat Gap, there remains a further five kilometres of prospective granite-greenstone contact which has yet to be tested by the drillbit. While at Lady Lila, CLZ will undertake an immediate round of drilling to 'fill in the gaps' of previous 100-200m spaced drilling — with drilling slated to begin by the end of the June quarter.
That should be enough to create plenty newsflow to whet the appetites of investors keen to see how this emerging gold story will play out. Armed with Goodwin's historical knowledge of the project and the promising results to date we'll keep you posted on how it develops.
---