CAV's Diamond Drilling Starts Any Day Now
PUBLISHED: 14-07-2015 10:14 a.m.
Initial underground sampling at Carnavale Resources (ASX:CAV)'s Red Hills Project generated some market interest to say the least... 107 million shares traded in just one day!
High grade 17.5 g/t gold equivalent mineralisation sampled from Red Hills' old underground mines set the scene for what should prove to be potentially a very high impact diamond drill campaign set to kick off in the coming days.
Approvals have been received for 5 diamond drill holes for a total of 1,200m, plunging into high-grade prospects Cobra and Rattler at Red Hills.
All drill holes will test immediately below old mine workings – an extremely strong hint that something of value is down there.
CAV want to really hammer home this high grade potential over the coming weeks and will then look to expand a drill program and ultimately define a resource.
However, just like all small explorers, CAV is a speculative stock and not without risk.
Sampling results featured extremely high silver grades as well as gold, copper, lead and zinc all contributing to the overall high gold equivalent grade.
Red Hills is looking more and more like a potentially significant poly metallic project – just like the big ones found in Australia, with silver, lead, zinc, copper and gold mineralisation all present.
Initial sampling supports CAV's previously stated exploration targets at the upper end of the spectrum – we are looking at potentially a multi-million ounce gold equivalent resource here, with two priority target zones to be drill tested.
High impact drilling is about to commence
The drill bit will soon reveal more, and we are now fast approaching this event – drilling approvals have been received, and in the coming days, diamond core drilling will begin.

The Next Small Cap first dug into the $7M market capped Carnavale Resources (ASX:CAV) with this comprehensive article – Drill Results in Weeks: Tiny ASX Explorer with Multi Million Ounce Target .
This article gives a great introduction to CAV and its two main projects located in the USA:
Red Hills in Nevada, where CAV is currently targeting a poly metallic resource discovery like Rosebery, Golden Grove and Jaguar deposits here in Australia. All have generated significant and profitable mines, and CAV wants to do the same.
Little Butte in Arizona, where CAV has identified a thick supergene blanket of copper and gold mineralisation which warrants further exploration.
Since the release of our first article, CAV has risen as high as 130% – fuelled by those recent very high grade underground sampling results from the Cobra Prospect at Red Hills: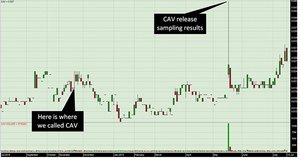 The past performance of this product is not and should not be taken as an indication of future performance. Caution should be exercised in assessing past performance. This product, like all other financial products, is subject to market forces and unpredictable events that may adversely affect future performance.
If CAV's share price can move like this from rock chip sampling results, we can only imagine how the market might react to positive diamond core drill results in the coming days from Red Hills...
There is no guarantee of success though – so caution should be applied when looking at this investment.
CAV recently acquired Tojo Minerals Pty Ltd, which has the rights to earn up to 75% of the Red Hills Project.
The more CAV explores Red Hills, the more they are understanding its potential to hold a significant polymetallic discovery and a Carlin style gold deposit.
CAV originally went to explore Red Hills to discover a Carlin style gold deposit but have found more than just gold...
Recent work down inside the adits has confirmed high grade poly metallic nature of the mineralisation with strong gold-silver-copper-lead and zinc.
CAV are now looking to define a polymetallic resource on par with those found in Australia, for example Independence Group's Jaguar mine, plus Rosebery and Golden Grove, all of which have been strong long term production centres and have generated large amounts of free cash flow for their owners.
If we look at the grades of those Australian polymetallic mines then the results of the Cobra sampling stack up very well indeed.
If drilling confirms this, it would mean CAV would be sitting on something of significant value. Of course, there are no guarantees though.
Can CAV turn Cobra into a Jaguar?
We are going to find out a whole lot more about this potential in the coming days, when diamond drilling kicks off.
The recent detailed underground sampling boosted the prospectivity of both the Cobra and Rattler prospects and further work needs to be done at Viper and Tiger.
The high grade results from the underground adit sampling came from Cobra, and strongly supports CAV's exploration targets in the order of one million of ounces gold equivalent.
Meanwhile Rattler's old workings are larger, however access was limited due to the collapse of the main stopes. Let's hope the drilling can show this to be as good as Cobra!
Our previous article CAV Uncover Walk Up Drill Targets on Multi-Million Ounce Exploration Target takes you through the positive signs coming from the field at both projects where walk up targets and mineralisation abound.
And CAV Plots Diamond Drill Campaign on Carlin Style Gold Targets covered all the details of the Tojo acquisition plus the drilling results from Little Butte. The Little Butte results confirmed widespread gold at the surface of its Railway prospect, and the presence of a supergene blanket at depth above a potential gold anomaly.
But the current focus is all on the drilling at Red Hills for CAV.
Geologists like to call the Red Hills area 'elephant country,' and the big prize at CAV's Red Hills project in Nevada is to bag an elephant... a resource discovery on par with previous finds in the area:
CAV is concentrating on four anomalies at the Red Hills project where significant zones of high-grade gold and silver, and structurally controlled lead-zinc mineralisation, have been found in or near old workings:

Keen to advance Red Hills, CAV just conducted adit sampling from Cobra and Rattler, plus detailed soil sampling across all four main target areas – Cobra, Rattler, Viper and Tiger.
Here are CAV's four anomalies looking from directly above:
Walk up drill targets contained in major shear zones have been identified at both Rattler and Cobra, and given they are the main focus for the upcoming drilling, let's look into these in some more detail.
CAV's Cobra Anomaly – Diamond Drilling is Next
The recent high grade underground sampling results that caused a market flurry came from Cobra – with high-grade mineralisation detected in the Cobra Thrust Fault.
Indications from the field are that this thrust fault could be over 9m in thickness, and when the historically mined stopes are over 85m strike, the exploration target here starts to really become very prospective.
CAV have released the following exploration targets, conceptual in nature now, but certainly paint a strong picture in terms of potential at Cobra alone: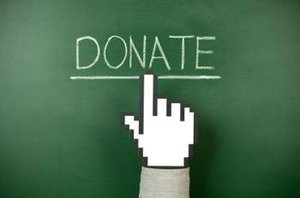 If CAV can define an initial "starter" resource of around 2.5M tonnes at grades around 10-15g/tAuEq at Cobra, then investors should be very happy as this should indicate the makings of a real mine...
Some photos from the field also build up the compelling evidence that CAV may be sitting on something big. Here is the Cobra Thrust fault in all its glory – note the upper sheared margin near the top of the photo, and the main breccia zone (the reddish rocks) below: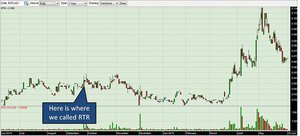 Being able to descend into the adit at Red Hills and take samples is almost like entering an ore body prior to drilling – when can you ever do this before drilling?
Almost never – but CAV have the upper hand here, and have been able to get inside the old working and plot their drill campaign to precision.
It's a compelling indicator of what might be possible in the coming days during diamond drilling, and gave CAV the confidence to upgrade the expectations of resource size.
CAV's Rattler Anomaly – also to be Diamond Drill tested
Preliminary soil sampling at Rattler's main Shear Zone has potentially doubled the target zone from 550m to over 1,100m.
CAV's exploration target at Rattler is also compelling – another multi million ounce equivalent potential resource here.
It's early days at Rattler though, and these targets are conceptual in nature. We are looking forward to a diamond drill bit prodding this potential: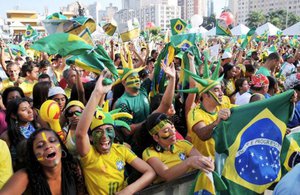 Just like Cobra, Rattler features historic workings covering at least 250m of its strike length:

The image above shows the target on the left and the actual outcropping shear zone on the right –channel samples were taken across the entrance and indicate a downward trend that will be explored through the imminent drilling:

Here you can see visible copper mineralisation in breccia – the green minerals to the bottom left of this photo: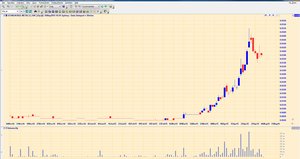 Next up for CAV
Diamond drilling is expected to begin at Red Hills in the coming days.
Five diamond drill holes will be drilled directly under old mine workings, for a total of 1,200m, in order to confirm just how high grade a potential poly metallic discovery at Red Hills might be.
If those sampling results and the resultant market reaction are any indication, CAV investors could be in for quite a ride!
---