CAD: Lithium Brine Drilling Underway in Lithium Hotspot Nevada
PUBLISHED: 26-06-2017 11:20 a.m.
Long-time readers of The Next Small Cap should be well acquainted with the opportunities and potential on offer in the lithium exploration space.
With the development and rollout of electric cars powering ahead, there's clearly a growing need for the materials that power rechargeable batteries.
And with just one producer of lithium operating in Nevada — the epicentre of the lithium-ion battery revolution — and in all of North America for that matter, there's plenty of space for junior lithium explorers to make the leap to producer.
That move is still some time off for today's lithium brines explorer, Caeneus Minerals (ASX:CAD), yet it is well underway to confirming the presence of lithium with five lithium projects on the go in Nevada.
CAD's projects are well located — close to Tesla's Gigafactory 1, and Faraday Future's proposed $1 billion electric car factory. They're also just 40 kilometres from $12 billion Albemarle Corp.'s (NYSE: ALB) Silver Peak Lithium Mine, the only producing lithium mine in North America.
When we last updated you on CAD , the company was gearing up to begin drilling at its Lithium Brine Exploration Targets in Nevada.
That drilling has now begun and will be expanded in the near future, with a series of follow-up announcements anticipated over the coming months, which will be of particular interest to investors.
With five projects in Nevada, CAD's initial focus is on its three lithium brines projects.
Lithium brines offer a number of advantages over hard rock pegmatites or clay lithium sources, as they are generally easier and cheaper to get up and running.
While CAD's focus is primarily on identifying a lithium brine resource, its suite of projects covers the full gamut of possible lithium mineralisations across Nevada.
Of course, as with all minerals exploration, success is no guarantee – consider your own personal circumstances before investing, and seek professional financial advice.
Over the past year, CAD has significantly improved its understanding of the potential for brines and their host sediments at its Nevada lithium brines projects. And now that drilling is underway, we are looking towards the upcoming results ... as well as further exploration.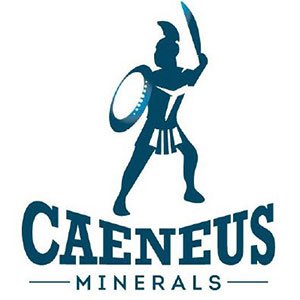 Caenus Minerals Ltd
Caeneus Minerals
ASX:CAD
Caeneus Minerals' (ASX:CAD) much awaited maiden drill programme has commenced at two of its Nevada lithium brine projects.
Valued by the market at just $17.4 million, this lithium explorer with a handful of highly prospective projects is positioned in the heart and soul of the rechargeable battery and electric vehicle movement.
CAD's portfolio of lithium projects in Nevada includes the lithium brine projects — Lida Valley, Scotty's South, and Columbus Marsh.
The brine differentiation is important for CAD.
Brines are typically located in salt flats which are flat, arid, and barren areas, making logistics simpler. And as a liquid, drilling for brine is less energy intensive and more straightforward, plus deposits are usually found close to the surface and in softer and easier to drill rocks.
Once a brine deposit is discovered, advanced exploration and development can be much more economically efficient. The required environmental studies can be less intensive and time consuming, permitting is typically faster to achieve, expanding the resource requires fewer drilling metres, and the projects tend to have lower overall capital expenditures.
Click on the follow image to get a more comprehensive comparison between brines and hard rock lithium projects: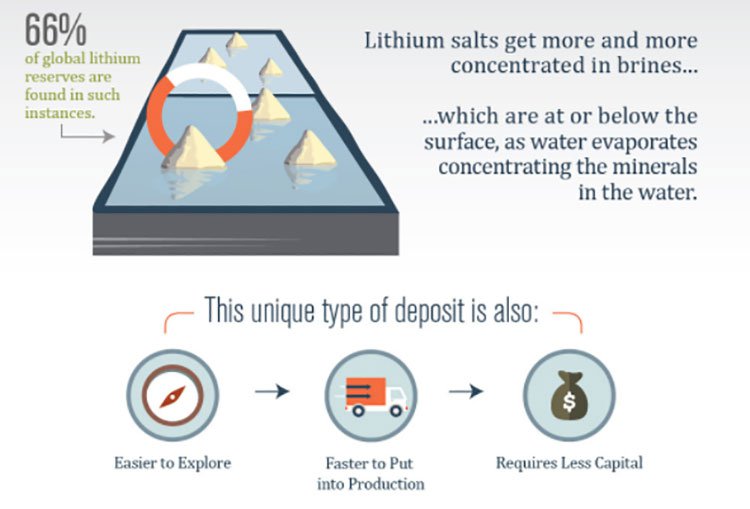 Additionally, CAD has two lithium clay projects under its belt in Muddy Mountain and New King.
As you can see on the map below, all of CAD's five Nevada projects are in the vicinity of Tesla's lithium-ion battery factory, Gigafactory 1, and the site of Faraday Future's proposed $1 billion electric car factory which is due for completion later this year.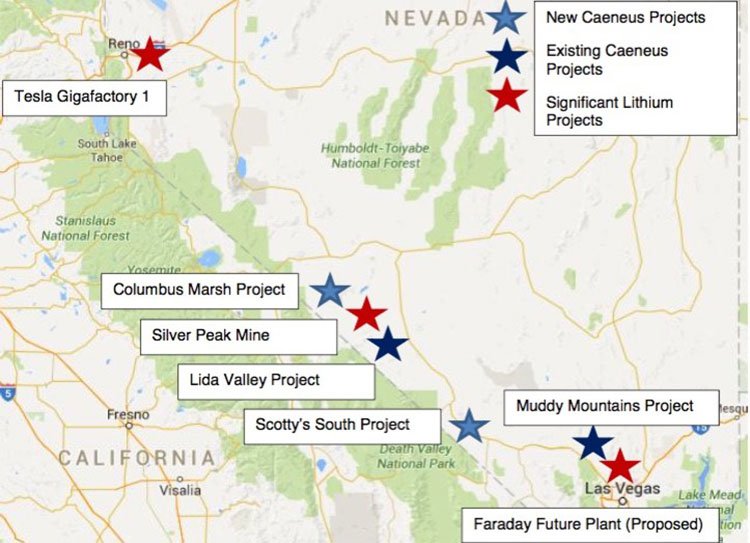 A recent significant announcement came on June 14, with CAD updating the market on the progress of its Nevada lithium brine projects and was followed on June 23 with an announcement that drilling has commenced at Scotty's South .
Here are the highlights:

Drilling is now underway at its Scotty's South and Lida Valley Projects — following the appointment of drill contractors. Drilling is also set to commence shortly at Columbus Marsh.
This follows a number of bureaucracy-related delays, specifically the requirement for additional permitting by the State of Nevada and Nevada Bureau of Land Management.
Now those requirements have all been checked off and delays are in the past. CAD's maiden drills programmes are progressing well. Prior to the commencement of the drill programme, in early April, CAD announced that it had completed a capital raising via placement to sophisticated and professional investors, raising $1,100,000. The funds will assist its maiden drilling programmes at Scotty's South, Lida Valley and Columbus Marsh projects.
With the new funds behind it, all that was needed before CAD got to work on its lithium brine drill programme was the appropriate permits from the Bureau of Land Management and the Nevada Department of Conservation and Natural Resources Division of Water Resources.
Following permitting approvals, drill contractors were appointed to both the Scotty's South Lithium Brine Project and the Lida Valley Lithium Brine Project.
Drilling now underway at the Lida Valley Project
CAD's Lida Valley Lithium Brines Project looks quite promising, with historic exploration having identified gravity and resistivity anomalies that are consistent with lithium rich brine deposits. These include a gravity defined closed basin and conductive brine targets identified by resistivity surveys.
The company has now commenced following up investigations with its maiden drilling programme at the Lida Valley Project.
Drilling is being conducted by experienced drilling contractor, Harris Exploration Inc. following preliminary operations connecting and setting up ancillary equipment. Harris Exploration has been in operation for over 50 years and has extensive experience drilling in the Clayton Valley lithium brines, recovering core in unconsolidated lake bed sediments, and in lithium brine testing with its own proprietary techniques.
Here is the drill rig ready to go at Lida Valley: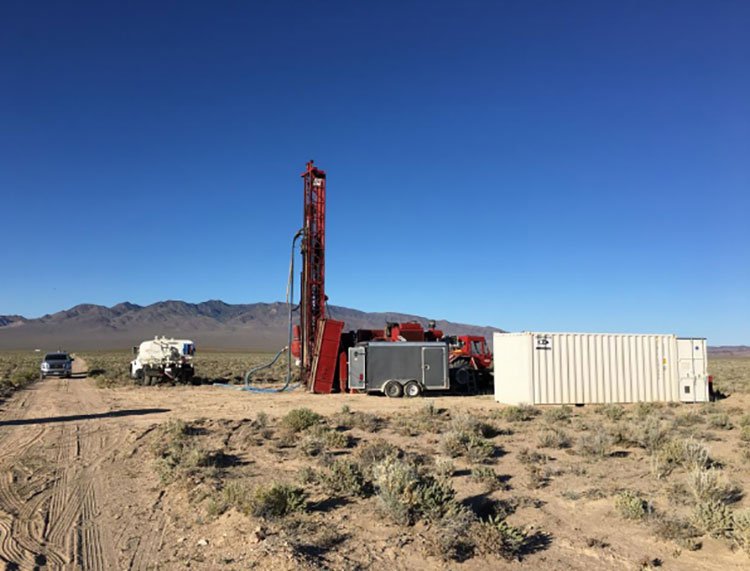 The Lida Valley Project houses a number of characteristics that are appealing to CAD.
Montezuma Peak interpreted source for the lithium contained in brine discoveries in the Clayton Valley and it is interpreted that Lida Valley represents the possible southern migration of this flow.
Of course this is speculative at this stage and investors should seek professional financial advice if considering this stock for their portfolio.
The project is situated within a broad gravity-low. It has complex gravity, reflecting possible shallow basement. CSAMT suggests a possible shallow brine at roughly 100 to 300 metres below the surface.
Several holes (LV-1 to LV-5) permitted to test the varying gravity and CSAMT anomalies. The two holes (LV-2 and LV-4) will be drilled as part of the Phase One Drilling Program.
The following graphic shows the historical CSAMT survey (two lines) and permitted drill hole locations at Lida Valley: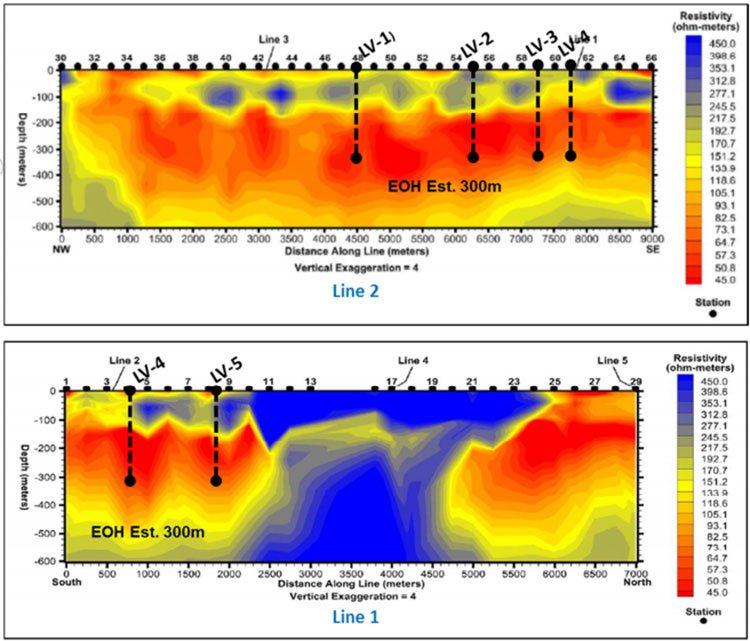 The sediments and the formation water will be sampled and analysed for lithium. Water will be tested for conductivity as the holes are drilled, while the water samples will be analysed for physical properties including conductivity, total dissolved solids, and pH to help identify brine-bearing aquifers.
Drilling commenced at Scotty's South.
Following closely behind Lida Valley, drilling has commenced at CAD's at Scotty's South Project . The drilling began a little later than was earlier anticipated due a delay in getting all the required government signoffs and a delay by the appointed drill contractor and expert consultant.
But now the site preparation has been finalised, and a specialist environmental consultant has completed the necessary bird surveys.
On top of that, drilling was held back slightly due to the fact that its drill contractor assigned to the project, O'Keefe Drilling, had to complete another project before it could get started and the company had to wait on its appointed consultant, the experienced Robert M. Allender Jr to become available. Considering the expertise of both Allender Jr and O'Keefe's, we can see CAD's reasons for not rushing ahead prematurely.
The equipment has now been mobilised to the site, and with the drill rig in place O'Keefe's has begun drilling at Scotty's South.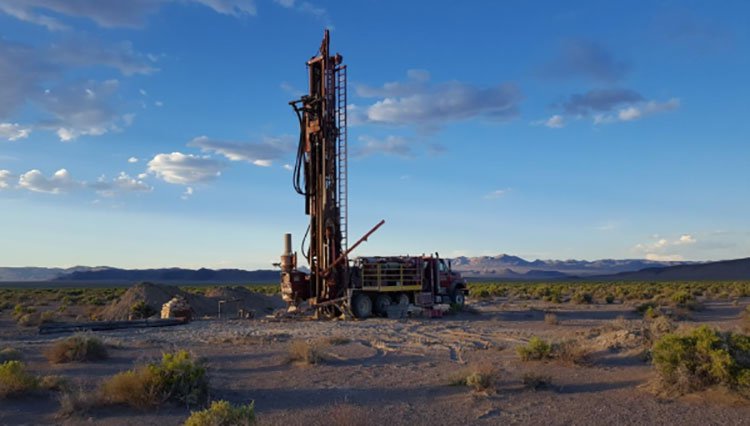 The Scotty's South Project is located within a large basin, one comparable in size to Clayton Valley — the site of North America's only producing lithium brines operation. Potential source rocks of tertiary volcanics are located on the edges of the basin with streams flowing in from all directions.
It has simple and broad gravity, suggesting of a deep basement, with the project sitting at the south end of the gravity low and basin.
An earlier completed CSAMT survey imaged a layer of low resistivity coupled by a series of large ovoid low resistivity features, with a particularly low resistivity anomaly to the east of the claims.
This strongest conductive layer is between 400 and 800 metres deep — interpreted to have significant potential to host conductive lithium-rich brine aquifers or saturated clays, or both. This will be a target as part of the Phase One Drilling Campaign.
SS-4, located on the western edge of the project, will also be targeted as part of the Phase One Drilling Campaign to test the shallower part of the same anomalous layer.
While a possible future drilling campaign could test the other side of interpreted fault — SS-2 and SS-3.
Here is the CSAMT survey and planned drill hole locations at Scotty's South (Phase One and Future):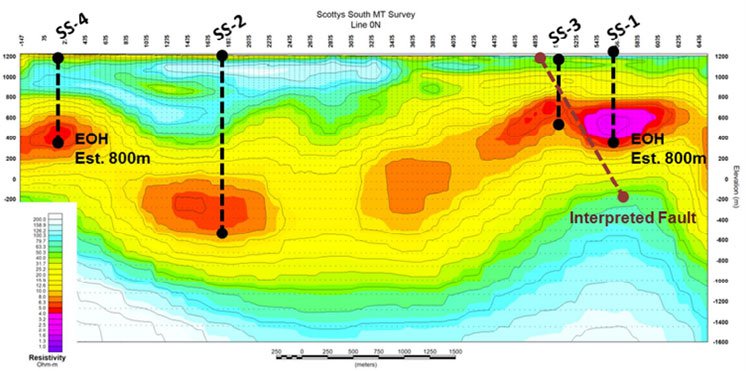 Columbus Marsh Project drilling to follow
The maiden drilling program at CAD's Columbus Marsh Lithium Brine Project will begin following the completion of the Scotty's South and the Lida Valley drilling campaigns.
We don't anticipate any delays now that the ground disturbance permit has been received from the Bureau of Land Management for the project, as has the required water rights waiver from the State of Nevada Department of Conservation and Natural Resources Division of Water Resources.
Previous reconnaissance sampling at the Columbus Salt Marsh indicated anomalous amounts of lithium in the shallow ground waters of the southwestern part of the playa. The highest concentration of lithium in the ground-water samples is 64 mg/1.
The relatively high lithium concentrations in this area could represent waters concentrated after leaching source rocks having high soluble lithium, similar to those present in the Fish Lake Valley area, or the high values may simply represent subsurface flow from Fish Lake Valley.
The upcoming maiden drilling programme will help clarify the potential on offer.
Significant news flow on the horizon
Along with CAD's patient early investors, we are eagerly anticipating the completion and subsequent results from the maiden drilling campaign.
If results are as promising as expected, investors who have been watching from the side lines, waiting for more concrete data, could be spurred on by the progress and jump on board. This would certainly come as a reward to early investors who got in before the company ramps up its operations alongside the stock gaining significantly more attention in the wider market.
Remember, however, that this is an early stage play and investors considering this stock for their portfolio should seek professional financial advice.
There is plenty to look forward to with the completion of the third stage of CAD's maiden drilling program at Columbus March up next, plus the results from the drill programmes at the company's Scotty's South and Lida Valley projects.
---