Budding ASX Gold & Lithium Explorer Set to Complete Game-Changing Merger
PUBLISHED: 01-11-2017 09:00 a.m.
The Next Small Cap presents this information for the use of readers in their decision to engage with this product. Please be aware that this is a very high risk product. We stress that this article should only be used as one part of this decision making process. You need to fully inform yourself of all factors and information relating to this product before engaging with it.
The ASX explorer we're acquainting you with today is striking a delicate balance between the traditional and the cutting-edge.
Its focus is on a strategic mixture of classical and emerging metals: gold, and lots of it, with a small but deft side-order of lithium.
As we speak, this company is busy finalising a gold-hued, potentially transformative transaction.
The company is about to merge with Canadian-listed WCB Resources (TSX-V:WCB), a deal that will place in its hands a multi-million ounce gold project in an underexplored corner of Papua New Guinea (PNG).
At stake is the Misima Project, which comprises known mineralisation over seven kilometres of strike and a current NI 43-101 gold Resource of 2.3 million ounces.
For those of you who don't have PhDs in geology, N1 43-101 (that's National Instrument) is a Canadian mineral Resource classification scheme – it's effectively the Canadian equivalent of JORC.
We'll return to this shortly, but alongside this already promising Resource, there are also plans in the mix for a maiden JORC in the not-so-distant future.
There's significant exploration potential at Misima, in an area that's largely been ignored on the back of shifting commodity focuses.
Misima has an expansive history, and was also for a time a site for copper exploration. The open pit was mined from 1989 to 2001, and a previous company managed to produce 3.7 million ounces of gold. Yet when the gold price sunk to US$300 in 1999, Misima was closed down.
With gold sentiment now much brighter, this could be just the place for a strategic ASX explorer to make its mark, with not one but two gold projects including Misima and the existing Livingstone Gold Project which holds a JORC 2004 Inferred Resource of almost 50,000 ounces.
Today's company is looking to plunge straight into sharply focused exploration works immediately after the merger is done and dusted.
However, this is an early stage company so investors should seek professional financial advice if considering this stock for their portfolio.
With $3.1 million cash in the bank, the company is sitting in a comfortable financial position and ready to move fast. Also reassuring is a management team with extensive mining, exploration, financial and corporate experience to advance its priorities.
Misima's history illustrates immense potential – and strong promise for long-term upside – as a long life and low cost gold mine, driven by low strip ratio and an industry-leading low cost milling operation.
The much-anticipated merger with WCB is set for completion in the second week of November – mere weeks from now. And everything is in place to go, with interim court approval received and shareholders from both camps supplying a majority thumbs up.
Once it's completed, the merger will birth a brand new Australasian-focused gold and lithium exploration group; this company also has hold of the Bynoe Lithium Project in the Northern Territory which is strategically positioned near the $26.42 million-capped Core Exploration ( ASX :CXO), a more advanced explorer which has attracted a hefty amount of Chinese interest.
Today's company, which is capped at a humble $11.37 million, is hoping to pique a similar wave of attention.
We expect the news to flow thick and fast from here, with a hub of activity to transpire at Misima over the coming weeks and months. This small-cap ASX explorer is clearly not one to mess around.
So without further ado, some introductions are in order.
Unveiling:
Kingston Resources Limited
ASX:KSN
A golden opportunity
Kingston Resources' (ASX:KSN) exploration story is the kind that's relished by small-cap investors with a long view. It's one that's brimming with exposure potential.
KSN is only just starting out, but it already has within its reach a covetable portfolio of high-potential prospects, a deal that's sealed with a game-changing merger.
With KSN's strong balance sheet enabling work on the Misima Gold Project to recommence immediately post-merger, it seems that this is a proactive company on a mission.
Let's take a look at the main event: the merger itself.
As announced back in September, KSN is merging with the TSX-listed WCB under a Canadian Plan of Arrangement...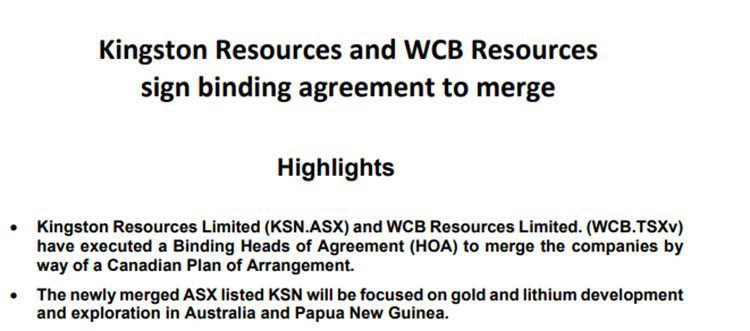 Under the terms of the agreement, KSN will assume management of the Misima Project, which we'll look at in more detail in a moment. WCB currently owns 49% of this project, with earn-in expenditure of A$2.2 million remaining to reach 70% ownership by 31st March 2019. KSN is funded to complete this earn-in.
Things are well on track for the merger to be completed on schedule. A binding heads of agreement (HoA) has been signed, and all required Australian regulatory approval has been obtained. Major shareholders are supportive, including Sandfire Resources NL (ASX:SFR), which holds 38% of outstanding shares, as well as board and management (31%). And the Supreme Court of British Columbia has also granted interim approval , so all systems are go.
Completion of the merger is expected by November 10 – not long now.
Following that, it's expected that WCB will be delisted from the TSX. Upon completion, WCB shareholders will hold in aggregate approximately 31%, and existing KSN shareholders approximately 69% of the expanded KSN.
The arrangement will, in turn, create a new Australasian-focused gold and lithium exploration group with a compelling asset base. This is set to be game-changing for both parties.
Here's what the merger combines:
A joint venture (JV) interest in the advanced Misima Gold Project in PNG – to jog your memory, this hosts a current NI 43-101 Resource of 73 million tonnes at 1 gram per tonne of gold for 2.3 million ounces
The emerging Livingstone Gold Project in WA
A considerable Northern Territory lithium exploration portfolio
KSN's JV partner for Misima is PPC, which is owned by JX Nippon Metals and Mining (66%), and Mitsui Mining and Smelting (34%).
To give you an idea of what this merger will do for KSN, this is how the company will be tracking post-merger compared to its gold exploration peers on an EV (enterprise value)/ounces of gold basis: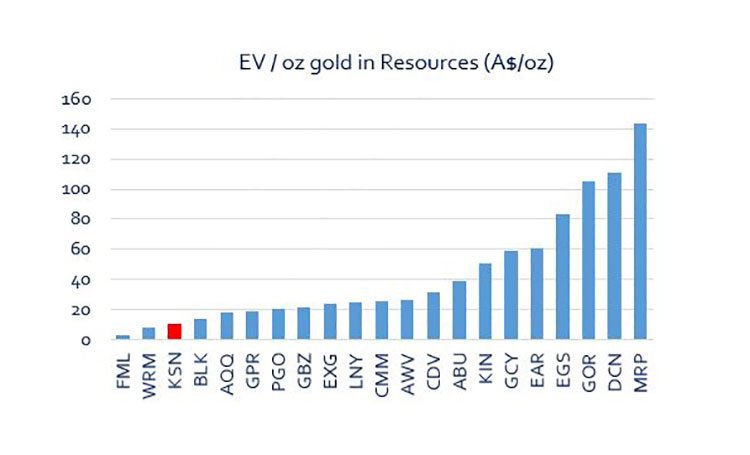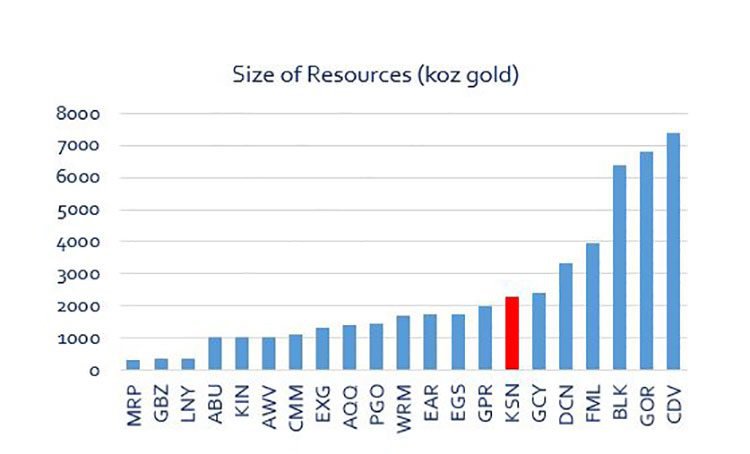 As you can see, KSN will sit at the low end of the spectrum, making this a strategic entry point into the small-cap gold exploration corridor.
There's also significant scope for KSN to increase its resources, driving short-term shareholder value, not to mention the fact that current market metrics suggest considerable value uplift at envisaged production rates.
It should be noted however that this remains a speculative stock and investors should take a cautious approach to any investment decision made with regard to this stock.
Let's turn now to the specifics of the main play: the Misima Gold Project...
The nitty gritty on Misima
To set the scene, Misima Island is located 625 kilometres east of Port Moresby in the Solomon Sea...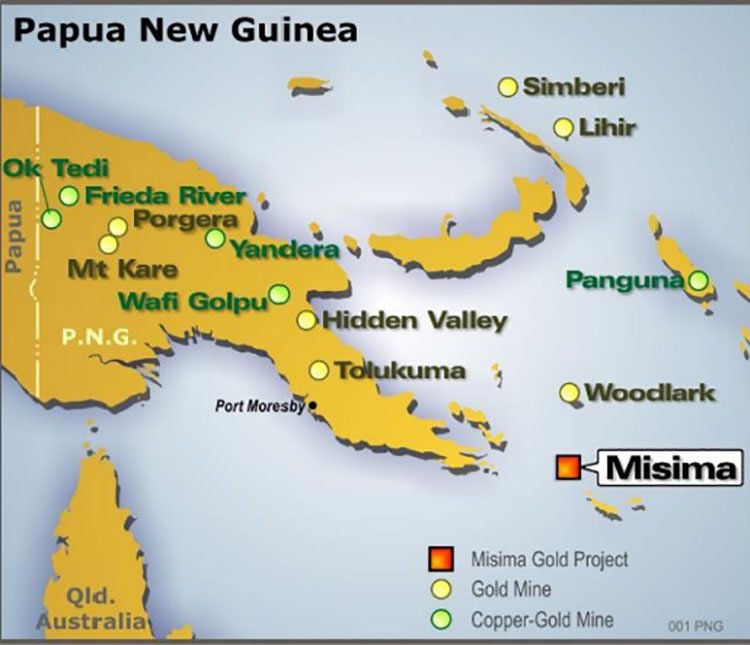 Misima's history provides some compelling specs for a future mining operation. As we noted earlier, the open pit at Misima was mined from 1989 to 2001. The previous company, Placer, produced 3.7 million ounces of gold here.
Here's a snapshot of how gold production, cash costs, gold price and grade played out across this period: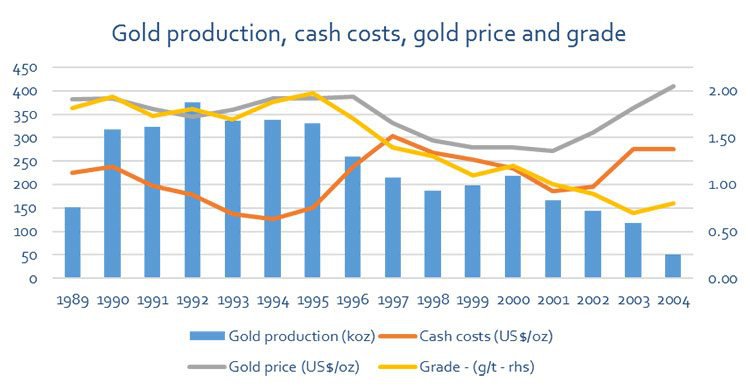 Source: Curran & Co.
And here are Placer's stats for Misima during that time: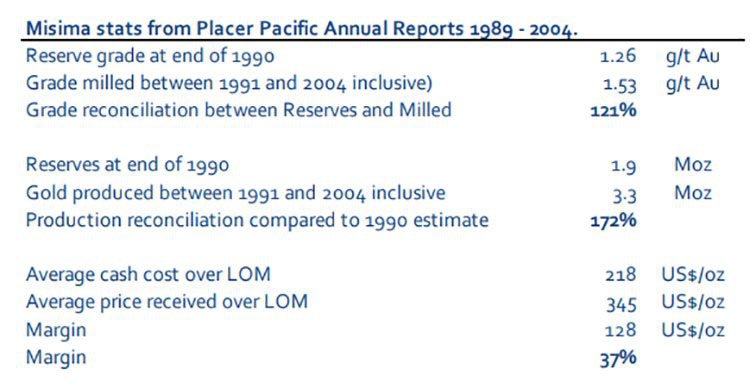 The crucial takeaway is that Misima was a long life and low cost gold mine, driven by low strip ratios (low relative amounts of waste material) and a low cost milling operation, and also delivered 72% more gold than anticipated at the start of the operation.
A major reason for the low cost involved here is the extremely soft, free-milling ore at Misima. This saw Misima milling up to 25% above nameplate during Placer days, achieving 6.9 million tonnes per year, with life of mine recoveries of 91.7% gold and 48% silver.
As we've mentioned, the decision to close the mine in 1999 was driven by a deflated gold price. The mill was subsequently decommissioned and removed by 2005, and the site has since been rehabilitated.
Given today's far sunnier gold outlook, KSN is hoping to find something substantial as it launches into focused exploration works post-merger.
Misima already has a N143-101 gold Resource of 2.3 million ounces. As we noted earlier, N143-101 is basically a Canadian version of JORC, and in many cases, the two are considered interchangeable. Some actually see the former as more restrictive. Bearing that in mind, KSN will also be looking for an initial JORC 2012 Resource as well.
Here is the breakdown of the current Resource:

There are intriguing possibilities here to significantly increase this Resource.
Several areas will be prioritised for extensional exploration, including the Umuna area, which currently contains the bulk of the known mineral resource and remains open in all directions except west.
Placer's focus on the main Umuna area has left multiple extensional prospects untested, so further work is needed here. Historical work shows a strong correlation between channel sampling and underlying mineralisation. This provides immediate extensional drill targets outside of the existing Resource.
There are splay structures on the southeast side of Umuna, with evidence of high grade, shallow mineralisation. The Central Umuna Zone shows strong thickness and continuity at depth. Several kilometres north of the old Umana pit, channel sampling and historic drilling provide further shallow high grade targets to follow up on.
The Umuna pit: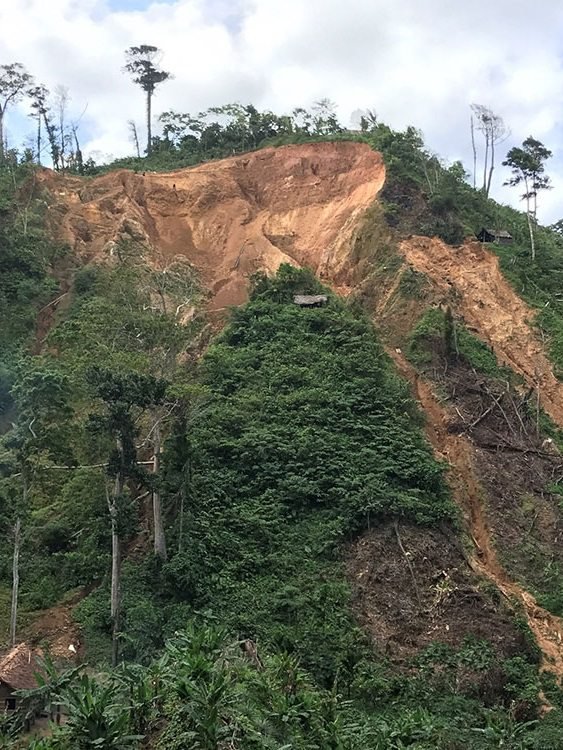 Large scale splay structures east of old Umana Pit will be an initial exploration target.
Previously mined by Placer over a strike length of around 3 kilometres, Umuna contains shear-hosted and stratigraphic (skarn) gold mineralisation. A central higher-grade core remains open at depth, including drill intersections such as 66 metres at 2.43 grams per tonne of gold (hole PM944) and 54 metres at 2.63 grams per tonne of gold (PM567).
Drilling, mapping and surface trench sampling has defined a number of mineralised splay structures branching off the central Umuna structure, trending around 310 degrees.
Two of these have previously been partially mined – the Kulumalia and Tonowak structures – but recent work by WCB has identified additional splays forming an en-echelon series of sub-parallel zones on the south-eastern side of Umuna over strike lengths of 700 metres to 1 kilometre. Additional trench sampling will be conducted on these prospects prior to drill testing.
Sampling and mapping by WCB, Placer and other previous explorers has consistently highlighted the potential for Umuna mineralisation to continue north beyond the limits of previous mining, so this will be a considerable focus for KSN.
This area, known as Misima North, includes gold mineralisation in trench and stream sampling over a strike length of 2.5 kilometres to 3 kilometres, which will be drill tested. You can see this region, as well as Umuna itself, in the map below: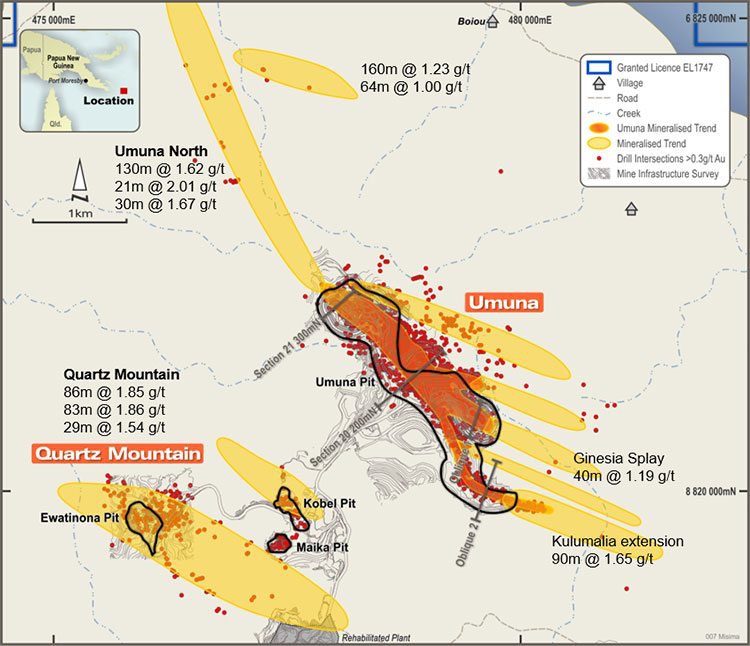 Exploration targets with historic channel sampling assays highlighted
The smaller resource at Quartz Mountain have received little attention since they were mined by Placer. However, there is significant potential for additional and higher-grade mineralisation in this area.
KSN intends to begin exploration work on Misima immediately after completion of the merger. The initial plans are set to include a geochemistry program of channel and soil sampling across the eastern splays and possibly some work to the north. A drill program will follow, where initial targets are likely to include the untested and shallow areas such as the Ginesia and Kulumalia splays following up on the high grade channel sampling identified in the splays. Ultimately, the aim is for this work to add further to the already substantial resource.
Here's what KSN's timeline looks like for Misima, from completion of the merger itself right up to the tail end of development: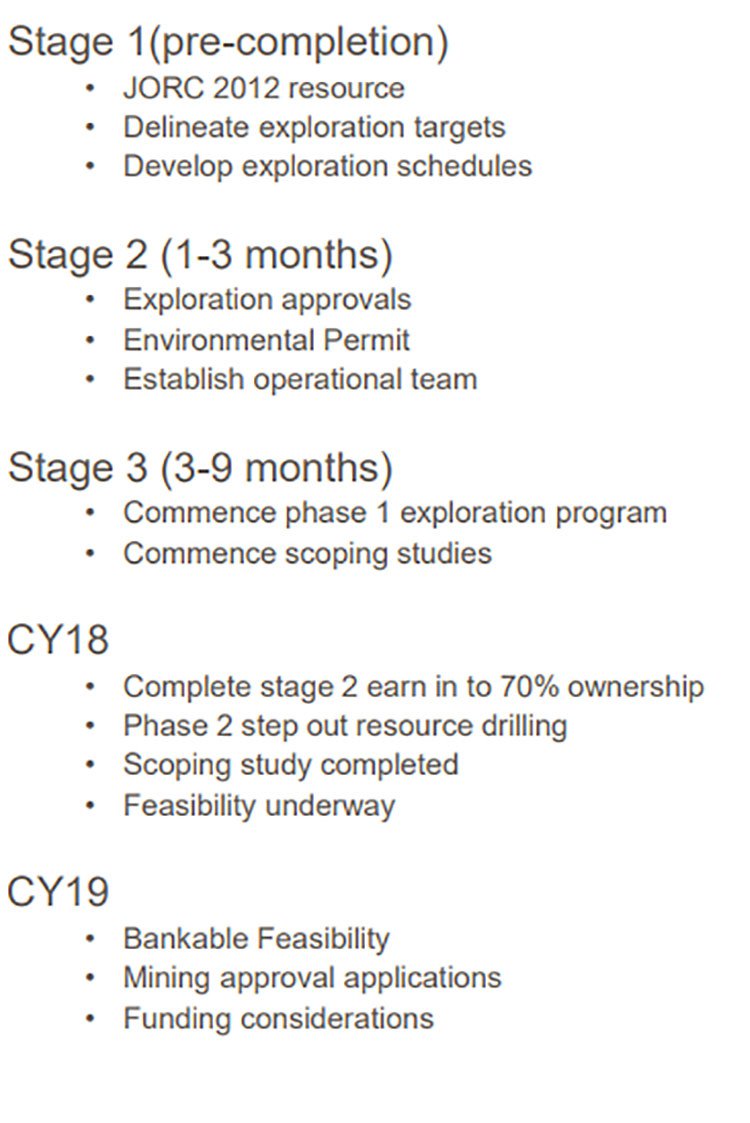 That's a pretty full dance card for one small-cap ASX explorer that's just finding its feet. After completion of the merger, KSN has pretty much got its work cut out for itself, so these are busy days ahead.
This also translates into a regular stream of news flow, and all of these milestones could potentially act as share catalysts.
That, in turn, isn't all KSN is holding...
A golden stepping stone – the Livingstone Project
Moving on to the Australian pieces of the KSN exploration pie, KSN has three projects that complement its priority Misima Project in PNG: the Livingstone Gold Project, and the Bynoe and Arunta Lithium Projects.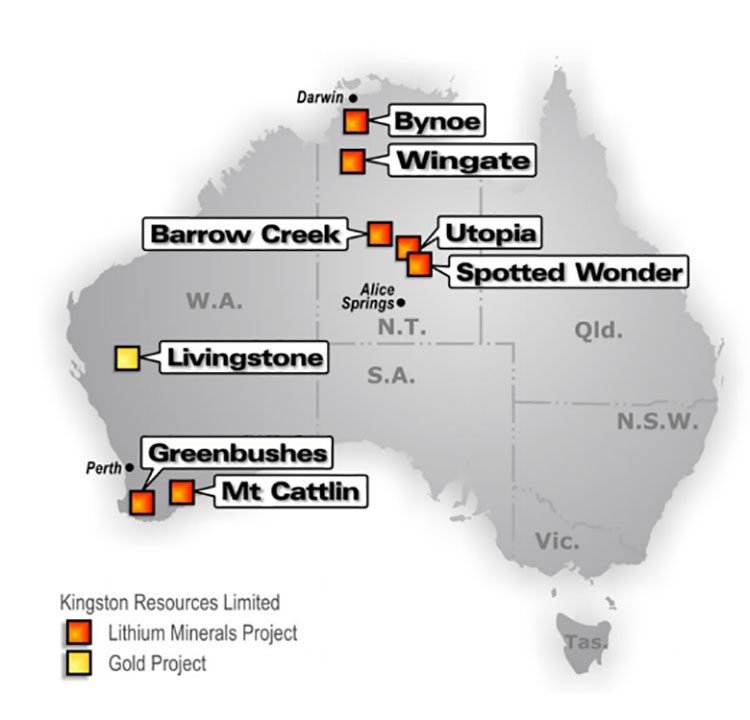 We'll take a glance at all of these, but let's look at Livingstone first – KSN's smaller gold project that acts as a stepping stone for Misima.
KSN is earning a 75% interest in Livingstone, which is located 140 kilometres northwest of Meekatharra in WA: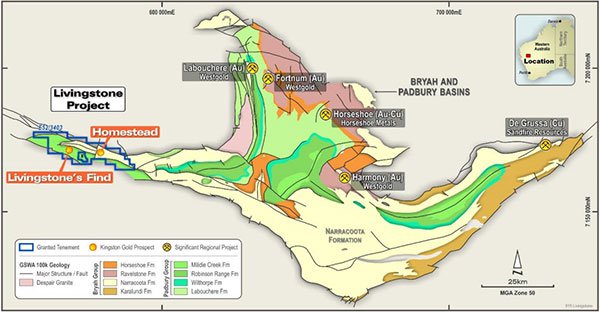 This project hosts a JORC2004 Inferred Resource of 50,000 ounces, and is the site of numerous high grade historic intersections including: 18 metres at 7.85 grams per tonne from 68 metres in hole TRC070; 5 metres at 20.5 grams per tonne from 3 metres in hole BRC37; 14 metres at 3.49 grams per tonne from 2 metres in hole MSEC223.
Exploration will build on the success of recent auger drilling at the Stanley and Mt Seabrook prospects. The auger sampling program, conducted over an area of approximately 17 square kilometres around Livingstone North, has confirmed a strong gold anomaly over several areas coincident with prospective geological and geophysical features.
The auger drilling has also revealed high-tenor gold anomalies spanning more than two kilometres across each of the Stanley and Mt Seabrook prospects, which you can see in the image below.
Results include gold values of more than 1,000 parts per billion or 1 gram per tonne of gold, which is considered extremely high for a soil sample.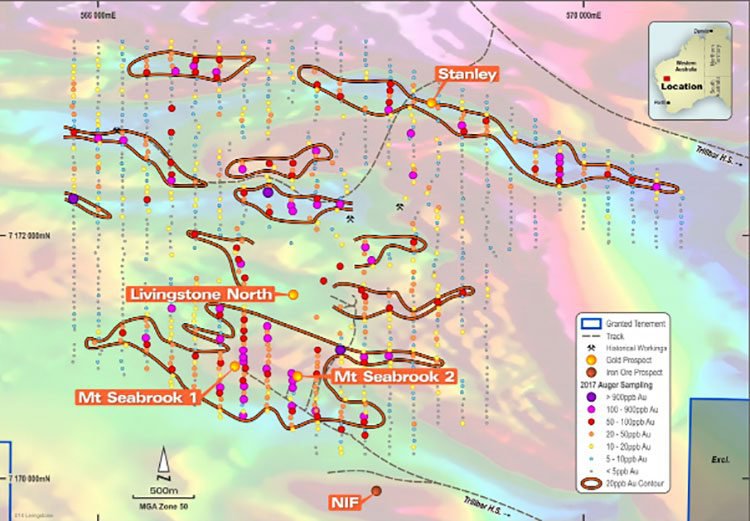 At the Mt Seabrook area, which includes two lines of old workings (known as Mt Seabrook 1 and 2), auger drilling defined a large area of gold anomalism greater than 50 parts per billion of gold. The Mt Seabrook anomaly spans an area of over 2 kilometres in length and up to 800 metres wide, with a peak assay of 1.74 grams per tonne of gold. The Mt Seabrook workings were sampled in 2016, with grab samples returning assays as high as 75.65 grams per tonne.
Below is an overview of the Livingstone Project with geology and current prospects: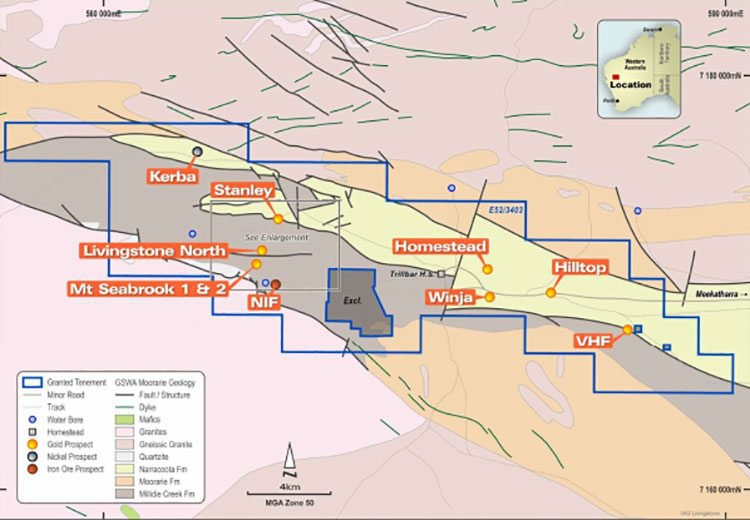 KSN's work is ongoing to progress exploration on priority targets, and there are plans afoot to follow up on the successful auger program with a drilling campaign.
All in all, a nice foil indeed for KSN's larger Misima Gold Project.
Meanwhile...
The lithium chapter
With an eye on the burgeoning energy storage rally, a strategic corner of KSN's portfolio is dedicated to lithium.
The Bynoe Lithium Project is situated within the 180 kilometre Litchfield Pegmatite Belt, which lies in close proximity to Darwin.
KSN has nine granted tenements spanning 281 square kilometres. As we may have mentioned, KSN has strategically situated itself near Core, whose tenements are shown in relation to KSN's in the following map:
The first phase of RC drilling at Bynoe in July has revealed significant lithium mineralisation intersected at the Lei prospect , with a best result of 12 metres at 1.43% lithium in hole KBRC024.
Deep Ground Penetrating Radar (DGPR) also indicates a possible second large pegmatite 180 metres east, which hasn't been drill tested.
This is an encouraging beginning for KSN's exploration program, and these early results will be built on further. In KSN's game-plan here are additional DGPR surveys, soil sampling and RC drilling, as well as plans to develop other drill targets within the region using surface geochemistry and ground geophysics.
Again, this company is in its early stages of development here and investors should seek professional financial advice if considering this stock for their portfolio.
Also in KSN's lithium repertoire is the North Arunta Project in the Northern Territory, which lies within a significant pegmatite field. Historic and current exploration has built a strong case for lithium potential in the area. KSN's initial soil surveys identified two priority target areas within the Arunta Project, Delmore and Tank Hill, with +100ppm lithium in soil anomalism and high grade rock chips (~10% Li).
...Overall, the lithium piece of this puzzle is off to a nice start.
The not-so-distant future...
With the merger set to be finalised in less than two weeks, and KSN looking to move quickly with a proactive exploration agenda for Misima, this seems to us like a very news flow-driven exploration story that's only going to keep blossoming.
It's still early days yet for this $11.37 million-capped ASX junior, but things are get much busier from here, with a maiden JORC in the works for Misima and an exciting upcoming exploration program. .
A host of activity is about to erupt at Misima as KSN completes its potentially game-changing transaction, and here at the Next Mining Boom , we'll be sure to keep you clued in.
---