A Better Battery than Tesla? ASX Stock Invests in Graphene Battery Tech
PUBLISHED: 16-06-2016 12:09 p.m.
The electric car revolution is in full swing – ask any ASX listed lithium and graphite explorer.
The rise in the development and manufacture of electric cars (EVs) is driving the increased requirement for graphite and lithium owing to their use in lithium ion batteries, which are set to be a key ingredient in a new, clean energy zeitgeist.
Up until now, most industry pundits have been backing lithium-ion battery technology to be the dominant technology over the coming years.
But there is an up and coming battery technology that threatens to usurp lithium ion batteries – and it's all based on graphene.
Graphene is a one atom thick layer of graphite, widely tipped to be the most useful material of the 21 st century owing to its incredible characteristics and applications over dozens of industries.
Today's ASX stock is not a miner or minerals explorer, it is a technology company that has just made an investment that could allow the production of superior battery technology from graphene.
This ASX company intends to exploit its venture by commercialising 'graphene synthesis' patents for battery technology; by providing technology licenses to multiple manufacturers.
This graphene battery technology is set to iron out all of the bugs currently hindering lithium ion batteries.
Put it this way, this technology could go where no lithium ion battery has been before: lithium ion batteries can't be taken on planes or in environments with a high heat source.
This technology will also change the way the public view electric cars.
Assuming the technology progresses from the lab, the expectation is that they will be able to recharge faster and go 3500 kilometres before being plugged in – try going that far on a tank of gas or in a current version of the electric car.
In fact the technology behind these batteries could generate a similar performance to a mid-size four cylinder car such as a Mazda 3 or Hyundai i20.
Of course this is still an early stage play and the technology is yet to be fully proven, so apply caution when considering this stock as an investment.
This $20M capped ASX company is funding the development of graphene battery prototypes and if proved up successfully could make a large imprint on the already substantial rechargeable battery market.
Even better the development program will take just 6-12 months, meaning we could see a prototype in quick time.
With control of the marketing, commercialisation and bringing this tech to capital markets, this ASX stock has put itself in the box seat of a new energy paradigm, while still keeping a foot in its other promising energy technology business (we will explain later).
Introducing: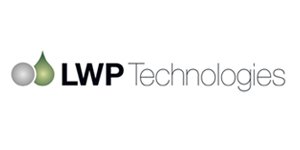 LWP Technologies

LWP Technologies (ASX:LWP) has just invested $1.6M for a 50% interest in a joint venture company that will allow it to exploit three patents all focused on ground-breaking graphene battery technology.
LWP at the end of last quarter held $3.9 million in cash, and as its graphene JV progresses, the company is not sitting still with its other technology business, centred around the oil and gas industry.
LWP has developed a next generation, fly ash based proppant for use in hydraulic stimulation of oil and gas wells globally – and we will explain more about this tech further down, but for now let's focus on LWP's latest graphene based investment.
Those in the energy business, would understand there is a change afoot that is already impacting how consumers treat energy consumption.
Most of this work is being done through the creation of energy saving batteries and the gizmos and gadgets they power. Like electric vehicles.
Tesla has been at the forefront of this movement, but they are now being challenged by other traditional car makers (although Tesla is playing a much bigger game – its Powerwall is demonstration of this).
The thing is, when it boils down to it, Tesla will be just one of many players in the energy efficiency market and in the future may not have the best product out there.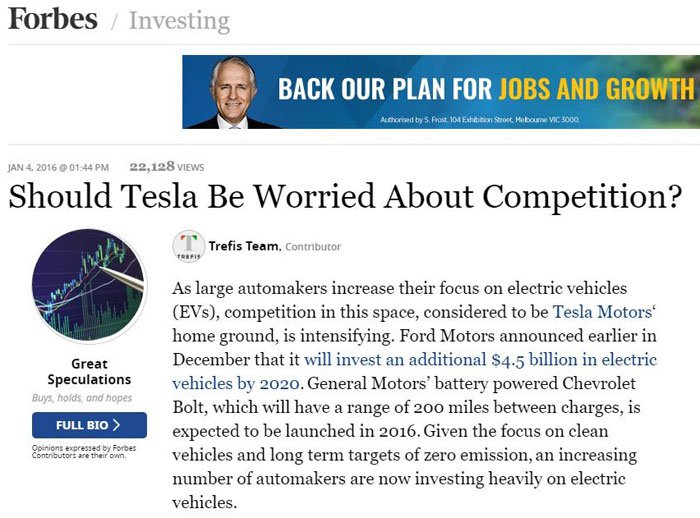 While most companies are using lithium-ion batteries to fuel their energy sources as well as their ambitions, there is a little known, potentially ground breaking technology that could change the game further.
LWP has gained access to a patent-pending Aluminium-Graphene Synthesis and battery technology, by agreeing to invest $1.6M and issue of 30 million LWP shares for a 50% interest in a market facing Joint Venture company, GraphenEra.
GraphenEra possesses the rights to lodged Patents on the Aluminium-Graphene Synthesis and battery technology that LWP now has options on developing.
LWP sees this move as adding a second energy technology to its portfolio, complementing its next generation fly-ash based proppants.
There has already been significant global R&D investment in graphene's application in batteries, which is said to demonstrate vastly superior energy density compared to lithium-ion batteries.
What exactly does this mean for the consumer?
It means greater driving range, decreased charging times and no hazardous side effects... like fires on planes.
You could see it being a welcome addition to the clean energy family...
To get an idea of why this tech is so compelling take a quick look at this table, which gives you an indication of just how graphene batteries stack up against its currently more famous counterpart: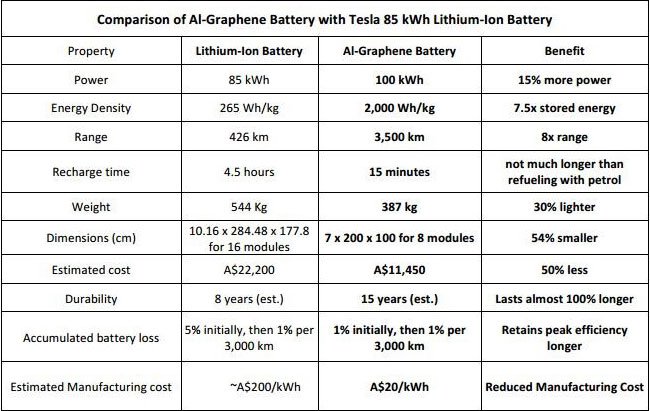 Let's just sum this up: the AI-graphene battery offers 15% more power, 7.5 times the stored energy, 8 times the range, 15 minutes recharging compared with 4.5 hours, is 30% lighter, 54% smaller, costs 50% less, lasts almost 100% longer, retains peak efficiency for longer and has a reduced maintenance cost.
Again though, it's worth reiterating that LWP's technology is in its early stages and thus professional advice should be sought for further investment advice.
A quick look at the market
The clean energy family is big and has many technologies under its umbrella. We are concentrating on the battery industry here, because quite frankly that is big enough.
Consider this: There are currently 23 global lithium ion battery manufacturers and the number is growing.
We've probably all heard of Tesla's US$5BN gigafactory, but what about Volkswagen's €13BN Mega Factory? Or the fact that Norway, Austria, Netherlands and India are targeting 100% electric cars by 2025.
Then there's Toyota who is working on magnesium batteries because it has read the research that lithium can sometimes be considered as an unstable metal prone to risk.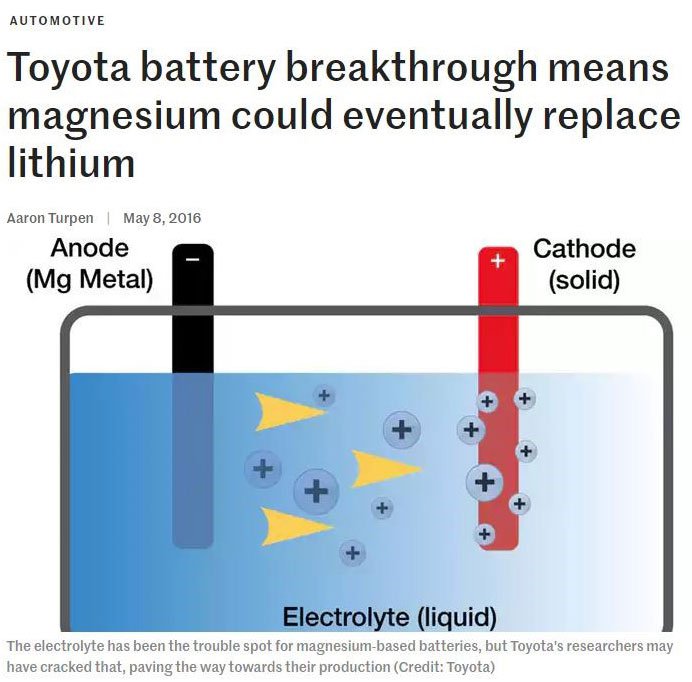 Of course, lithium ion still remains on top of the heap as far as what companies are gravitating towards.
The global lithium ion battery market revenue for vehicles is expected to total $221BN from 2015 to 2024.

That's a big market, but what if something better comes along?
It could be magnesium, but given the rise of graphene as a super material, a graphene based battery with a super technology behind it could be the way of the future.
So what is behind this technology?
The tech in more detail
While many companies are working on lithium-ion baterries to prove up their energy saving technologies, millions of dollars has also been poured into graphene technology; with R&D occurring throughout many of the world's leading universities including Stanford, Manchester, Brown, Sydney, Melbourne and Monash among many others.
If the universities are on the case, there must be something to this technology and its energy saving powers.
What the universities have found is that graphene batteries have several benefits above and beyond what lithoium-ion batteries are capable of.
To put that in perspective, as we stated earlier, using one of these batteries in your vehicle could take you 3500km, that's 600km further than the distance from Melbourne to Perth before you have to recharge.
That's more than across this giant country and is pretty impressive.
While graphene has been tinkered with since two Russian émigré, Nobel Prize winning scientists happened on this material in 2004, it is yet to be produced to its highest quality on a commercial scale.
However it seems that is about to change.
Enter another Russian...
Australian Russian inventor Victor Volkov B.SC, MAI – State University of Aerospace Technology. B.SC (Economics) MAI. Post Grad cybernetic. Plekhanov Institute, Moscow.
This guy is well-credentialed and has been working in the field of leading edge, physical methods in the process of metal-based conductive composite with improved mechanical and chemical properties.
If you are not a nano technology engineer, you may not have been able to finish that sentence, so the important thing to know is that this research has been conducted relating to a method for producing graphene-aluminium composite material – the science behind LWP's prototype battery.
The research and development behind this has been completed, which means LWP and GraphenEra are closer to production than you might think.
In fact three Australian patent applications have been lodged, which is what attracted LWP in the first place.
Patent protection pending
The significance of these patents is that they describe the chemical synthesis process to manufacture the highest quality graphene on a commercial scale.
The first application of the technology the JV partners intend to independently validate, then commercialise, using synthesis graphene is the Aluminium-Graphene-Oxygen battery.
There are a number of applications and technologies in the pipeline as well.
First and foremost, however, is the intended commercialisation of the graphene synthesis patents for battery technology by providing technology licenses to multiple manufacturers.
Here are the three patents that LWP controls the marketing, commercialisation and the ASX market listing for:
Patent 1
Invention: The invention relates to the sphere of electrical energy storage and notably metal-to-air electrochemical cells.
Application: Aluminium-Graphene-Oxygen battery
Patent 2
Invention: The invention belongs to the field of metallurgy and notably productive metal-based conductive composite with improved mechanical and chemical properties. Particularly, the invention relates to a method for producing Graphene-Aluminium composite material.
Application: Aluminium-Graphene Composite
Patent 3
Invention: The invention relates to the sphere of electrical energy storage and notably metal-ion electrochemical cells.
Application: Aluminium-Graphene-Ion Ultra-Fast Rechargeable Battery.
LWP will first exploit patent 1 in a development program that is estimated to take just 6-12 months.
In that time it intends to construct the first prototype battery, seeking independent testing for the prototype during several charge and discharge cycles and plans to build up to five batteries for evaluation by potential technology licensees.
Should they hit on positive results, the JV partners then intend to license the graphene/synthesis/manufacturing process and battery technology, then commence the prototyping and commercialisation of Patents 2 and 3.
Remember the plan is to deliver the first prototype in 2016, which LWP believes will deliver significant value to shareholders.
In fact, LWP have a history in proving up and commercialising energy technologies, having already had success with its ceramic proppant technology.
Let's find out more about this side of the company.
The primary disruptive technology
With one eye on the future and the other on fluctuating oil prices, LWP has made a play into the graphene sector, however its primary focus up until this point had been in ceramic proppant technology – and it is business as usual for the company in this space.
For those new to the technology, the proppant is a solid material designed to assist with the hydraulic stimulation of an oil well.
This is another big energy related tech industry.
The global hydraulic fracturing proppants market was estimated to be worth $53.03 billion in 2014 and growing at a CAGR of 13.68% during the forecast period 2014 to 2022.
Here's a general overview of the market LWP is playing in: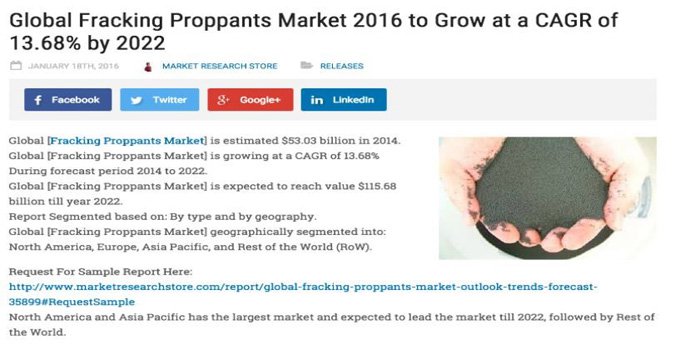 LWP has a vision to become the dominant Ceramic Proppant and the Standard for the industry.
The company recycles flyash, an abundantly available by-product of coal fired plants, often close to oil and gas reserves. There are several benefits to using flyash to make proppants including reduced deployment costs, low or no transportation and logistics costs and high margin potential due to low manufacturing costs.
Currently oil & gas companies and contractors, particularly those in the United States are assessing technologies and products that make hydraulic fracturing more cost effective .
Up to now producers have focused on extracting oil & gas from shallow wells where they can use cheap mined frac sand proppants, in preference to the deeper wells, which require more expensive ceramic proppants.
However using flyash enables LWP to challenge existing market dynamics.
LWP has been focused on lowering the manufacturing costs of its ceramic proppants, so that licensees might gain a competitive advantage by delivering a superior ceramic proppant over mined frac sand in areas where transportation and logistics costs are high.
Here's a look at the potential cost saving per well, using flyash based proppants.
Potential cost savings per well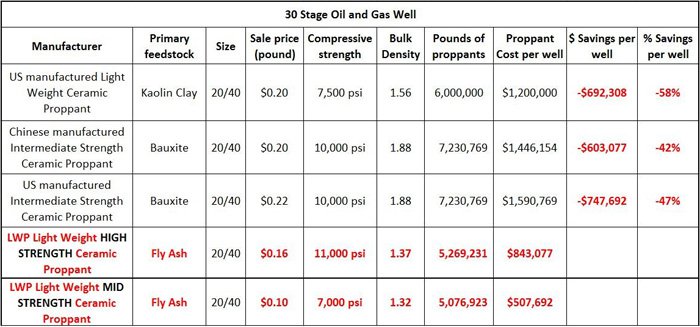 As you can see there are significant cost saving benefits and test results on the low cost proppants have found they can compete with mined frac sand on price.
So LWP is in a good position here and it is important to note that there is already an existing plant in Brisbane which can produce 3000 tonnes per year. Production of flyash proppants commenced scale up in Q3 2015.
Here is the plant in Brisbane...

However, like its deal with GraphenEra, LWP has de-risked this arm of its business by forming a JV with Hallmark Minerals to produce LWP flyash proppants.
The production facility is located in Pune, Maharashtra, India and has a capacity to produce 12,000 tonnes per annum.
LWP holds a 60% stake, but its biggest negotiation was for a $US1 million upfront technology license fee for the state of Maharashtra, plus 10% of gross revenues and royalties.
The JV gives LWP an early cost-effective entry to the proppants market and enables it to showcase LWP's technology to potential licensees. There is also the option to automate production to 24/7 operations to produce 20,000 tonnes annually, which would please shareholders as monetisation and commercialisation opportunities increase.
In fact, indicated revenues on 20,000 tonnes a year are US$5.28M, with an EBITDA of $3M.
Those forward looking potential revenue numbers are speculative and should not be taken as set in stone. Apply caution to your investment decision and do not base it on these numbers alone.
LWP is also looking to secure offtake agreements for its Indian JV plant and hopes to license the technology to existing proppant manufacturers in the US and China to modify existing plants.
A one off upfront license fee would net between $2.5M and $15M depending on the area and bring in ongoing royalties of 10%.
So as you can see, LWP has form in partnering up and commercialising a range of products, so it could very well have two revenue generating technologies in the palm of its hand before too long.
A brave new world
The fluctuating oil price has caused problems for several companies. Many working in the space have had to look at new or left-field opportunities to survive.
LWP has done just that.
In this video you can get a better understanding of how LWP's Chairman Siegfried Konig is leading the company to develop innovative technology into industrial markets.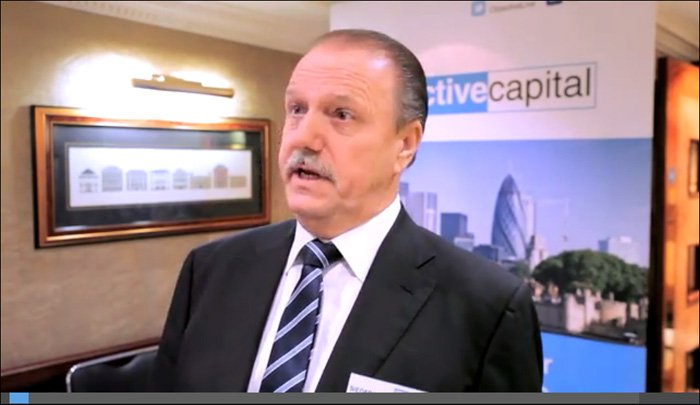 LWP is looking to do this with its proppant technology, but has now also put themselves into a position to potentially do it again through its JV in GraphenEra and move into the graphene space.
It's a smart play given oil and gas market fluctuations.
LWP is an energy technologist and it wants to remain as such, that means looking to the future whilst maintaining its current assets.
It can see the future of energy.
It knows that the clean energy revolution is already here and just waiting for technology to catch up.
So LWP has done the best thing it could and diversified its technology portfolio, putting one foot in the graphene market which is set to disrupt, revolutionise, change the energy sector, whilst keeping the other foot in oil and gas by offering up a low cost technology attractive enough to those who are in hydraulic fracturing.
The world is experiencing an energy revolution and LWP is putting its hand up to lead both existing and new leading edge technologies.
---