ASX Stock Currently Trading 50% Below Net Asset Value is Primed for Cannabis 2.0
PUBLISHED: 02-03-2020 11:21 a.m.
The global epicentre of the legal cannabis industry has to be Canada.
With a progressive regulatory environment and established markets, for those in the cannabis industry, it is the place to go for capital and customers alike.
Home to multi-billion dollar heavyweights like Canopy Growth (TSX: WEED) and Aurora Cannabis Inc (TSX: ACB), Canada is now a mature market that has generated significant amounts of wealth for those that got in on the ground floor.
What has largely driven the growth of these companies is the retail cannabis market, something that is hard to understand here in Australia.
While most of the ASX cannabis stocks focus on medical applications of the plant, over in Canada it's a different story, with a highly visible retail market driving revenue and growth.
MMJ Group Holdings Ltd (ASX:MMJ) is an investment company that offers a simple way for Australian investors to get exposure across a number of early stage Canadian cannabis companies with international ambitions.
After a rough 2019 and market consolidation, the Canadian cannabis sector is gearing up for a rebound in 2020.
MMJ is well positioned and primed to ride this next wave of growth, able to pick up significant positions in companies now at modest valuations.
At 31 January 2020, MMJ had a Net Tangible Asset backing of $0.2357 per share (pre-tax), with a book value of assets of $58.8M.
However, the stock is currently trading at just $0.096 per share, with a market cap of $21M – a discount of over 50%.
One of MMJ's portfolio companies, Embark Health, is gearing up for an IPO this year – MMJ currently has 12% of Embark, at a book value of $13.9M.
Embark Heath is in the throes of creating the largest cannabis and CBD extraction business in Canada with facilities in British Columbia (BC) and Ontario (ON).
Embark Health's IPO would be the next major liquidity event for MMJ – and combined with the expected overall rebound in the sector, it might not take too long for MMJ's share price to start to eclipse its Net Asset Value once again.
Currently MMJ has a Share Purchase Plan on offer at $0.11 per share and is aiming to raise $5M from existing holders.
MMJ hasn't traded this low before (at least for the last five years) and it might well be short lived.
There's little doubt the cannabis sector is primed for massive growth over the long term as legalisation continues to expand across the globe, the benefits of cannabis and hemp receives greater recognition, and market acceptance improves.
MMJ's aim is to become the premier cannabis investment fund – and it only needs one outsized return to transform it from its current valuation...

Share price: $0.096
Market capitalisation: $21.54M
The MMJ investment case: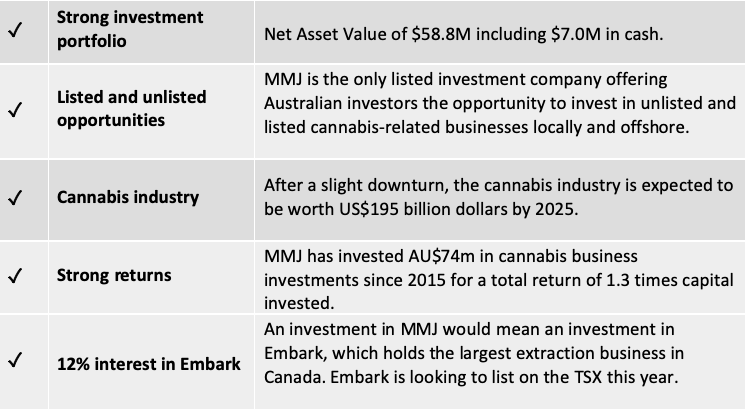 An Australian cannabis company primed for Cannabis 2.0 – the rebound phase
For Australian investors, MMJ Group Holdings Ltd (ASX:MMJ) offers a point of difference for those looking to invest in the cannabis market.
There is nothing like it on the ASX, with the company able to invest in listed and unlisted Canadian cannabis businesses at attractive valuations and prices.
This is of particular relevance, given the current state of the Canadian cannabis market, which we will explore shortly.
The funds from the current SPP will give MMJ increased flexibility to make new investments in listed and unlisted Canadian cannabis businesses, make follow-on investments in current portfolio companies, and to manage the timing of exit for its existing investments.
A growing portfolio of cannabis investments
MMJ's focus is on extraction businesses and brands.
Here's non-executive director Mike Curtis speaking with Finance News Network about that strategy:
Curtis has form in this space. The experienced former investment banker and private equity executive co-founded Dosecann along with Greg Boone. Dosecann was sold to Cannabis Wheaton for $38 million, with MMJ generating a realised return of 2.3 times its investment in that company.
Furthermore, Curtis co-founded Embark Health along with Bruce Dawson-Scully (former CEO and Founder of WeedMD). Embark is set to become one of the largest extraction companies in Canada and MMJ has already generated a return of 2 times its investment in Embark Health.
Having Curtis on the team provides enormous upside for MMJ and he is leading MMJ's investment strategy, along with experienced Hedge Fund manager Mohan Nair.
MMJ already has a proven track record in acquiring and realising significant value from its cannabis investments. It looks at assets with a track record of strong market and financial discipline and identifies opportunities and bottlenecks in the cannabis value-chain.
The value for Australian investors is that MMJ secures investments in private cannabis businesses and participates in book-building for capital raisings which are not generally available to Australian retail and institutional investors.
This provides an opportunity for Australian retail investors with an eye on the Canadian cannabis sector, but who have no way to get in.
Here is a look at MMJ's assets across the cannabis value chain: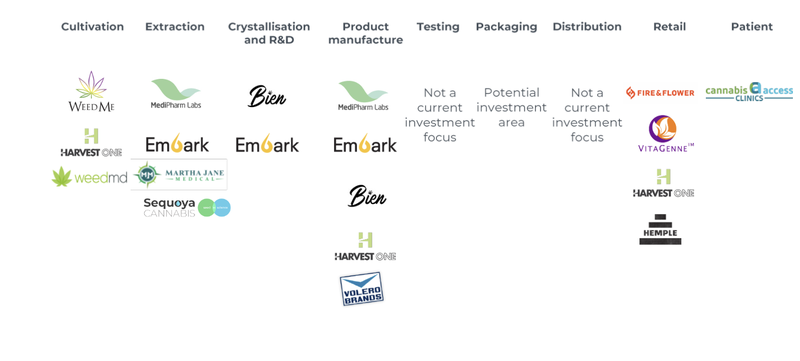 As you can see from the graphic above, the Embark investee relationship is significant.
Embark Ventures is a specialist management company, which manages MMJ's portfolio of investments.
Under the Embark Ventures umbrella is Embark Health.
Embark Health is MMJ's largest investee and recently announced its intention to create the largest cannabis and CBD extraction business in Canada with facilities in British Columbia (BC) and Ontario (ON).
Embark Health recently received its processing license from Health Canada for its Delta, BC facility, which brought it one step closer to full scale production at that facility.
It also recently advised its shareholders that it will look to list in Canada this year, presenting further upside for MMJ investors.
MMJ owns approximately 12% of Embark Ventures, with a book value of AU$13.9 million consisting of 3.4 million shares and 3.3 million warrants. This represents a return of two times MMJ's investment in Embark – which is substantial.
MMJ's Embark investment demonstrates the company's capacity to originate early stage unlisted investments in the cannabis sector with the prospect of realising potential gains on listing the public markets.
Broad outlook
While Embark is critical to MMJ's success, investments in companies including, MediPharm LABS, WeedMD, Weed Me and Sequoya have also proved successful.
Here is the highlights reel:
MMJ has invested AU$74m in cannabis business investments since 2015 for a total return of 1.3 times capital invested (MOIC);
MMJ has executed Canadian asset sales which have generated significant returns on investment:
a) Dosecann – 2.3 times MOIC
b) Medipharm LABS – 4.3 times MOIC (MMJ retains residual investment)
c) Fire and Flower – 1.6 times MOIC
MMJ's investment in Embark Health has generated return of 2 times on current valuation with a prospective listing on CSE anticipated to occur in the first half of 2020.
Let's break down the assets.
Harvest One (TSX-V: HVT; OTCQX: HRVOF)
It hasn't all been a smooth run, the return from Harvest One (HVT) was an unrealised loss of 50% of investment (included in current NAV).
Harvest One is a global cannabis company that develops and provides innovative lifestyle and wellness products to consumers and patients in regulated markets around the world. Here's a look at its brands:

However, Harvest One is currently undergoing a strategic review will look to sell its interest in Burb Cannabis Corp., a cannabis retailer located in British Columbia, as well as its interest in the 398-acre site in Lillooet, British Columbia for total proceeds of CAD2.3 million.
MMJ has the largest holding in HVT of 26%.
"The sales of our equity interest in Burb and the Lillooet Property are part of our ongoing review of noncore assets, which we initiated as part of a broader enhanced strategic plan announced in November 2019," said the CEO of HVT, Mr. Froese and "cash proceeds from these transactions will have an immediate positive impact on our financial position and will support our continued branding and distribution efforts related to Cannabis 2.0."
MMJ non-executive chairman Peter Wall said, "We believe Harvest One is significantly undervalued given its substantial cultivation and Cannabis 2.0 assets."
Seqouya Cannabis
Sequoya forms part of MMJ's extraction assets. Its investment consists of a CAD2.5 million convertible note and a 24% ordinary shareholding.
Sequoya has achieved its first step to become a significant GMP-certified hemp CBD supplier, with longer term plans to expand into the legal medical marijuana market across Europe.
Sequoya's recently completed cannabis extraction operations are located in Krakow, Poland. The company plans to become a leading supplier of CBD extracts and isolate within the European Union.
Excellent investment returns are expected of Sequoya given its focus on extraction, the highest value opportunity within the cannabis ecosystem.
MMJ believes that as the cannabis industry evolves, the ability to produce GMP certified product at a lower cost in Europe will be a strategic advantage.
Meanwhile, Poland also provides access to world class technicians and engineers at a substantially lower cost than available elsewhere, some of whom are already working with Sequoya.
Medipharm LABS
MMJ owns approximately 0.94m warrants (exercisable at CAD1.20 per share by October 2020) in MediPharm Labs (TSX: LABS) (OTCQX: MEDIF) (FSE: MLZ).
The book value of MMJ's investment in Medipharm Labs is AU$1.9m. Founded in 2015, MediPharm Labs specialises in the production of purified, pharmaceutical quality cannabis oil and concentrates and advanced derivative products utilising a GMP certified facility with ISO standard-built clean rooms.
The company recently announced a very strong balance sheet and an unaudited aggregate liquidity position of approximately $67 million as at 31 December, 2019.
"With our strong balance sheet, a healthy aggregate liquidity position, supply of pharmaceutical-quality products and the fact that the Cannabis 2.0 market is opening, we are well positioned to support our customers in Canada as they ramp up sales, as well as new potential customers in emerging international markets," said Pat McCutcheon, CEO, MediPharm Labs.
"In Canada, as the consumer market begins to achieve its full potential, we have remained disciplined in shaping our committed wholesale and service agreements based on our credit policies and sizeable upfront payments."
WeedMD
WeedMD Inc. is the publicly-traded parent company of WeedMD Rx Inc., a federally-licensed producer of cannabis products for both the medical and adult-use markets.
It owns and operates a 158-acre state-of-the-art greenhouse, outdoor and processing facility located in Strathroy, Ontario and also operates CX Industries Inc., a wholly-owned subsidiary of WeedMD Inc., from the Company's fully-licensed 26,000 sq. ft. Aylmer, Ontario production facility which specialises in cannabis extraction and processing.
With the recent acquisition of Starseed Medicinal Inc., a medical-centric licensed holder with operations in Bowmanville, Ontario, WeedMD has expanded its multi-channelled distribution strategy.
Starseed's industry-first, exclusive partnership with LiUNA, the largest construction union in Canada, along with other employers and union groups complements WeedMD's direct sales to medical patients. WeedMD maintains strategic relationships across the seniors' market and supply agreements with Shoppers Drug Mart as well as six provincial distribution agencies where its adult-use brands Color Cannabis and Saturday are sold.
The company boasts a very low cost of production with outdoor grow and expansion space.
MMJ owns three year convertible debentures which creates downside protection whilst the attached warrants provide upside. MMJ's investment in WeedMD consists of CAD 6 million in 8.5% unsecured convertible debenture units issued by WeedMD which may be converted into 3.75 million shares by September 2022.
MMJ has the right to make further investments in WeedMD through warrants that allow MMJ to acquire an additional 3.75 million shares for CAD1.80 each for a period of 3 years. The book value of MMJ's investment is approximately AU$5.7m.
WeedMD represents an attractive financial product which is less accessible to Australian retail investors, but that feeds right into MMJ's vision for investors.
The vision
All of MMJ's investees play a major role in its overall cannabis strategy.
It has a four-pronged long-term version: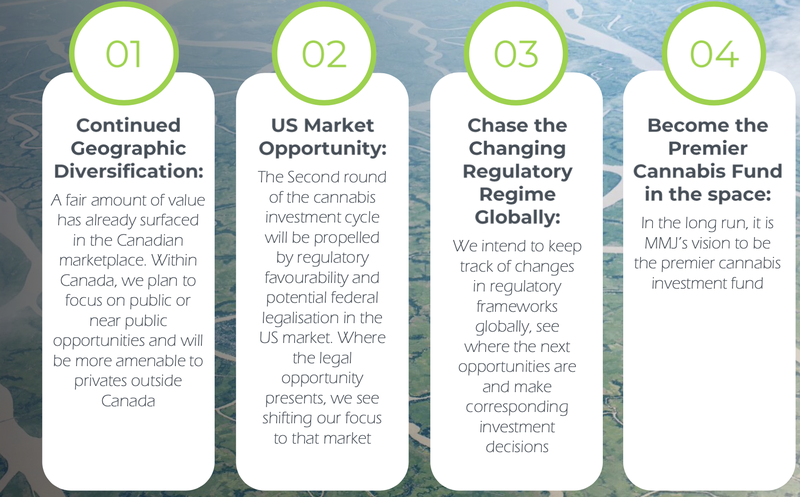 Put simply, MMJ is not only looking to capitalise on the current Canadian cannabis climate, but it will also be watching the US regulatory advancements in order to make its mark across North America. It will do the same globally to achieve its ultimate aim of becoming the premier cannabis fund.
By achieving this aim, MMJ will be a step closer to trading at a premium to its NAV.
The following chart shows MMJ's share price in relation to its pre-tax NTA.

Here is how MMJ will eliminate its current p/nav discount:

There is a major reason for its confidence and that is the return to form of the Canadian cannabis market, which should prove to be the litmus test for the global industry.
Investing in Canadian cannabis
The Canadian cannabis scene is in the throes of a correction.
The industry was rocked by scandals in 2019, as bad behaviour on the part of licensed cannabis cultivators generated more interest across the country than any other problem.
CannTrust proved untrustworthy when it was caught growing cannabis in five unlicensed rooms at its Niagara facility.
California-based MedMen Enterprises and Canada-based Aurora Cannabis have also said goodbye to its CEOs.
The world's largest cannabis company, Canopy Growth came under the spotlight after it unceremoniously dumped its CEO.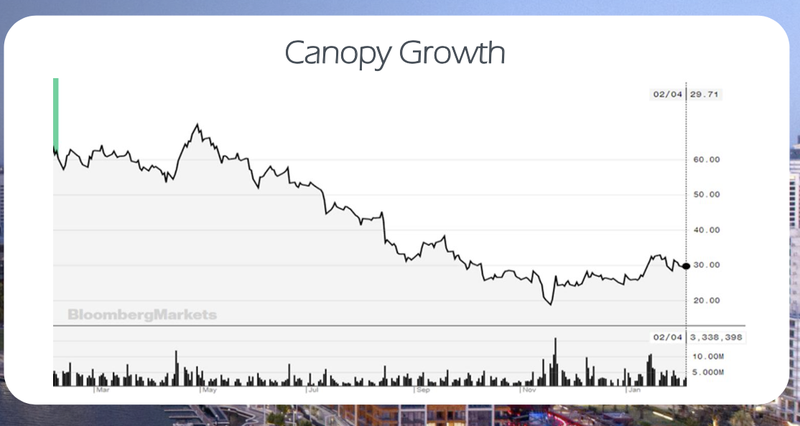 Canopy's fortunes are turning. Canopy reported net revenue of CA$123.8 million in fiscal Q3 2019, an almost 50% increase from the CA$83.0 million reported last year. The result saw its share price rise, which could mark the turning point for the industry at large.
In light of the current correction and consolidation, MMJ is expecting a profitable 2020 ahead for the industry and is speculating that 2021 will be a banner year.
Here is Michael Curtis explaining the situation to CommSec's Tom Piotrowski...
Curtis expects a consolidation of the industry to occur. He says the surviving players will enjoy the benefits of that consolidation and investors will be able to take advantage of depressed valuations.
Curtis is cautiously bullish and as he told Next Small Cap, MMJ "can get to companies that retail investors can't".
Statistics Canada reports, licensed cannabis store revenue leaped to an all-time high, after surpassing US$100 million in sales for the first time in November 2019.
Sales topped $110 million in December.
So, it is the perfect time to be looking at companies in this cannabis sector.
MMJ is focused on extraction companies and strong brands, which feed into cannabis 2.0.
It believes its stock picking capabilities will be crucial to success in a maturing industry.
For investors looking at MMJ, they can be sure that the company will be investing in companies that are:
This puts MMJ in a unique position on the ASX as an investment company focusing on Global cannabis exposure, that gives investors access to international assets.
MMJ offers a compelling investment proposition at an SPP issue price at a discount of 51% to NAV.
It's time to put MJJ on the radar as it looks to ramp up investments in 2020, in preparation for what it expects to be the industry's breakout year in 2021.
---