ASX Newcomer Chases Tasmanian Battery Metals and WA Gold
PUBLISHED: 18-06-2018 10:52 a.m.
The ASX newcomer on our radar today has its corporate eye fixed on the rapidly accelerating electric vehicle (EV) boom, in which battery metals like cobalt, copper and nickel take centre stage.
With car manufacturers from Tesla to Volkswagen looking to secure long-term supplies of cobalt for use in their rechargeable batteries, today's junior explorer seems to be in the right place, at the right time, and with all the right people.
This company listed on the ASX in February following an oversubscribed IPO to the tune of $5 million, and already it has its hands full with plenty of work in the pipeline to keep it busy over the coming months.
The company's Mount Read Cobalt Project encompasses the Mount Read Volcanics (MRV) of western Tasmania. The region hosts a number of mines, several of which have been significant producers of base metals for over 100 years.
Take, for example, the historic Mount Lyell mine — Australia's oldest continually operating mining field. The mine, which began full-scale production in 1896, has produced more than 1.8 million tonnes of copper, 62 tonnes of gold and 1,300 tonnes of silver to date. And it's not far from where today's company has set its sights...
The Mount Read Cobalt Project also contains healthy amounts of nickel and copper, and boasts large-scale potential and multiple drill-ready targets. The company has hold of 226 square kilometres of tenure here, with government approvals already in place.
A distinct advantage is that this project sits within the Tasmania Mining Strategic Prospective Zone, which ensures access to certain areas of the state with high potential for mining. Coupled with Tasmania's eminently miner-friendly legislation, this enables a streamlined approvals process, minimising delays and speeding up timelines.
Drilling is currently underway at the project's Thomas Creek cobalt-copper-gold prospect, with drilling at a third hole beginning just last week to test a large chargeable anomaly identified by a recent 3D induced polarisation (IP) survey.
This prospect shows considerable promise, with minerology at surface and geology that's been described by executive director Andrew Haythorpe as 'spectacular'.
The drill core from the first hole has arrived in Perth and is being cut and sampled before assaying, with results expected towards the end of June.
Next up will be the Henrietta cobalt-nickel prospect, which shows potential for a quick, low-cost discovery as the depth to target is less than 20 metres. The plan is to drill this prospect later this month.
Yet any talk of potential is just that at the moment and results are yet to be determined, so investors should seek professional financial advice if considering this stock for their portfolio.
Given that electric vehicle sales are continuing to boom well into 2018, with sales up 59% on last year, this battery metals-focused company is strategic indeed.
The company is hoping to establish Australia as a hub for critical EV materials. And, given the pivotal Tasmanian setting, it also has a vantage position to Asian markets which is especially important given China's status as the largest EV market on the globe.
But where new-age metals like cobalt, nickel and copper are central to this company's strategy, it's also looking to diversify risk and provide a more traditional balance with a healthy side-order of gold.
This ASX explorer has a clutch of high-potential gold projects in WA. The Bulgera, Mt Monger and Comet gold projects are in the Eastern Goldfields, near a number of world-class deposits. The fourth gold project is in the globally renowned Pilbara district, the site of an ongoing gold-rush of sorts, and is prospective for conglomerate-hosted gold mineralisation.
With this potent commodities cocktail of forward-focused battery metals and safe-haven gold, this newly listed ASX junior is hoping to make waves in the Australian resources scene.
And it seems to have all the ingredients to do precisely that. At its helm is an experienced team with a track record of success and local discovery. For instance, Non-Executive Director Terry Topping is also Director of Intrepid Mines (ASX:IAU), which discovered the 700,000 oz high-grade Paulsens gold deposit in WA.
Today's company is currently valued by the market at a tiny $3.7 million. Yet with a razor-sharp commodities spread and an amply mineralised corner of powerhouse Tasmanian and Western Australian project locations, it's looking to take its exploration to the next level.
Unveiling: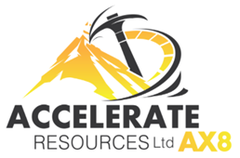 Accelerate Resources
ASX:AX8
Accelerate Resources Ltd (ASX:AX8) is an Australian-focused cobalt, copper and gold exploration company whose sure-footed trajectory is only just beginning.
As we've mentioned, AX8 listed on the ASX in February following an oversubscribed IPO that raised $5 million, and now it is ramping things up with a series of focused drilling campaigns.
Post-IPO, these funds are being used to bolster exploration of its flagship Tasmanian Mount Read Cobalt Project, as well as its WA gold projects. AX8's initial focus is Mount Read, with the near-term goal to identify the scale of mineralisation, and the ultimate objective to establish a Mineral Resource estimate.
AX8 is avoiding much of the geopolitical and sovereign risk associated with exploration abroad by looking for these commodities in its own backyard, backed by a highly experienced team with extensive Australian exploration and discovery experience.
Alongside Non-Executive Director, Terry Topping, who we mentioned earlier — an industry stalwart who has taken several ASX-listed resource companies to the discovery and beyond — there's also Chairman Grant Mooney...
Mooney is a director of several ASX-listed resource companies — Barra Resources (ASX:BAR), Wild Acre Metals (ASX:WAC) and Carbine Resources (ASX:CRB) — and is Chairman of renewable energy company Carnegie Wave Energy (ASX:CCE).
That's prolific, to say the last. Mooney is also principal of Perth-based corporate advisory firm Mooney & Partners and has more than 30 years' experience working with corporate governance, capital raisings, and mergers and acquisitions.
More in the way of extensive industry experience can be found on the credentials of Executive Director, Andrew Haythorpe, who has spent more than 25 years in the mining space and almost two decades as a director of ASX and TSX-listed companies. Since 1999, he's been involved in over $300 million of mergers and acquisitions and capital raisings.
Managing Director, Yaxi Zhang, on other hand, has spent over a decade working in resources in both Australia and China — especially apt, given AX8's aspirations to emerge as a supplier to the massive Chinese market from its strategic Tasmanian location.
With this team of seasoned industry players in mind, let's take a look now at the main focus of AX8's attentions: the Mount Read Cobalt Project...
Mount Read: a cobalt-rich setting in mining-friendly Tasmania
AX8's Mount Read tenements span 226 square kilometres of exploration ground. The project resides in the Sorrell Peninsula, and encompasses a belt of Cambrian volcano sedimentary rocks associated with the Mount Read Volcanics (MRV) of western Tasmania. This is notable as MRV are host to all of western Tasmania's significant base and precious metal mines and mineral occurrences.
The project's location: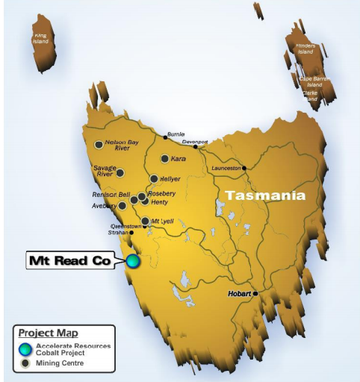 In the video below, AX8's Andrew Haythorpe talks Mount Read fundamentals, including the excellent geology at the Thomas Creek prospect:
Setting counts for a lot here. Tasmania has remarkable geological diversity and has been a significant minerals producer for more than a century. The state has had a long, prosperous history of mining, and has yielded rich mineral wealth to the tune of around $150 billion of extracted mineral commodities in current-day dollars.
The mineral extraction and processing sector is the state's largest export industry, accounting for more than half of all commercial exports. Current mining and exploration operations on Tasmania's west coast have identified in-ground resources worth more than $11 billion at current prices, while the total value of Tasmanian mining and metallurgical production in the last financial year was $1.82 billion.
The state is also one of the most mineralised areas in the world, and is host to a number of world-class deposits containing zinc, lead, silver, copper, gold, tin and tungsten.
This ABC article explains how rising commodity prices are driving a flourishing mining landscape in Tasmania: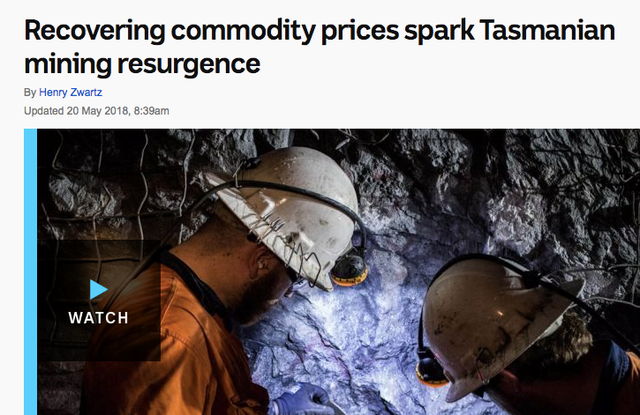 Although commodity prices do fluctuate and investors should take all publicly available information into account and not base any investment decision on commodity prices alone.
On top of that, the Tasmanian government is committed to facilitating investment for the mining industry, with supportive legislation making things simpler and quicker for miners themselves. In place is a streamlined framework for approving major development projects, including mineral and mining processing proposals, minimising delays and enabling lightning-fast application processes.
Last month, the Tasmanian government committed $2 million exploration incentives to boost the mining sector. This investment will underpin the next generation of mineral discoveries in Tasmania.
As we mentioned, AX8's Mount Read Project is situated within the Tasmania Mining Strategic Prospective Zone, which enables access to certain areas of the state deemed to have high mining potential.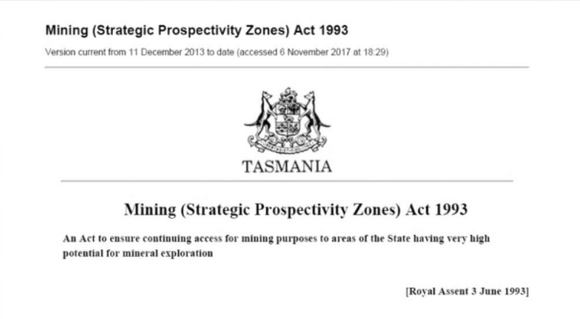 Adding to the covetability of this location, there are five major base and precious metal mines all along the Mount Read Volcanic Belt:
Mt Lyell Mine — Copper Mines of Tasmania: 311 Mt 0.97% copper, 0.31% gold.
Avebury Mine — Dundas Mining: 10 Mt at 1.14% nickel.
Rosebery Mine — MMG Limited (ASX:MMG): 34 Mt at 13.8% zinc, 4.3% lead, 2.4g/t gold.
Henty Gold Mine — Diversified Minerals: 2.8 Mt at 12.5g/t gold.
Renison Bell Tin Mine — Metals X Limited (ASX:MLX): 24.5 Mt at 1.4% tin.
The map below shows where they sit in relation to AX8's Mount Read Project: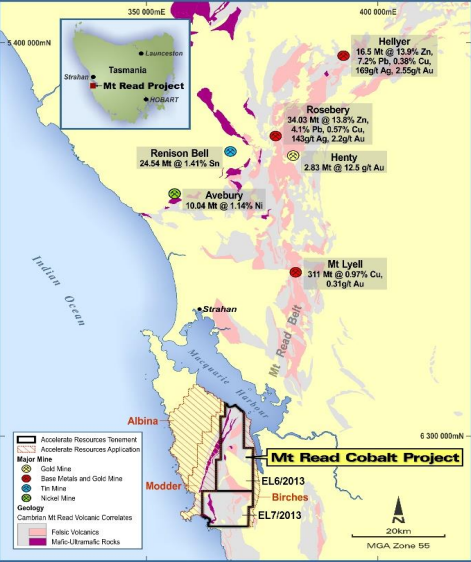 Interestingly, previous explorers have used a combination of volcanic and intrusive rock stratigraphic association, geochemical signature, alteration assemblages, sulphide assemblages, and geophysical expression to draw analogies between AX8's Thomas Creek prospect and the Mount Lyell copper-gold deposit.
With that in mind, let's take a look at the drilling that's been happening at this prospect...
Drilling at Thomas Creek
The diamond drilling program at the Thomas Creek cobalt-copper-gold prospect has been designed to test a large chargeable cobalt-copper-gold IP anomaly defined by recent 3D IP modelling.
This anomaly wasn't intersected or tested by previous explorers. As such, a lot of the ground AX8 is looking at is largely underexplored, especially in regards to cobalt, which has only relatively recently become a priority commodity for explorers. Intriguingly, AX8 is the first listed company with funding to properly explore this area.
As AX8 announced in early June, the team has now finished its second diamond drill hole (TCDD002) at the Thomas Creek cobalt-copper-gold prospect. TCDD002 is the second of three initial holes targeting this IP anomaly, which is located along the eastern margin of an ovoid magnetic body, below a surface copper-cobalt anomaly.
The AX8 team at work: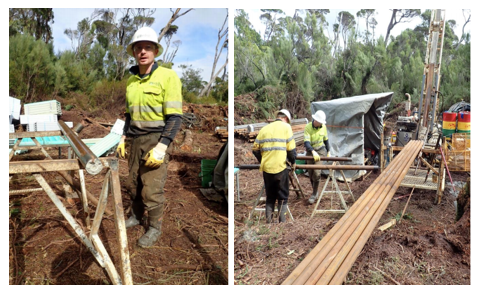 The core from TCDD002 has been dispatched to a registered analytical laboratory in Perth for cutting and sampling for gold and multi-element analysis before being submitted for assaying. Results are expected back later this month.
Following on from there, drilling of the third hole, TCDD003, has now kicked off. This third hole is targeting the deeper, central part of the IP chargeability anomaly and is located approximately 100 metres northwest of TCDD001.
This drilling was discussed in the article below: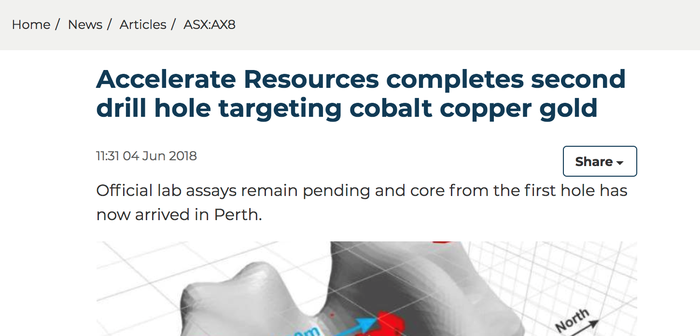 Plutonic Operations Ltd completed shallow diamond drilling in the early 1990s at Thomas Creek and defined a cobalt-copper-gold soil geochemical anomaly associated with an aeromagnetic and ground induced polarisation (IP) geophysical anomaly, but did not test the IP chargeability anomaly.
AX8 has now completed an infill IP survey, defining a large chargeable anomaly located along the eastern margin of an ovoid aeromagnetic body, below a surface copper-cobalt anomaly.
This can be seen on the image below, along with drill targets: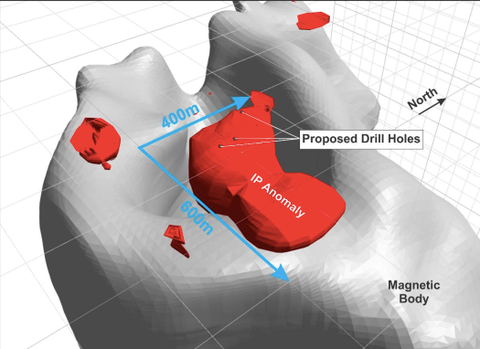 The chargeable anomaly has dimensions of approximately 400 metres at its widest and up to 600 metres in length, and the depth to the top is around 100 metres below the surface. It also identified three other separate satellite chargeable zones on the limits of the current survey. These satellite target areas will be investigated by future follow-up IP surveys.
And the main soil anomaly at Thomas Creek: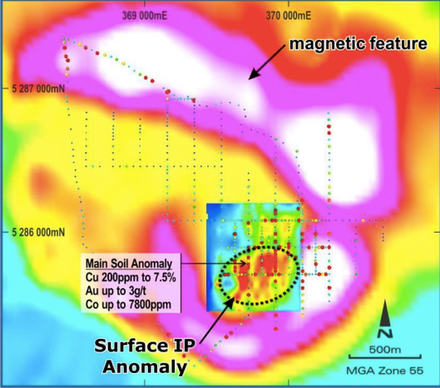 Encouragingly, the mineralisation at Thomas Creek is at surface and remains open, with sulphides hosting cobalt.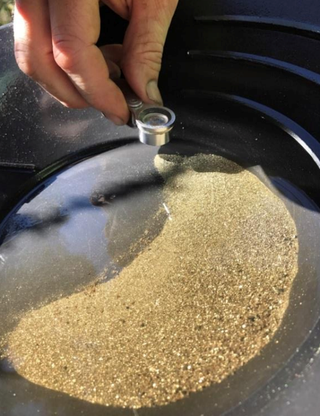 The next prospect to be targeted will be Henrietta. This copper-nickel-cobalt prospect also shows cobalt at surface (less than 20 metres) and displays potential for a fast, low-cost discovery. There are two EM targets to be drilled here later on this month.
With drilling ongoing and assays due back shortly for the first two drill holes, there's clearly plenty in the pipeline to keep AX8 busy.
Cobalt and the EV revolution: a question of supply and demand
Mount Read seems like an especially strategic play given that cobalt prices have risen fourfold in the past 2.5 years and the fact that rising adoption of electric vehicles should keep demand high.
In March, Bloomberg significantly increased its EV forecasts, highlighting the potential for electric-powered buses in particular, and the threat of not having enough cobalt to meet this demand.

The latest long-term forecast from Bloomberg New Energy Finance is for EV sales to reach 11 million in 2025, 30 million in 2030 (for a 28% slice of all vehicles on the road), and 60 million in 2040 (55% market share). This translates to sales rising ten-fold by 2025, 27-fold by 2030, and 54-fold by 2040 on 2017 sales.
Bloomberg also forecast electric bus sales to reach a sizeable 84% of the bus market by 2030.
Meanwhile in China, the biggest EV market, sales are rising faster than previously expected, potentially adding to a short-term tightening of cobalt supplies.
In the wake of this rapidly growing demand, numerous reports have emerged of cobalt supply shortages, with new terms being coined to describe these uneven dynamics, such as the 'cobalt cliff' and the 'cobalt crunch'...


With that in mind, now is a very good time to be looking for key battery metals in abundantly mineralised Tasmania.
So that's the cobalt slice of the pie for AX8. Let's take a look now at the gold part of the equation...
Four prospective gold projects and a deft touch of 'nearology'
AX8 is diversifying its portfolio and mitigating risk via its four gold projects in a set of gold-emblazoned WA locations.
The Bulgera, Mt Monger and Comet gold projects are in WA's Eastern Goldfields, near a number of world-class deposits. Its fourth gold project, Pilbara Gold, is in the state's Pilbara region, which is renowned for its conglomerate-hosted gold mineralisation.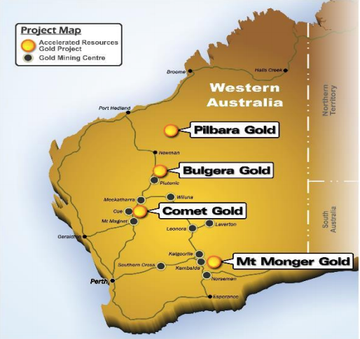 The Bulgera Gold project comprises two granted exploration licences, covering 36.8 square kilometres over the north-eastern end of the Plutonic Well Greenstone Belt, 200 kilometres north-east of Meekatharra. It's only 10 kilometres from the Marymia gold mine and 48 kilometres to the Plutonic gold mine by an existing haul road. Plutonic has produced five million ounces of gold over its life.
Bulgera contains a number of previously mined open-cut pits, while shallow gold drilling targets have been identified within the underexplored greenstone belt. Upcoming exploration for Bulgera will include RC drilling to test for potential strike and depth extensions to the mineralisation.
The Mount Monger Project, meanwhile, is located in an active gold mining district, and is situated eight kilometres east of the Silver Lake Randalls gold mill.
Here, there's shallow and widespread gold mineralisation over 350 metres. Upcoming exploration will comprise AC drilling to test the strike extension of gold mineralisation north of the Kiaki Soaks prospect.
The Comet Gold Project comprises one exploration licence application covering 37.2 square kilometres (under application). Comet is 115 kilometres southwest of Meekatharra and 20 kilometres southeast of Cue, at the southern end of the Tuckabianna Shear Zone. This project covers part of the Meekatharra to Mount Magnet Greenstone Belt.
Finally, the Pilbara Project sits 70 kilometres northeast of Nullagine, and comprises a 31.9 square kilometre tenement area — near C$738 million-capped Novo Resources' (TSX.V:NVO) Marble Bar tenements and not far from a cluster of Pilbara gold discoveries.
While AX8's Mount Read Cobalt Project remains its central priority, the company is also keen to further explore these intriguing WA gold projects in the not-so-distant future.
A solid future in shades of cobalt and gold
Clearly, there's a lot going on here for this sure-footed ASX small-cap. And there's a lot to look forward to in the weeks and months to come, with some near-term catalysts on the horizon.
Although it does remain a speculative stock and investors should seek professional financial advice if considering this stock for their portfolio.
AX8 expects to have its third drill hole at Thomas Creek done and dusted later on this month, and also expects assays back from previous holes. AX8 is taking a proactive approach to exploration at Mount Read, with drilling ongoing. Once it has a handle on Thomas Creek, the company will then proceed to its next target, Henrietta.
AX8 is currently capped at a miniscule $3.7 million, and things are really only just beginning. The junior explorer only listed on the ASX in February, but already it's making expedient work of its diversified portfolio, and has plenty of upside potential as it ramps up its exploration game.
---