ASX Junior Plants Seeds of Growth in $460 Billion Beauty Care Market
PUBLISHED: 13-11-2017 09:35 a.m.
Combining scientific research with the world of commercial skin care, is an industry unto itself.
Some of the biggest skin care companies in the world have research departments dedicated to finding the key ingredients that will give them an edge in what Statista deems will be a $180 billion market by 2024.
That's skin care alone. The global beauty care market is set to reach $460 billion by 2018.
The company we are focusing on today has its own unique approach to the industry and is maximising the benefits of plants including tomatoes and cucumbers for use in the nutraceutical and cosmetics industries.
The company began life as an agribusiness specialised in the development of hybrid vegetable seeds, particularly for the development and commercialisation of new varieties of high-value food crops, particularly greenhouse vegetables such as cucumbers and tomatoes.
Today, it has morphed into something much bigger and not only services the food industry, but is making a major claim in the cosmetics industry as well.
Importantly, it is the only ASX-listed developer of plant intellectual property.
As stated above, there are two arms to this business: the first created to collaborate with research institutions to generate plant IP. The second to turn that constructive and exclusive work into ongoing royalty streams, providing an excellent foundation to pursue its commercial interests... namely plant varieties for vegetables and personal care products infused with plant active extracts. The main focus is on tomatoes and cucumbers, developing particular traits and increasing active ingredients found in each of them, for cosmetics and nutraceuticals. It has also been exploring new varietals of eggplant, capsicum and zucchini — studying them to gain better yield, disease resistance, temperature tolerance, taste and more.
In April this year, the company launched its flagship tomato infusion product — lycopene skin cream. The cream, manufactured under contract by an Australian TGA and GMP licensed manufacturing facility of skin care, sunscreens and over the counter medicines, is designed to soothe sun damage and revitalise the skin.
Today's $31.8 million capped junior extracts certain active botanical ingredients from purpose-bred plant varietals — and sells them exclusively via a branded skin care line.
The quality of the vegetable seed saw the company seal a global distribution agreement in June with a company that has well established distribution channels in over 100 countries.
It should be noted here, however, that it is in the early stages of this agreement and investors should seek professional financial advice if considering this stock for their portfolio.
Again in July, the company launched its cosmetic brand into China with a solid list of presales. Ramp up of sales is already occurring.
In November, a second cosmetic product will be launched – tomato infused lip balm and later that same month, it is anticipated to announce the full roll out of its products into the Chinese market.
As you can see, the company is moving quickly to bring its products to market, with particular attention on China where it already has major distribution channels. It is now applying for Chinese Federal Drug and Administration registration, crucial to sell product direct to department and pharmaceutical stores and has applications in place for export licenses for China, Singapore and India.
There is a lot to cover over the course of this article, so without further ado we introduce...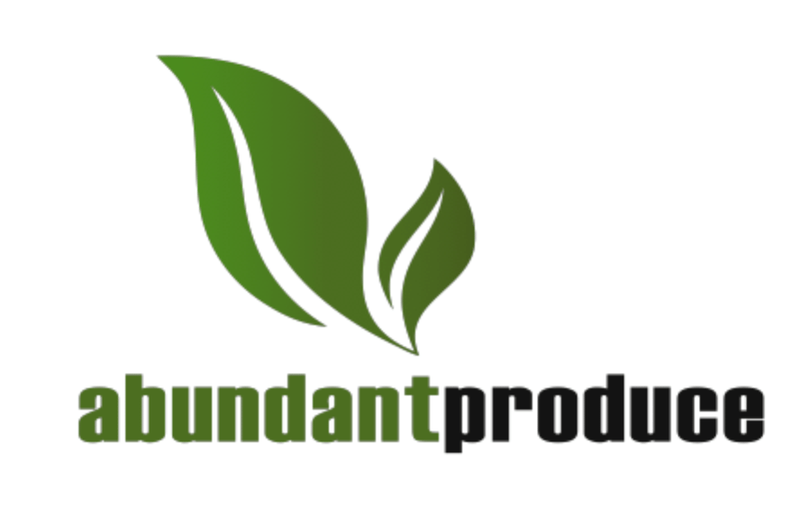 Abundant Produce
ASX:ABT
Abundant Produce Ltd, (ASX:ABT) is moving rapidly towards significant market penetration with its latest ventures into the commercial skin sector.
With money in the bank, following an oversubscribed capital raising to the tune of A$3.3 million, ABT is well-funded to continue its product development and roll-out.
ABT is currently comprised of two arms, Abundant Produce Australia Pty Ltd (APA), and Abundant Natural Health Pty Ltd (ANH):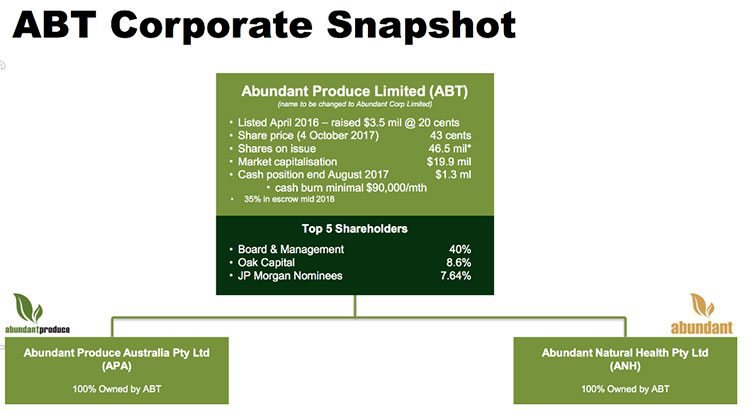 Both arms of the business promise revenue from quite different sets of buyers.
APA was created with one mission in mind: to collaborate with research institutions (universities) to develop plant IP for the food industry. Using their expertise and scientific infrastructure and turning them into strategic sources of revenue.
ANH, on the other hand, is like the mainstream marketing-friendly icing on the cake that, if all goes to plan, could come to dwarf the original business model in terms of cash flow...
ANH takes plant science and makes it more attractive in the form of personal care products.
The market for natural cosmetics and nutraceuticals is huge right now.
Let's look at the overall, traditional market for a moment. The global beauty care market was worth about about US$379 billion in 2013 with projections it will reach US$461 billion by 2018 .
Natural skin care and cosmetics look to make up a big chunk of that pie.
Consumers are starting to cotton on to the potential hazards of synthetic chemicals found in personal and beauty care products. Younger generations are leading the way, and there's plenty of numbers to show that the trend is only gaining in momentum.
According to Grand View Research, the global organic beauty market was likely to reach close to $16 billion by 2020 .
It's not just the health effects, but the efficacy of natural-based products that is drawing considerable interest; the fact these products tend to be environmentally friendly compared to chemical-laden traditional products is a big bonus.
ANH's first foray into the market was with its Tomato Infusion Lycopene Active Daily Face Cream.
What are the product selling points?
ANH's initial product line is based on the botanical extract lycopene the biological attributes of particular varietals of tomatoes.
Lycopene is a carotenoid and phytochemical that is responsible for the red to pink colours seen in tomatoes, pink grapefruit, guava and other foods — and is a potent antioxidant and anti-inflammatory. According to ABT, and other research , skin antioxidant levels can be increased dramatically through the tropical application of lycopene.
Lycopene is effective in neutralising free radicals, and is twice as effective at free radical 'quenching' as beta-carotene... in plain English, this all results in making the skin look smoother and younger.
The other key element of ANH's skin care range so far is the humble cucumber. The company has bred a varietal of tomatoes that lend itself best to skin care products.
Skin care product range
ANH's debut product, the Tomato Infusion Lycopene Active Daily Face Cream, is already available for purchase . The next cab off the rank as far as products go will be the Lycopene "Lips Alive" Lip Balm product, due to be released this month.
Following that, ANH plan to release its Cucumber Infused Magnesium Sports Spray as well as a Cucumber Infused Mineral Salts Soothing Gel in December.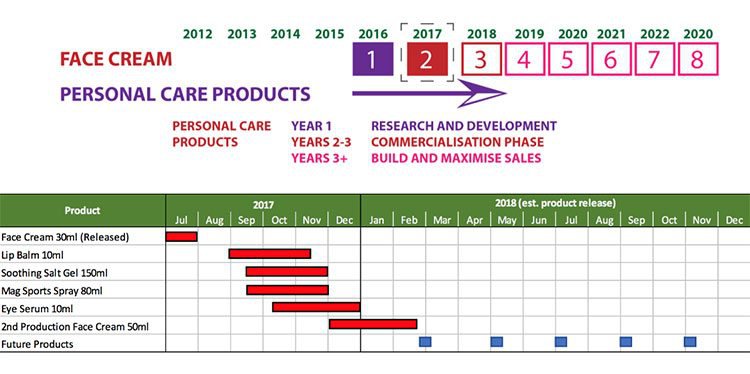 Beyond those we've just listed, ANH has plans to extend this range significantly — and may well find itself looking into the non-topical therapeutic uses of lycopene considering its access to the necessary research, equipment and expertise...
With its current line, however, it has chosen initially a large and potentially very profitable target market: China.
Commercialization plan targets China
ABT is working with an established network in China, thanks to CEO Shanan Birkin's previous six years of experience marketing in the country.
Because of the opportunities to sell to China's aspirational middle class, as well as Birkin's connections, China is a primary target market.
Yet how much of this market ABT can attract is yet to be determined, so investors should maintain a cautious approach to any investment decision made with regard to this stock.
In July, ANH successfully registered the trademark for Abundant, 雅达 in China. 雅达, pronounced 'Ya da', translates to English as 'elegant and demure'. It is an important step for the company as they create brand presence both online and eventually offline.
As at the end of the September quarter, more than $100,000 had been clocked up in pre-sales coming through from the Chinese market.
Coupled with the revenues being generated by ABT's plant extraction royalties, this is a good sign that the company is set to profit handsomely from its new venture... which could mean an intense period of expansion over the next few years as more products are released.
Interestingly, as far as the Chinese market goes, ANH recently focused on the enormous retail event called 11/11 or 'Singles Day'. What began as an 'anti-Valentine's' celebration for single people in China during the 1990s has grown into the largest online shopping day in the world — on the 11 th of November each year.
Sales in Alibaba's Tmall and Taobao on 11/11 were over US$17.8 billion in 2016.
Over 140,000 brands participated this year, including more than 60,000 international brands and sellers.
Given the numbers, ABT is taking the event very seriously and implemented a comprehensive marketing and promotional plan including the following video endorsements:
ANH had already positioned itself ideally on Tmall (via Woolworths' Tmall Flagship store), with its face cream added to the Tmall Global 'must buy' product list, which wass expected to auger well for the company during Singles Day. We will know how well when results are delivered in approximately a week's time.
For those not in the know, Tmall (formerly Taoibaoi Mall) is a Chinese-language website for business-to-consumer online retail, operated by the formidable Alibaba Group (with its enviable $470 billion market cap).
Another important link in terms of product distribution is Weibo, and ANH has set itself up to do business there also.
An Abundance of wins on distribution channels
As well as Tmall, ANH has secured many Daigous as key distributors and partners.
Daigou is a channel that allows people outside China to make a purchase on behalf of a customer in mainland China — to address the fact that luxury goods can be priced 30-40% higher in China than abroad. 'Daigou' literally means 'buying on behalf of'.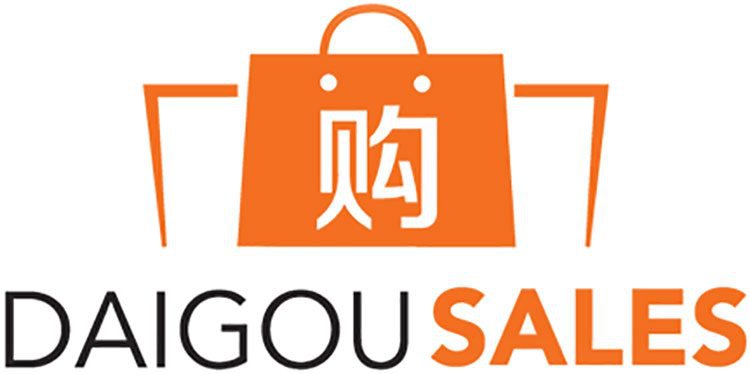 ABT has established an important distribution relationship and brand presence with Daigou, which — considering its popularity — should go a long way towards building loyalty for the newly introduced product.
The company currently has around A$500,000 inventory of the Tomato Infusion face cream... and is, cleverly, looking to build an intense level of customer demand by limiting the supply, and thus the high-end appeal, of its range of skin care products.
The product can be found in just a few Australian retail pharmacies (connected to universities), and beyond bricks-and-mortar can be bought via Daigou's, Woolworths Tmall Flagship Store, as well as online: www.abundantnaturalhealth.com

So while there are several channels to purchase, the product retains a level of scarcity — and subsequently, a high value in the eyes of many would-be customers.
Research partnerships
ABT's story up to now would not have been possible without its enviable list of research partners.
The locations span Sydney, Melbourne and Korea: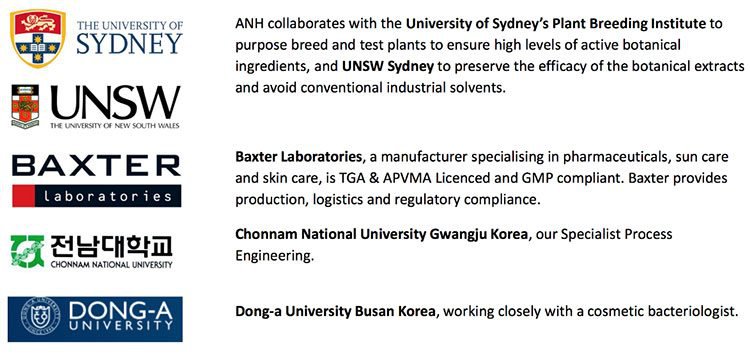 These partnerships allow APA to develop its extraction capabilities and research the botanical solutions it can then turn to profit, either via its own commercial products or through royalties for extracts it provides to other companies.
Its research arm acts as the resource base from which ABT is now looking to ramp up and diversify its revenue streams.
The business end
With $1.3 million in the bank at the end of August, and having just raised $3.3 million, ABT is in a solid cash position.
It is a tightly held company with its top five institutional shareholders comprising two notable investors, Oak Capital (8.6%) and JP Morgan Nominees (7.64%). Importantly management and the Board of Directors own 40% of ABT.
Other financial highlights in recent times include the maintenance of low overheads, thanks to its utilization of the University of Sydney's $50 million Plant Breeding Institute and UNSW school of Chemical Engineering; and its ability to access R&D funding from the government at 42% matching funding for research and development expenditure.
All the above coincides nicely with the fact that, in total, ABT plans to have five revenue-generating products launched by Christmas to complement the ongoing royalty streams it has already emanating from the seed breeding division.
ABT also expects a hike in product demand as we head towards Christmas Day and the Chinese New Year...
A look at commercialization
We mentioned earlier that ABT had signed a 'commercial in-confidence' agreement with a global distributor boasting over 100 international distribution channels.
This is a multi-decade agreement covering hybrid seed production, marketing, sales and distribution.
Hybrid plants will be created, combining the IP of both companies to produce a superior product and additional revenue streams.
ABT has numerous varietals of cucumbers in the commercialisation phase, tomatoes entering commercialisation and eggplant, zucchini and capsicum varietals in advanced stages of research and development.
The agreement puts ABT in the frame to reach its goal of bringing its existing plant IP in cucumbers and tomatoes to the global marketplace, whilst fast tracking commercialisation.
The following table, indicates the product timeline in development with ABT's global partner: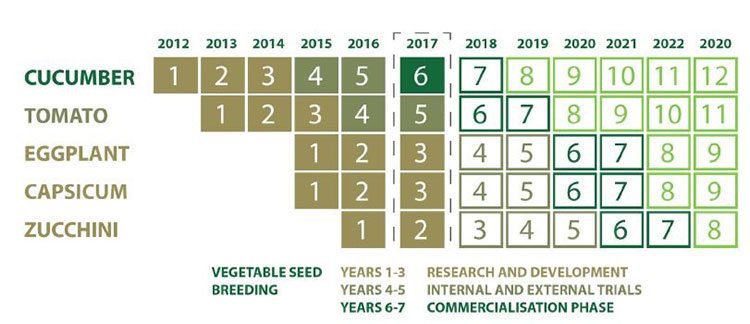 Looking at tomatoes specifically, multiple tomato varieties have completed internal testing and are ready to be commercialised six months ahead of schedule.
Five tomato varieties are available to the Global Distributor as F1 hybrid seeds, with their unique sweetness and flavour profile. Also available to ABT's Australian partners are a range of F1 Hybrids tomato`s exhibiting similar traits of flavour and sweetness; sales have commenced.
Yet ABT remains a speculative stock and investors should seek professional financial advice if considering this stock for their portfolio.
Sales have already exceeded $30,000 for the quarter on an accruals basis with cashflows expected during the current quarter.
The tomatoes were bred for:
Flavour and sweetness
Heat and cold tolerance
Self-pollination
Colour
Shape
Agronomic and logistical characteristics
Sweetness is a key driver in the market. The tomato seed market alone is projected to reach over $1.2 billion by 2022.
Suffice to say, ABT has access to a number of potentially lucrative markets.
A bright outlook
It is early days for ABT, but already it has a major international distribution partner, deals with some of the biggest retailers in the world and first revenues coming in for its growing skin care range.
In excess of $40,000 in sales were made in the September quarter, following successful ANH pre-sales of $60,000.
Importantly, ABT now has a registered trademark in China, where it believes its biggest market to be. China sees ABT well positioned on TMall and Weibo with strong endorsements from high visibility bloggers set to drive brand awareness and sales.
With a strong pipeline of products to hit the market in the next six months, we can expect plenty of news flow to come from the ABT offices and as the company gains traction, its $31.8 million market cap could quickly escalate.
---