ASX Junior Joins Pilbara Gold Rush
PUBLISHED: 28-11-2017 09:00 a.m.
The gold craze in Western Australia's Pilbara region has captured the attention of investors, explorers and miners, illustrated by the substantial market gains of several gold juniors in the region. And now even mainstream Australia is catching on as media outlets report good news stories day after day.
The Pilbara region has recently become subject to significant interest due to the discovery of 'watermelon seed' gold nuggets in Fortescue Basin sediments. The Fortescue Group is said to be the host rock for conglomerate-style gold mineralisation in the Pilbara.
But the story could get much bigger still with speculation that the region's golden potential could rival the Victorian gold rush of the 1850s.
This conglomerate gold mineralisation in the Pilbara is also drawing comparisons to South Africa's Witwatersrand Basin, the largest gold producing district in the world. The Witwatersrand's gold reefs are paleoplacer deposits and similar gold bearing conglomerates are believed to occur in the Fortescue Group of Australia.
The reason that the similarities are gaining such interest is that 'the Wits', as it's known, is a huge source of gold. Around 1.6 billion ounces of gold, or one third of all the gold ever mined, has come from the Witwatersrand Basin's conglomerate beds.
Yet, already fortunes are being made in the Pilbara. Resource companies are competing to secure prospective land to gain a slice of this new gold rush and their rising market caps are reflecting this potential.
However, all stocks here are speculative and investors should seek professional financial advice before making any investment decision in companies in this region.
This rush for gold in the Pilbara — just months in the making — was fuelled by the discovery of conglomerate gold nuggets in surface rock south of Karratha at the Purdy's Reward prospect in July.
The Purdy's Reward prospect is being explored by C$979 million (A$1.01B) capped Canadian-listed Novo Resources (TSX-V:NVO) and its joint venture partner, Australia's own fast rising $191 million capped Artemis Resources (ASX:ARV).
ARV plays a key part in today's story too, although it is not the focus.
Significantly, the company that started the latest gold rush in the region, ARV, has thrown its support behind this company by taking a strategic stake... but more on that later.
Our focus is on an ASX company that's new to the region having just agreed to acquire a 70% interest in five highly prospective gold licences in the Pilbara
The licences this company is acquiring sit within the Pilbara Goldfield and are highly prospective for gold mineralisation. Each have basement (orogenic) gold potential, while some also have conglomerate-hosted gold potential.
Introducing...

MinRex Resources
ASX:MRR
MinRex Resources (ASX:MRR) has entered the Pilbara gold rush, taking a 70% stake in five highly-prospective licences in WA's East Pilbara region.
The acquired tenements border licences controlled by Novo Resources Corp (TSX-V:NVO), Haoma Mining (ASX:HAO), as well as the tenements of renowned prospector Mark Creasy.
Novo Resources has made landmark gold discoveries and at surface nugget finds in a similar geological environment. While Haoma has discovered 'watermelon-seed' nuggets from conglomerates in the vicinity of the Comet mine, just across the fence from one of MRR's new acquisitions.
The Pilbara Region has recently become subject to significant investor interest due to the discovery of these 'watermelon seed' gold nuggets in Fortescue Basin sediments.
Several companies, in addition to Novo Resources and Haoma Mining, such as Artemis Resources Ltd, De Grey Mining Ltd, Venturex Resources Ltd, and now Kalamazoo Resources, have discovered gold nuggets in a conglomerate unit at the base of the Mount Roe Basalt in both the east and west Pilbara Craton. Novo and Artemis claim the deposits are analogous to the Witswatersrand (Wits) gold deposits of South Africa, which represents the richest gold province in the world.
MRR acquires strategically located projects
MRR has entered into a binding Heads of Agreement to acquire, through controlling entities, a 70% interest in five tenements, which are held within three projects located in the west Pilbara region: Bamboo Creek, Marble Bar, and Daltons.
MRR's new Pilbara gold tenements:

Source: MinRex Resources
The licences sit within the Pilbara Goldfield and are highly prospective for gold mineralisation, with the Bamboo Creek and Daltons projects also prospective for base metals including copper, lead, nickel and associated precious metals including silver and platinum group elements.
Here you can see the projects in more details, including proximity to the Novo/Creasy and Haoma Mining tenements.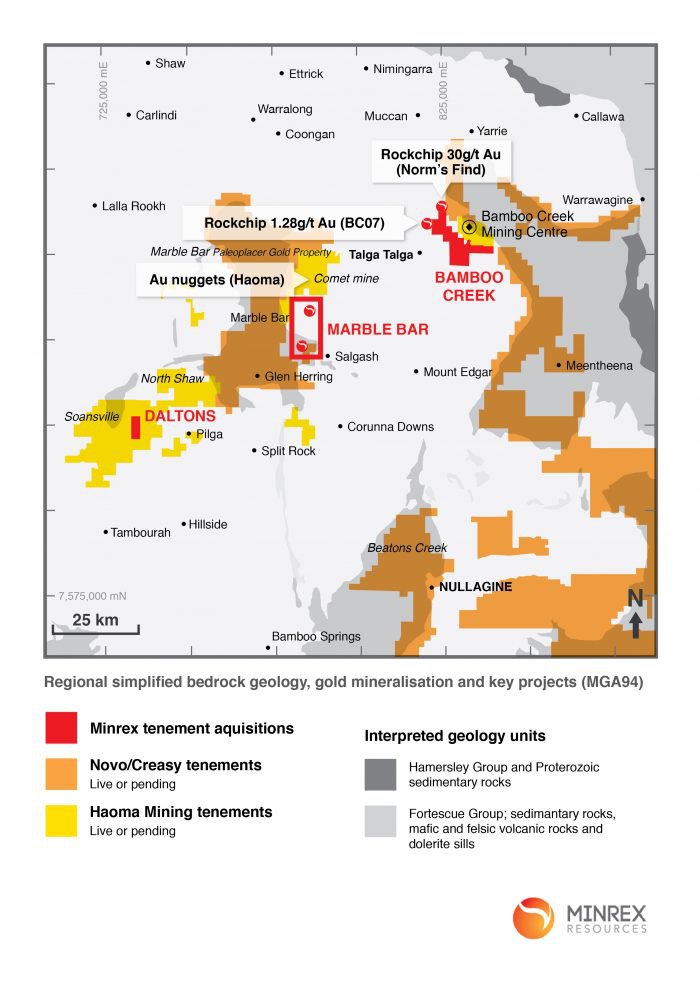 The Bamboo Creek, Marble Bar and Daltons projects are located next to projects owned by Haoma Mining. This is confidence inspiring as HAO recently announced the presence of gold-prospective conglomerate horizons similar to those of the Witwatersrand Basin in South Africa.
These were found within the Fortescue Group in their project areas at Bamboo Creek and Marble Bar.
The Bamboo Creek project area is also adjacent to the large Spinifex Ridge (Coppin Gap) porphyry copper–molybdenum deposit.
The presence of Mount Roe Basalt within the Marble Bar project area is significant in terms of gold potential.
The $1 billion-capped Novo Resources (TSX-V:NVO) also holds tenure near Marble Bar and Bamboo Creek. Novo is targeting Witwatersrand-style auriferous conglomerate at the base of the Fortescue Group, specifically the base of the Mount Roe Basalt. Novo have had success at the Purdy's Reward with its JV partner Artemis (ASX:ARV), and at the Comet Well prospect in the West Pilbara.
Can MRR follow suit?
All three project areas the MRR is acquiring include components of the Paleoarchean East Pilbara Terrane, Pilbara Craton, which comprises Archean greenstone belts that have been intruded by granites. The greenstone belts comprise mafic and felsic volcanic and sedimentary rocks assigned to the Pilbara Supergoup.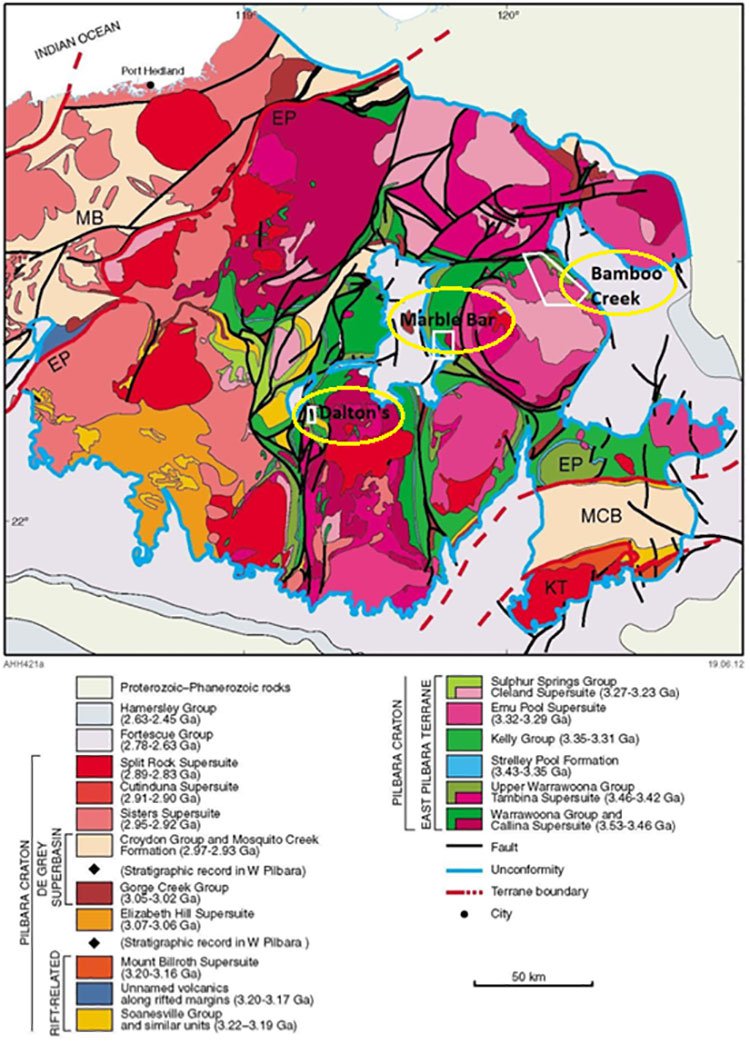 Source: MinRex Resources
Bamboo Creek
A review of previous exploration at the project including limited soil and rockchip sampling, identified five high-priority targets for follow up work to enable drill targeting. All of these targets are prospective for gold, plus other metals.
Of course it is early stages for MRR's exploration here, so investors should approach their investment decision with caution.
The Norm's Find and BC07 prospects in the north of the project area are the highest priority based on their geological setting and rockchip results. The most significant rockchip results at Bamboo Creek being:
30 g/t gold with 154 g/t silver and 6.54% copper at the Norm's Find prospect
1.28g/t gold + 83.5g/t silver + 0.29% copper at the BC07 prospect
This aeromagnetic image identifies these significant rockchip results from the Bamboo Creek project: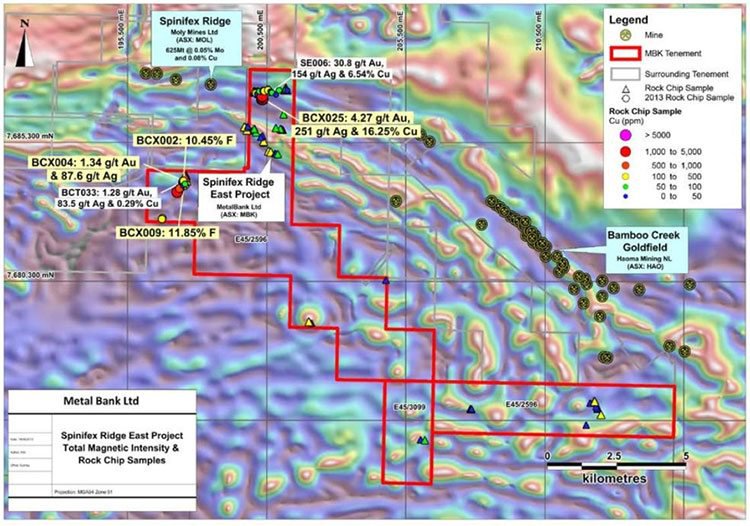 Dalton's
Gold mineralisation historically mined within the Dalton's project area is hosted in quartz and quartz–carbonate veins in the Euro Basalt, within a north-northwesterly trending shear.
Seven rock chip samples from a sampling programs conducted during 2005-2009 returned assays well in excess of 1 g/t gold, with a maximum of 17.36 g/t gold from sample.
Marble Bar
The Marble Bar project area is prospective for vein-hosted gold mineralisation related to faults and shears. The southern tenement (P45/3039), is also prospective for conglomerate-hosted paleoplacer gold, as it is located on the boundary between the Mount Roe Basalt of the Fortescue group and the underlying granite and greenstones.
Artemis take strategic stake in MRR
Artemis Resources Ltd (ASX:ARV) has been one of the pioneers in the Pilbara Region for its landmark discoveries. That includes its conglomerate style gold project at Purdy's Reward, where 547g of in-situ nuggets up to 4 cm long were recovered from prospecting over 4 days in early August. The strike length of gold nuggets has since increased to ~900 metres.
Artemis has recognised the golden potential in the tenements that MRR is acquiring, and so has decided to take a $250,000 stake in MRR to ensure they are a part of any developments that may occur in these prospective tenements.
The investment makes strategic sense to ARV as the ground that MRR is acquiring across the three project areas is in the heart of the Pilbara's prospective conglomerate gold region.
ARV's investment of $250,000, at $0.12 per share, is part of the $750,000 strategic placement that MRR is completing alongside its acquisition.
We first brought the ARV story to our readers back in February 2017 , when it was trading at just 4.7 cents per share. It is now trading at 38 cents, returning shareholders a sevenfold return.
Backed by its own highly encouraging gold discoveries, ARV's share price is up 787% over the past year.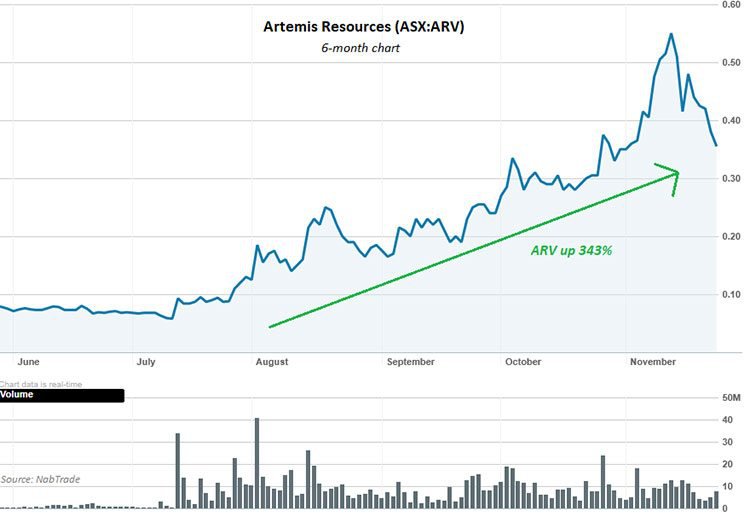 The past performance of this product is not and should not be taken as an indication of future performance. Caution should be exercised in assessing past performance. This product, like all other financial products, is subject to market forces and unpredictable events that may adversely affect future performance.
MRR acquisition of these highly prospective Pilbara gold tenements strategically positions the company in heart of the Great Pilbara Gold Rush.
If the exploration of success of its neighbours is anything to go by, we could soon see MRR announcing its own gold discoveries.
However, this is speculation on our part and investors should seek professional financial advice if considering this stock for their portfolio.
Looking forward
MRR will look to fast track its exploration as soon as possible.
There are several encouraging factors here and MRR could have history on its side as well as some seriously strong neighbours to vindicate its position.
And with ARV also backing the company, there could be a lot to look forward to for this $13.8 million capped gold explorer.
---