AOU Honing in on Potential European Cobalt Discovery
PUBLISHED: 31-10-2017 09:29 a.m.
Auroch Minerals (ASX:AOU) has been making steady work of its focused drilling program at its Tisová Cobalt-Copper-Gold Project in the Czech Republic, revealing last week that the first two holes are done and dusted.
To jog your memory, Tisová is an exceptionally old underground mine situated in the centre of industrial Europe, with a history that harks back to the 12 th century. The mine produced 560,000 tonnes of ore (at 0.68% copper) between 1959 and 1973.
AOU is now halfway through its drilling campaign, and, as predicted in its 3D model , both holes have intersected the sulphide blanket.
AOU's second hole, TIDD003, cut across multiple zones of sulphide mineralisation containing visible cobalt and copper minerals within a 130 metre thick zone with 1-5% disseminated sulphides.
Further to that, the first hole, TIDD002, also intersected multiple lenses of vein and disseminated sulphides between 370 and 400 metres.
It's still early days for this micro-sized company, but this looks to be a confidence-boosting development which points to Tisová's potential.
AOU's best Tisová results have come in at: 0.69% cobalt, 17.1% copper, 3.7 grams per tonne of gold, and 178 grams per tonne of silver.
Samples are being prepared for dispatch to assay laboratory, with results due back in a matter of weeks.
Drilling of the third hole has also now begun, with the program itself set for completion in mid-November – not long at all. This will be a sizeable milestone for the renewables-focused AOU, and could well pique investor attention.
However, this is still an early stage play for AOU and investors should seek professional financial advice if considering this stock for their portfolio.
AOU is also rapidly progressing its copper-zinc Alcoutim Project in Portugal – the other slice of the renewables pie for this forward-focused company.
Alcoutim is a highly prospective holding, immediately along strike from the super-giant Neves Corvo mine in the western half of one of the world's most significant mining districts: the globally renowned Iberian Pyrite Belt (IPB).
Things are tracking nicely on this front, with sulphide mineralisation recently intersected and plans afoot to deepen the third drill hole.
It's hardly news that cobalt, copper and zinc are being touted as hot commodities. Especially given the roles that cobalt and copper play in renewables technology, as with electric cars and lithium-ion batteries.
Specifically, demand for cobalt in electric vehicle (EV) batteries is expected to increase four-fold by 2020, and eleven-fold by 2025.
A highly fruitful corner of this market is becoming increasingly hard to ignore: the significant projected growth in EV manufacturing within Europe.
A recent report by Dutch bank, ING, predicts that electric cars will account for all new vehicle sales in Europe by 2035, as represented by a cluster of high-end European brands like Jaguar, BMW and Volkswagen.
In fact, Volkswagen is attempting ( unsuccessfully, it seems ) to secure at least five years' supply of cobalt, crystallising the critical question of supply.
AOU could therefore be in the right place at the right time, and it may not be long before investors cotton on to this forward-thinking ASX junior.
Consider the way a comparable ASX stock has grabbed media and investor attention – a larger explorer, European Cobalt (ASX:EUC), whose flagship Dobsina Project in Slovakia shares a number of similarities to AOU's Tisová Project in the Czech Republic.
EUC is capped at $135 million and it has been in an ascendant position over the last 18 months. That's some strong leverage to European cobalt for AOU.
AOU is capped at a mere $16 million, and given the early stage of its progress, there could be some serious upside at hand.
Catching you up with: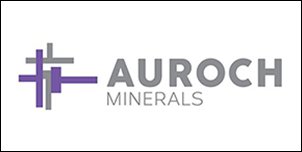 Auroch Minerals
ASX:AOU
Encouraging early results at Tisová – the nitty gritty
We last caught up with Auroch Minerals (ASX:AOU) not so long ago in September , where we took an in-depth look at the company's 3D modelling for Tisová. But to refresh your memory, here's AOU CEO, Dr. Andrew Tunks, talking Tisová fundamentals:
As we've mentioned, the most recent update at Tisová looks confidence-bolstering, with AOU completing its first two holes of this tightly focused drilling program.
This update was covered last week by None :
The impressive drilling outcome confirms the positive results from AOU's recently completed 3D model based on historical drilling and other records of the old copper mine.
This does remain a speculative stock, however, and investors should consider all publicly available information and take a cautious approach to any investment made with regard to this stock.
AOU is now halfway through its Tisová drilling program, with only weeks to go until completion.
Encouragingly, the second hole, TIDD003, intersected multiple zones of massive to semi-massive sulphide mineralisation with a disseminated sulphide halo over 100 metres thick between 333 metres and 462 metres including visible cobaltite.
Meanwhile, the first hole (TIDD002), intersected multiple bands of pyrrhotite, pyrite, and chalcopyrite mineralisation between 370 metres and 400 metres.
Previous rock chip samples by AOU suggest that the highest cobalt grades occur away from the copper (chalcopyrite) rich zones.
In the map below, you can see the Tisová licence outline, with the drill hole location plan: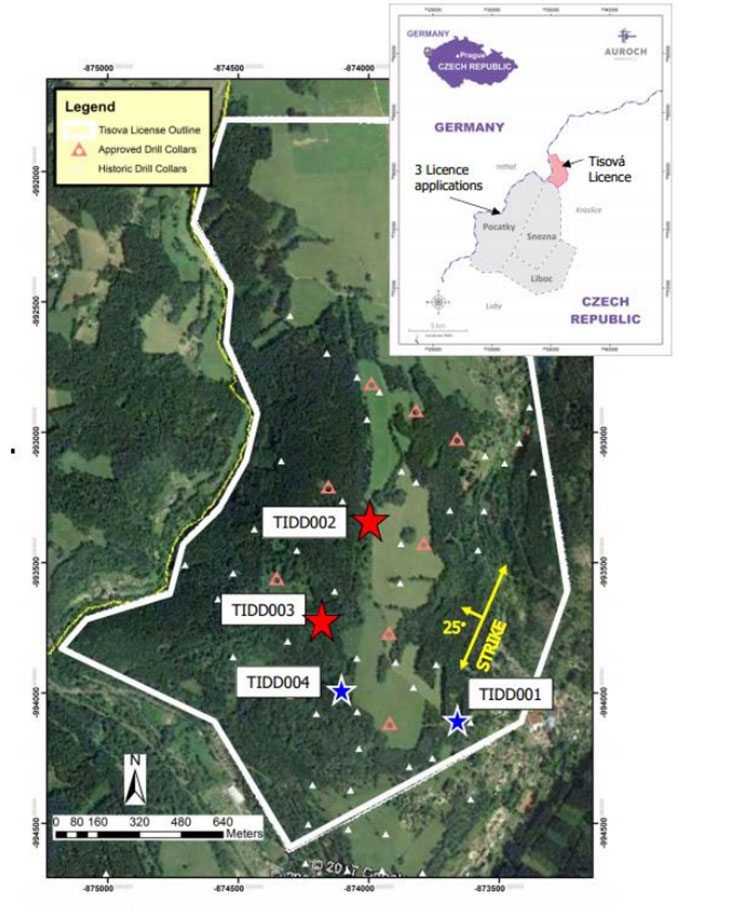 Utilising its 3D model to target the thickest parts of the sulphide-rich ore body, AOU had predicted that the second hole would intersect multiple sulphide zones – and it was spot on.
On top of that, the 3D model confirmed sulphide halos of more than 100 metres in true thickness, multiple lenses of massive semi-massive sulphides within the target halo, and 30 kilometre plus of underground development, including a 400 metre shaft down to 9 level (400 metres below surface).
The target zones are highlighted in the image below: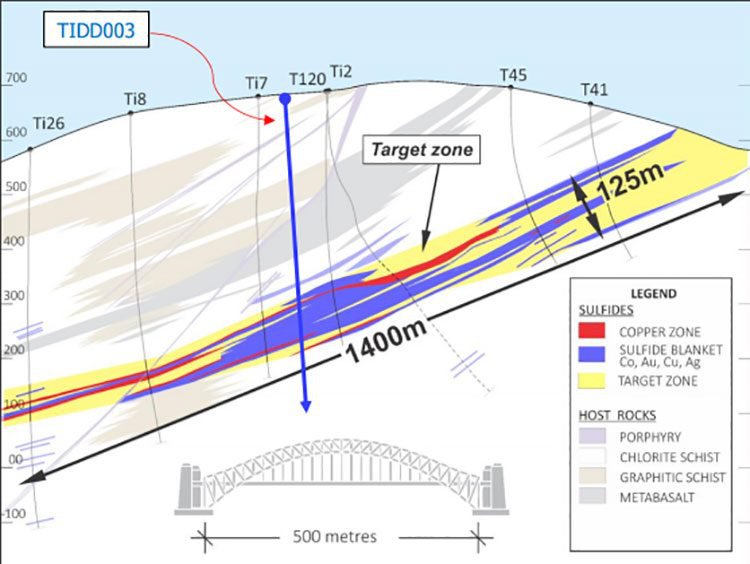 With reference to TIDD003, AOU reckons that a visual inspection of the drill core suggests a significant cobalt tenor in the mineralisation at Tisová. A notable highlight here is a 20 centimetre band of semi-massive cobalt mineral, displaying almost mono-mineralic cobalt mineralisation, followed by 30 centimetres of pyrrhotite and 10 centimetres of chalcopyrite mineralisation, as shown below: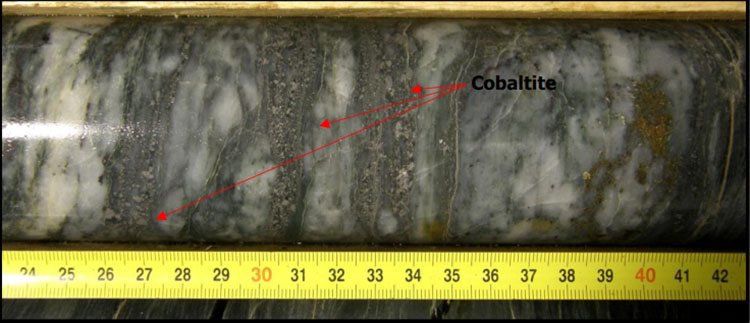 Other geological features now tend to suggest that the mineralisation has a strong structural control, which had not previously been recognised. Importantly, the new model opens significant exploration potential.
The drill rig will now move to third hole of the program, 400 metres southeast of TIDD003, with a view to be soon intersecting further zones of mineralisation.
AOU has also commenced drilling the third hole, which is expected to be completed by mid-November – a mere couple of weeks away, which leaves the overall campaign done and dusted.
AOU currently holds an option to acquire 100% of the project, exercisable at any point in time during the nine-month period between July 2017 and April 2018.
All in all, these drill hits represent a big step forward for AOU. Assay samples are currently being prepared for analysis, also expected back in a matter of weeks, which could yield some critical news for this renewables-focused explorer.
The electric car revolution, the European market, and the cobalt question
At the heart of AOU's underlying strategy is a shrewd focus on metals essential to the thriving renewable energy industry. This is a market that seems to be in no danger of slowing down any time soon, as we rapidly move towards an EV-powered future.
With its Tisová Project in the Czech Republic, AOU is also strategically tapping a particularly ripe segment of this market: the burgeoning European EV rally.
Sparked by the aforementioned ING report, there's been a sizeable amount of coverage around this over the past few months...
Driven by government support, falling battery costs and economies of scale, all new cars sold in Europe will be electric within less than two decades.
ING predicts that pure electric cars would "become the rational choice for motorists in Europe" sometime between 2017 and 2024, as their car showroom prices fall, their ranges increase and charging infrastructure becomes more widespread.
Eventually, by the end of the next decade, car manufacturers will begin focusing solely on electric models.
This significant anticipated growth is reflected by the efforts of automobile manufacturers like Jaguar, BMW and Volkswagen, with high-end brand names leading the pack.
Swedish car-maker Volvo has said that from 2019 onwards, all new cars will be fully electric or hybrid. Volvo plans to have sold a total of 1 million electrified cars by 2025.
Intriguingly, Sweden will also soon be the site of Europe's biggest factory for electric car batteries, rivalling Tesla's gigafactory in Nevada...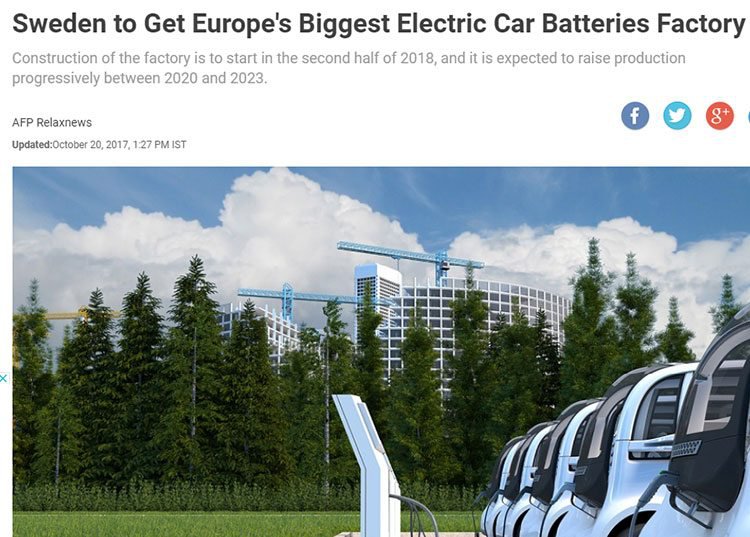 Construction of this Swedish factory is set to begin next year, and it's expected to raise production progressively between 2020 and 2023.
In the movement away from fossil fuels to greener options, even Shell is getting with the program. As this Independent article explains, Shell will be opening its first EV charging points at three UK forecourts...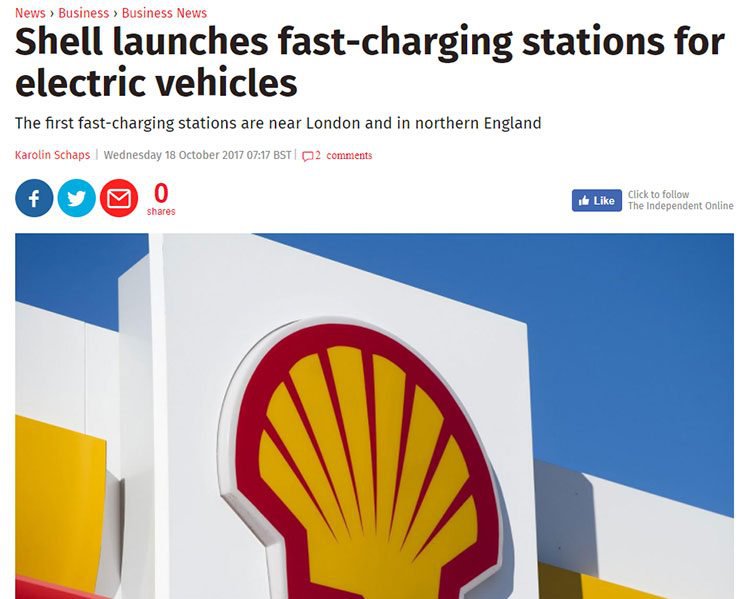 In the wake of this boom, cobalt, a common component in lithium-ion rechargeable batteries, is projected to command more and more demand, and car-makers companies like Volkswagen have been attempting to secure longer-term cobalt supplies .
Given all of this, alongside the lack of conflict-free sources of cobalt to feed this demand, AOU stands to capitalise on a flourishing market... especially given that it's looking for this essential metal right in the heart of industrial Europe.
Speaking of which...
Sharp leverage to European Cobalt
As we alluded to earlier, something that makes AOU's recent results particularly compelling are the similarities between its Tisová project in the Czech Republic and European Cobalt's (EUC) Slovakian project.
EUC has lately been the darling of the cobalt exploration corridor, and has a high-grade cobalt, copper and nickel mine in Dobsina, central Slovakia – not all that far from AOU's Tisová mine.
EUC is chaired by the resources entrepreneur Tolga Kumova, who has raised more than $500 million for his ASX mining ventures. EUC's share price is up around 209% since May last year, currently trading at $0.21.

The past performance of this product is not and should not be taken as an indication of future performance. Caution should be exercised in assessing past performance. This product, like all other financial products, is subject to market forces and unpredictable events that may adversely affect future performance.
This Australian Financial Review article , which profiles heavyweight player Kumova, gives you an idea of why the battery market-focused EUC is riding such a positive wave...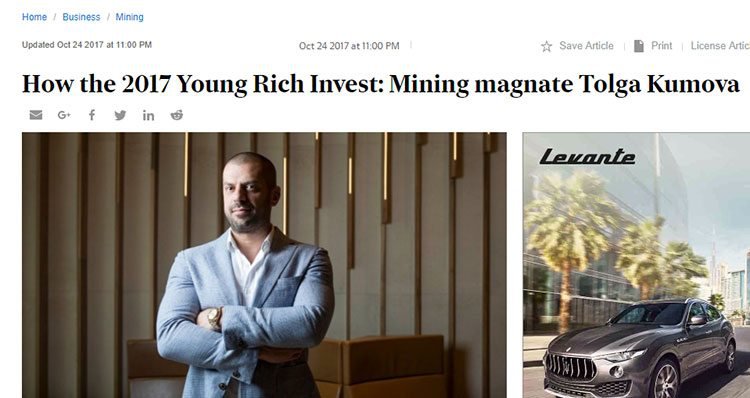 EUC's market cap is $135 million. AOU is capped at only $16 million, and is drilling as we speak. In fact, it's only in its early stages of drilling, and already it's already seeing similar, if not better, numbers than its larger cobalt exploration peer.
However, AOU has a long way to go to match its peer and investors should seek professional financial advice for further information if considering this stock for their portfolio.
AOU is hoping to capture a similar wave of sustained investor attention as it moves to complete its drilling campaign at Tisová.
And if it manages to intersect further zones of mineralisation with the third hole – which seems likely, given the accuracy of its 3D model predictions so far – it might well be on the money...
The road from here
It's been a fruitful year for AOU, and there's still more to come. We're expecting the news to flow thick and fast from here over the coming weeks and months, and into 2018.
Assays are due back in the coming weeks for the first two holes at Tisová, and the drilling of the third hole is set for completion in mid-November – not long away at all. These could well serve as major share-price catalysts for this ASX junior. And that's not even taking into account AOU's highly prospective Alcoutim Project in the Land of the Giants.
With investor appetite for electric vehicles and renewables continuing to grow more and more voracious, a play like AOU should continue to sustain investor appeal.
---