AOU Commences Drilling at its High Potential Copper-Zinc Project
PUBLISHED: 19-09-2017 09:59 a.m.
Auroch Minerals (ASX:AOU) is one of those small cap plays that acts on its promises: it talks a big talk and backs it up with hard work and ambition that seems to repeatedly pay off.
AOU's recent focus has been on two key European projects: the copper-zinc Alcoutim Project in Portugal and its new cobalt-gold Tisová Project Czechia where it has just commenced drilling.
Alcoutim is a highly prospective holding, immediately along strike from the super-giant Neves Corvo mine in the western half of one of the world's most significant mining districts, the renowned Iberian Pyrite Belt (IPB).
Tisová, on the other hand, is a very old underground mine that was first constructed in the 12 th century, and produced 560,000 tonnes of ore (at 0.68% copper) between 1959 and 1973.
Copper, zinc and cobalt are all getting high-profile endorsements lately as hot commodities. Copper and cobalt in particular for their uses in renewables technology like lithium-ion batteries and electric vehicles.
We first introduced you to AOU's new Tisová project in our last article in early July, AOU Acquires New Cobalt Project in Czechia . Since then the company has wasted absolutely no time firming up the goods.
This week AOU took one giant step when it commenced a four-hole 1500m Phase 1 diamond drilling campaign having recently secured drilling approvals.
The first hole will target a thick sulphide-rich portion of the orebody with mineralisation anticipated between 250m to 460m. The final planned depth is ~500m.
Each hole has been designed using a 3D modelling exercise, based on historical data. This included 72 surface diamond holes (25,985m) and 142 holes of underground drilling (14,299m).
Auroch's best Tisová best results have come in at: 0.69% Cobalt, 17.1% Copper, 3.7 g/t Gold and 178 g/t Silver.
Seeing that the mine was last in commission several decades ago, it has never been subjected to 3D modelling... which now indicates the project's full potential.
As for Alcoutim, AOU has finished Phase 1 of its current drilling campaign and is now completing the third hole at a depth of 689 meters.
The second hole (ALFP002) intersected targeted stratigraphy volcanic sedimentary complex (VSC) at 830 meters. It also confirmed significant magnetic similarities with that of Foupana magnetic anomaly, considered a strong indicator of the prospectivity of Alcoutim.
Of course it is early stages here and investors should seek professional financial advice if considering this stock for their portfolio.
The third hole, now in progress, has already reached the VSC target sequence and intersected sulphide-rich horizons with strong deformation. That's similar to the geological characteristics of Neves Corvo and other major VMS style deposits in the IBP.
Early results show the geology intersected in the third hole (ALFP003) have a significant correlation with the previous results from BHP Billiton's historic AC-1 hole and that is precisely what the company was aiming for.
As you can see, there is a lot going on, so let's catch up with...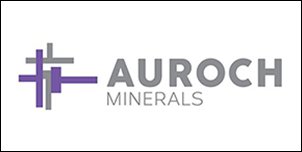 Auroch Minerals
ASX:AOU
Auroch Minerals (ASX:AOU) has had an intriguing journey over the course of the past 12 months. Whether it's getting its hands on a massive VMS style deposit in The Land of the Giants in eastern Portugal (old Rio Tinto country, no less), or resurrecting lucrative old copper mines which have yet to be explored for cobalt, AOU is determined to catch a big fish and reel in some major revenues.
Two major players in Australia's precious and base metals industry are the unlisted Sirius Resources and the $932 million capped Sandfire Resources (ASX:SFR), which have made major nickel and copper-gold deposit discoveries, respectively: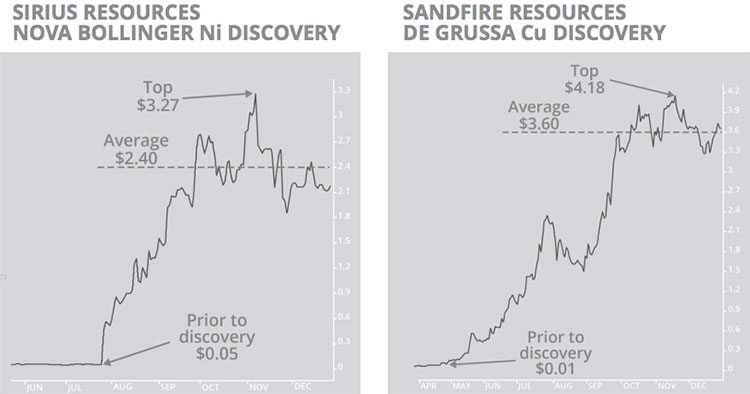 The past performance of this product is not and should not be taken as an indication of future performance. Caution should be exercised in assessing past performance. This product, like all other financial products, is subject to market forces and unpredictable events that may adversely affect future performance.
The above charts show what happened to each of the company's share prices after the big fish discovery that made each of them famous... For Sirius it was its Nova Bollinger nickel discovery, and for Sandfire its De Grussa copper discovery.
AOU on the other hand is currently capped at just $15.8 million, with its share price ranging between $0.14 and $0.19 for the last few months. There's reason to suspect that if either Alcoutim or Tisová have a major copper, cobalt, zinc or gold find, the company could be looking at a rapid uptick in valuation that could optimistically be similar to that experienced by Sirius and Sandfire.
On that note, here are the details of AOU's latest developments.
Tisová ticking a lot of boxes
In late August AOU had good news for shareholders regarding its new Tisová Project. Sampling results showed significant polymetallic potential in the form of promising grades of copper, gold and silver and, most importantly, cobalt.
These samples came from the multi-element historic waste dumps at the site. The highest results recorded were 0.69% cobalt, 17.1% copper, 3.7 ppm gold and 178 ppm silver.
These results confirmed economic grades of cobalt and along with the fact the company also received approvals for the initial drilling program, AOU's in-country team was getting set to start drilling.
Drilling has now commenced.
The four-hole, 1500m Phase 1 program commenced on September 15 and is expected to take 6-7 weeks.
The 4 holes are based on previous work at the site, with results to be cut and sampled onsite before being sent to ALS in Romania for assaying. Assay turnaround time is approximately four weeks, so we should see the first lot of results coming through in mid-October.
The first hole (TIDD002) has a final planned depth of ~500m, with a thick sulphide-rich portion of orebody mineralisation estimated to be at between 250-460m.
This looks to be a significant ore body and with assay results due over the coming few months, investors could have a lot to look forward to.
Although this remains a speculative stock and investors should take a cautious approach to any investment decision with regard to this stock.
The new 3D geology model, built from a database that includes over 30km of underground workings and more than 200 drill holes, has allowed AOU to better understand the upside in the size and scale of Tisova and plan its drilling accordingly.
The results confirming economic grades of cobalt are a big deal for this small-capped mining hopeful, particularly given current market conditions. Cobalt is one of 2017's hottest commodities. Demand is rising due to its usage in energy storage and electric vehicles, combining that with a supply shortage has seen prices soar.
The LME cobalt price spiked above US$60,000 per tonne in July, up from about US$26,000 in August 2016.
To add economic amounts of copper, gold and silver as well would add icing to an already lucrative-looking cake for AOU.
What's more, with over one kilometre of strike and dip confirmed by AOU's assessment of historic data, the zone remains open at depth and along strike both north and south. In short, there's some serious potential for a discovery that could see AOU's dreams realised very quickly.
The map below indicates historical collars in white and new planned drilling in red. The first four holes of Phase 1 drilling are shown as blue stars, with the strike and dip of the stratabound orebody also shown.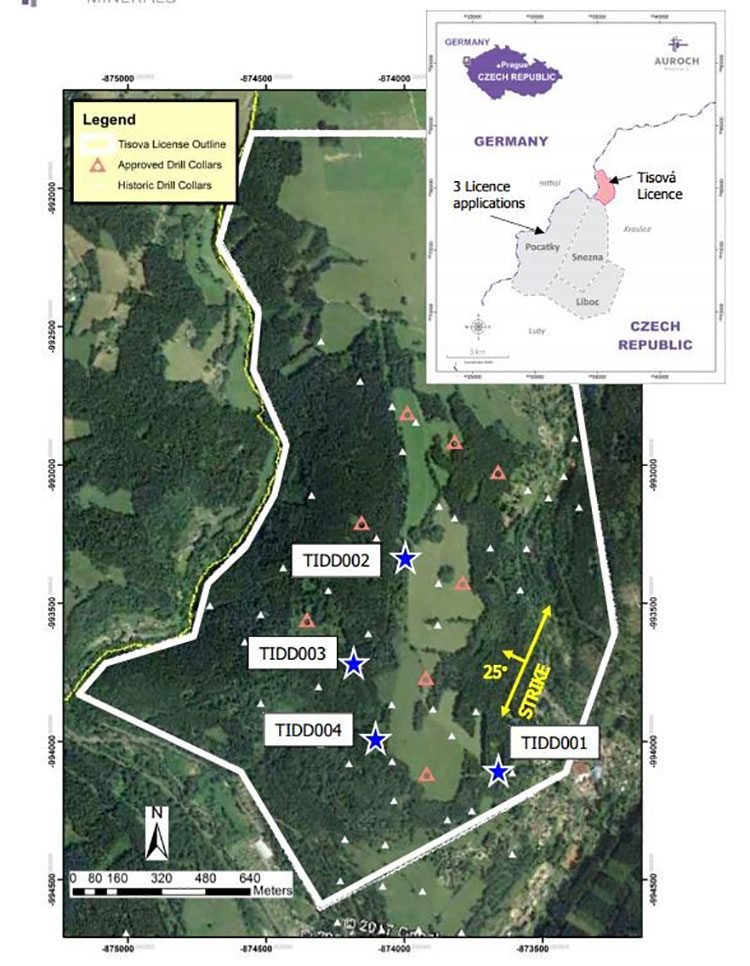 3D modelling makes a good impression: an in depth look at what is driving AOU
The 3D modelling indicates that Tisova has sulphide zones of more than 100 meters thick; multiple lenses of massive sulphide within a disseminated blanket; over 30 kilometres of underground development to date; sulphide zones open north, south and at depth; high-grade copper horizons forming narrow lenses less than 5 meters wide.
In a nutshell, that was validation for AOU's plan to start drilling at as soon as possible.
It is the first time in the mine's existence that a 3D model of the sulphide zones and the underground development clearly indicates the potential of this multi-commodity project.
The model was based on 72 surface diamond holes (25,985m) and 142 holes of underground drilling (14,299m).
Below is a 3D cross-section of Tisová historic drilling and underground development. The zones from where historic underground ore was extracted is shown in red.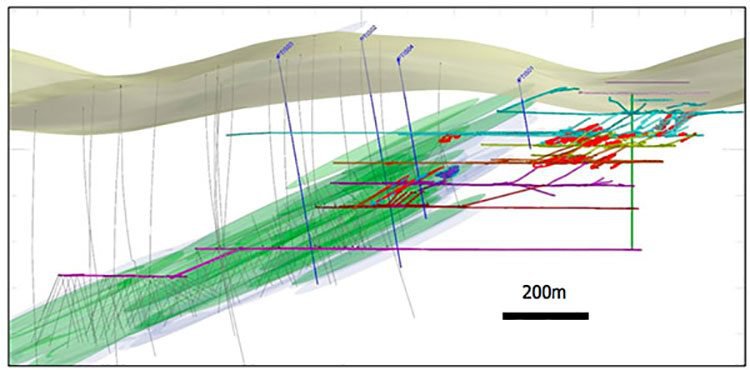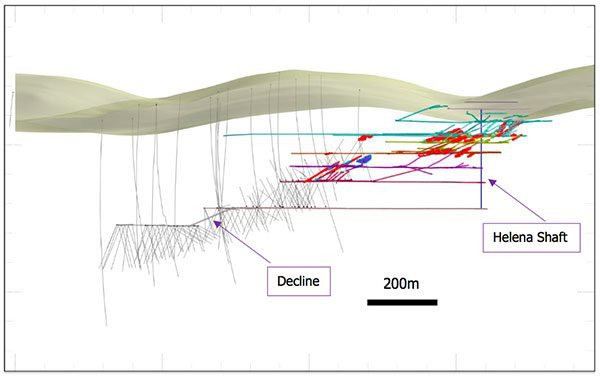 As we mentioned earlier, the 40,000 metres of historical drilling was focused solely on copper exploration.
What makes AOU's efforts different is its focus on Tisová's enormous potential for Cobalt, Gold and Silver, in addition to Copper.
All three commodities offering a chance for a discovery to propel the company straight into the major metals leagues.
Alcoutim already bumping the share price
Not at all forgetting about its Alcoutim Project in Portugal, AOU provided a drilling update to the market last month. In doing so, the company's shares surged 15% over a one week period.
Yet, share trading patterns should not be used as the basis for an investment as they may or may not be replicated. Those considering this stock should seek independent financial advice.
The company is now undertaking the third hole as part of its drilling program at Alcoutim, which could further boost investor confidence after promising results from the second hole.
The second hole intersected the Volcanic Sedimentary Complex (VSC) sequence of altered and brecciated volcanic rocks that are host to the Volcanic Hosted Massive Sulphide (VMS) style mineralisation throughout the Iberian Pyrite Belt.
Let's just say AOU wouldn't be the first company to strike the jackpot in the broader area, with an impressive list of multinationals having made major bankroll from mining the Belt.
Known as the Land of the Giants, the IPB is renowned for its poly-metallic Volcanic Massive Sulphide (VMS) deposits. The area hosts over 80 known deposits containing resources totalling over 1,700 Million Tonnes and is home to three Super Giant deposits (Rio Tinto, Neves Corvo and Aljustrel) and 10 Giant deposits.
Here are the existing estimate numbers for Lundin Mining's Neves Corvo which is along strike to the west of AOU's project:

Within the Alcoutim license there is a major magnetic anomaly known as the Foupana magnetic anomaly that is clearly a major volcanic centre. This volcanic centre remains one of the main target areas for the group's exploration.
What was critical about these results is the fact they support the company's general theories about the Foupana anomaly and what it might indicate in terms of similarities with the supergiant Neves Corvo mine operated by Lundin Mining.
The below map shows how the Alcoutim Project is down-trend from Neves Corvo: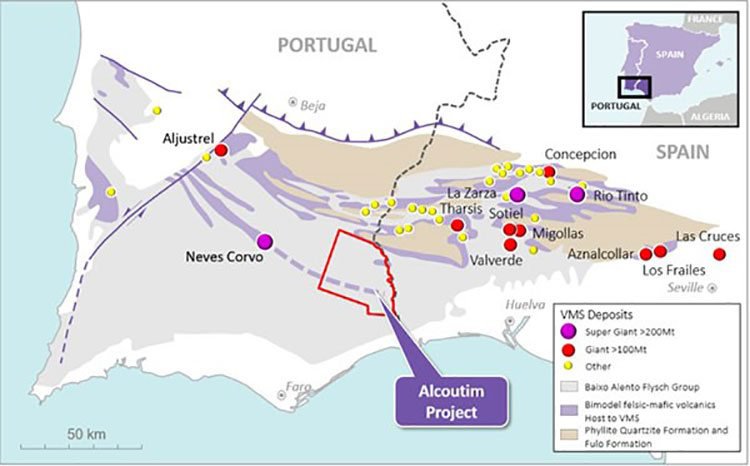 The third drill hole is in progress and early indications show that the geology significantly correlates with the results from BHP Billiton's historic AC-1 hole, which Hole 3 is collared close to. Drilling to date of Hole 3 has identified two major shear/fault zones at 531.50-533.70 metres and 556.75- 570.60 metres.
Not much seems to be getting in AOU's way at the moment and we shouldn't have to wait too long to see the final results, due out in the very near future.
Speaking of the future...
It's looking decidedly bright for this metals junior. AOU held $4.7 million in cash at the end of the June quarter – a decent standpoint from which to be developing two polymetals projects, and adding a second drilling program to its schedule.
We're certain there'll be no shortage of news flow from the company through the rest of the year, and likely into 2018. As its plan unfolds alongside the ongoing resurgence of interest in both cobalt and zinc, we can't help but like AOU's current state of play, and its smart choice to chase projects in renewables metals.
As investor interest keeps building in energy storage and electric vehicles, portfolios like AOU's are set to become increasingly relevant and attractive to shareholders.
---