AOU Commences Copper Zinc Drilling in the Land of the Giants
PUBLISHED: 19-05-2017 10:29 a.m.
Auroch Minerals (ASX:AOU) has just begun drilling for copper and zinc in one of the world's most expansive and significant mining districts – the Iberian Pyrite Belt.
Renowned for its poly-metallic (copper-zinc dominant) deposits, this district is home to over 80 known deposits and resources totalling more than 1,700 million tons of mineralised ore.
The region has been labelled the Land of the Giants by Auroch CEO Dr. Andrew Tunks, owing not only to the presence of nine giant (>100Mt) and three super-giant (>200Mt) volcanogenic massive sulphide (VMS) ore deposits, but also to the fact that Rio Tinto (the second largest mining company in the world) was formed in 1872 to mine copper at the village of Rio Tinto in the central Iberian Pyrite Belt.
Some say it is amazing that mine is still operating.
The Iberian Pyrite Belt is some 250km, stretching east-west across the Iberian Peninsula, from Portugal to Spain, with a mining history that extends back to ancient Roman times.
Now AOU has begun drilling at its Alcoutim Project in the hope of repeating history, with the first lot of results due shortly.
The tightly held AOU is spending ~AU$1.4 million to earn a 65% interest in the Alcoutim Project, a 576 km 2 area immediately along strike and down plunge from the $5.4 billion capped Lundin Mining's giant Neves Corvo deposit, located in Southern Portugal — one of the world's greatest minerals deposits, containing over 200 Mt of ore.
However, it should be noted this is an early stage play and investors should seek professional financial advice if considering this stock for their portfolio.
Nearby are the super-giant deposits of La Zarza (8 Mt contained Cu+Zn metal) and the original Rio Tinto mine (>3 Mt contained Cu+Zn metal).
AOU has identified 22 targets via geophysics with coincident gravity and magnetic anomalies. Comprising five diamond drill holes for a total of 5,600m, the current drilling program, which commenced on May 12 th , is aiming to identify the source of these anomalies.
Currently capped at a tiny $15.4M, and with over $7.8M in cash and receivables at last count, this company could now be on the verge of another giant mineral discovery.
Without further ado, we catch up with: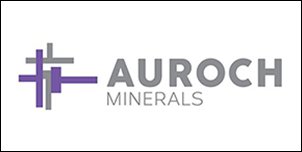 Auroch Minerals
ASX:AOU
Auroch Minerals (ASX:AOU) is a Perth-based exploration company with a focus on global renewable energy markets, looking for copper and zinc in Portugal.
With demand for these commodities steadily increasing as we move from fossil fuels to renewable energy sources, AOU is poised to capitalise on several burgeoning intertwined markets (more on that in a moment).
AOU is spending ~AU$1.4 million to earn a 65% interest in the aforementioned Alcoutim project, and just began drilling last Friday on May 12, which means its first assay results are just around the corner.
The company has in fact commenced drilling ahead of schedule as a sign of the expertise and hard work of the team AOU has assembled in Portugal.
You can watch CEO Andrew Tunks talking about this project here.
Given the multiple coincident magnetic-gravity-EM anomalies, and bearing in mind that the site is along strike to the super-giant Neves Corvo mine, AOU's commencement of its drilling program could mean some giant pluses for shareholders.
Of course any success AOU may experience is speculative at this stage, so investors should take a cautious approach to any investment decision they make with regard to this stock.
To see just how closely AOU is rubbing shoulders with this cluster of giants, this map shows the location of the Alcoutim project in relation to Portugal, Spain, major neighbouring towns, and especially its proximity to the Neves Corvo deposit: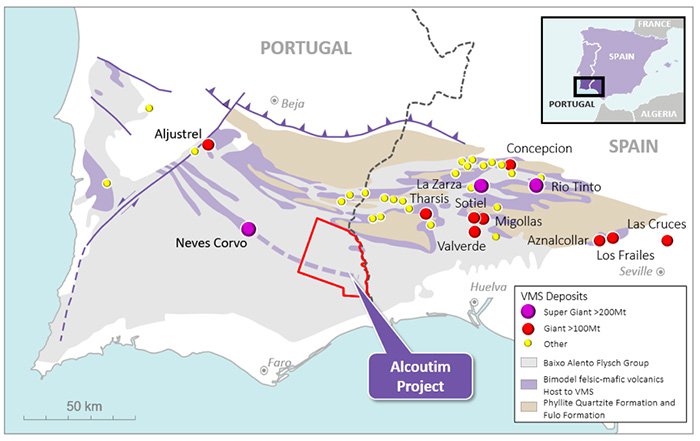 As we've mentioned, of particular interest here are the two super-giant discoveries, La Zarza (8 Mt contained Cu+Zn metal) and Rio Tinto's original mine (>3 Mt contained Cu+Zn metal). As the map shows, there is also a continuation of the Neves Corvo Volcanics dashed line into the Alcoutim Licence covered by the younger rocks of the Baixo Alento Group.
Neves Corvo is infused with a potent injection of metals, including copper, zinc and silver, and AOU's Alcoutim project sits just 20km down the road on the same geological structure.
Lundin Mining's most recent estimations for their copper zones at Neves Corvo include a 91 million tonne resource grading 2.5% copper and 1.1% zinc with 116 million ounces of silver grading 43 grams per tonne.
The zinc zones are similarly impressive, with the latest resource estimate of 118 million tonnes grading 5.9% zinc and 0.3% copper with around 216 million ounces of silver grading 57 grams per tonne.
With all that in mind, it is little wonder that AOU's share price has increased as much as 39% since the start of 2017.
The past performance of this product is not and should not be taken as an indication of future performance. Caution should be exercised in assessing past performance. This product, like all other financial products, is subject to market forces and unpredictable events that may adversely affect future performance.
The company is currently capped at $15.4 million and is in an optimal position to make good in the IPB. Now drilling in a region full of major minerals discoveries, it could be on the cusp of another.
Let's look at the drilling that has just commenced in more detail.
Phase One: Drilling
Auroch's initial drill program comprises three to five holes targeting geological environments similar to Neves Corvo combined with significant geophysical anomalies along the Neves Corvo trend.
Drilling will initially target the source of the EM anomalies (likely sulphide rich volcanic or sedimentary rocks), the nature of the massive magnetic anomalies (likely mafic magmatic rocks, which may have triggered VMS mineralisation), and hitherto unexplained anomalies beyond primary target areas.
At this stage, an early success supporting the potential of the project for AOU would be if the drilling intersects with sulphide mineralisation.
When it comes to VMS, this mineralisation can be in the form of a stockwork of sulphide veins, as was the case with Rio Tinto, disseminated sulphides in black shales, or a massive sulphide mineralisation, such as with Zambujal at Neves Corvo.
Here's a cross-section of a drill hole through the copper-rich, massive-sulphide Zambujal orebody within Neves Corvo: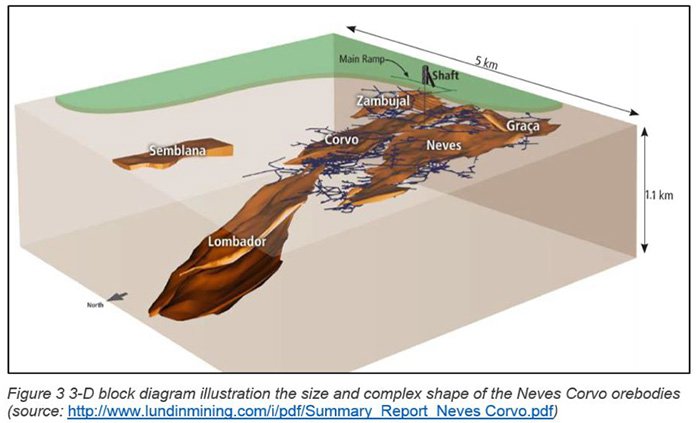 Using the results of this initial phase as a guiding foundation, the next exploration phase will prioritise vectors towards geophysical and geochemical targets that are acquired during the first phase.
A budget of ~A$1.4M has been finalised for the first phase of exploration, after which AOU will hold 65% of the Alcoutim Project.
Copper — an indispensable commodity in the renewable energy mix
AOU isn't just drilling in one of the most prospective districts in the world — it's also beginning its exploration program at a time when copper is being posited as the next major ingredient in the proverbial renewable energy soup.
Copper is the highest rated thermal and electrical conductor among engineering metals, with all power systems employing this metal to generate and transmit energy to maximise efficiency and minimise environmental impact.
Admittedly, copper can sometimes be forgotten amidst all of the interest in cobalt and lithium stocks. However, since lithium and cobalt are crucial elements of the battery technology for electric vehicles, this red metal is also becoming an essential input for the clean/green energy sector.
And there is hope that copper prices are soon to climb.
Today, an average car on the road will use a combustion engine, which requires around 25kg of copper. Electric vehicles, on the other hand, use 300% more copper than petrol-fuelled cars — around 75kg of copper per car.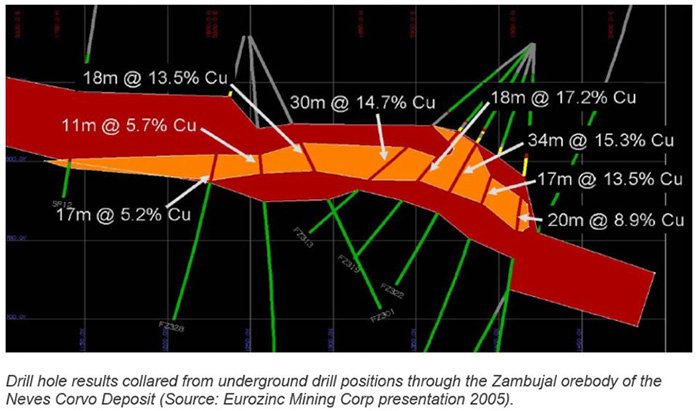 With the movement towards greener energy and greener transport being more pervasive than ever, possibility of demand for copper dropping seems unlikely.
Which would suit AOU nicely as it firms up its copper play.
Zinc, or the battle of supply & demand
There's no getting around it — zinc is the highest performing commodity on the market. Headlines like this say it all:

Zinc was one of the best performers of 2016, surging 75% year-on-year.
This greyish metal used primarily for galvanising steel is now up another 12.5%, owing to one of the most fundamental tenets of economics – supply and demand.
Zinc supply has been falling hard, with two of the largest zinc mines in the world — the Century zinc mine in Queensland and the Lisheen mine in Ireland — having closed in the last couple of years due to ore repletion, removing ~4% of world supply.
Zinc demand has therefore steadily tightened throughout the last few years and is expected to increase by 2.1% to 13.85 million tonnes in 2017.
Of course commodity prices including zinc and copper do fluctuate and caution should be applied to any investment decision here and not be based on these prices alone. Seek professional financial advice before choosing to invest.
What does all this mean for AOU?
It means, they are exploring for two potentially high demand commodities in a region flush with exploration and mining success.
Is AOU destined for gianthood?
Despite the initial mining work carried out by the Phoenicians and then developed by the Romans in Portugal, there are still considerable expanses of land that remain largely underexplored.
Portugal is eminently mining-friendly, with well-developed infrastructure, modern roads, efficient power, and easily accessible ports and airports. It was also ranked 26 th out of 160 countries by the World Bank in their 2014 Logistic Performance Index. The country has significant and favourable European Union and Portuguese government financial incentive programs, which can be benefited from as projects advance towards development and production phases.
AOU's strategic location puts the company in a ripe position for potentially obtaining 'gianthood' status. Over the coming weeks, this tightly held stock could move rapidly on drilling success.
AOU's Alcoutim license, which is valid for three years, with two possible one-year extensions, covers 576 km 2 and encompasses the right to explore for mineral deposits of gold, silver, copper, zinc, lead, tin, tungsten, antimony and associated metals.
At this stage in the game, the key to AOU's early success may be determined by its ability to hit sulphide mineralisation, and we're watching with baited breath to see what happens next.
---