AFL Brownlow Medallist Joins IHL in Ambassador Role: Marketing Reach Now Over 1 Million
PUBLISHED: 30-01-2017 10:10 a.m.
It may not appear like a hyper aggressive play (although aggressive play is precisely why we wear mouthguards – but we digress), yet it does have the markings of a steady and sensible one.
Certainly mouthguards are a sensible precaution to take when playing high-impact sports.
One company that has managed to take 'sensible' and mix in some 'sexy' by signing up secular sporting god Gary Ablett Junior as ambassador, is Impression Healthcare (ASX:IHL).
Ablett is one of several in the latest line of professional sportspeople to get on board this $14.4M capped sports safety brand...
And with the AFL season about to kick off in a month or so and the pressure of captaincy off his shoulders, Ablett could well rediscover a little of the Brownlow magic he once had, which would make him an even more high profile ambassador than he already is.
When we last updated you on the company, IHL had just signed two new ambassadors from the AFL Women's League (AFLW) Moana Hope and Kaitlyn Ashmore to represent IHL's Gameday Mouthguards brand.
The pair were attracted to Gameday's business model: low cost, high quality, online-based mouthguards that fill a genuine need in grassroots sporting organisation and regions. All sports participants at any level should have access to custom made mouthguards and it is hoped that the patronage of these AFLW star players will bring further awareness to that need.
The AFLW seems to be gaining as much momentum in the lead up to the AFL season as the AFL, with an exhibition broadcast live by Channel Seven, peaking at 1.05 million viewers and winning its timeslot across all key demographics in Melbourne, where it averaged 387,000 viewers.
AFLW is one of the fastest growing sports in the country and could have a great influence on those who would like to participate and in doing so, could also have an influence on the uptake of protective gear.
However, the size of the market share IHL can secure remains to be seen at this stage, so if considering this stock for your portfolio do your own research and seek professional financial advice.
Growth in participation in AFLW means mouthguards for a whole new group of players. You can read further about that in our previous article Could This Bit of IHL Kit Sweep Sport-mad Australia?
Since the entry of the AFLW into IHL's stable, not only has Ablett Jr added some character to this story, the SANFL (South Australian National Football League) and Hockey Australia have also joined the party, agreeing to use and promote IHL's Gameday mouthguards.
All the links are seeming to come together now for IHL, with the latest deal with Hockey Australia bumping IHL's partnership reach to more than 1 million grassroots sporting club members and participants.
Assessing the scalability of the Hockey Australia deal, the national body is targeting 250,000 registered hockey participants by 2020.
Whether it's mums and dads looking to protect their children from mouth and jaw related injury during competitive sports, or sporting clubs aiming to follow Australian Dental Association recommendations towards customised mouthguards, there's a definite addressable market and IHL are well on the way to searching out any and all opportunities to penetrate it.
We're a country full of sports lovers. We're also a country full of people who hate going to the dentist (not exactly an attribute unique to Australians, but it's true nonetheless). It's a country certainly full of parents willing to do what it takes to have their kids involved in health-promoting sports without risking their health and safety.
If you're an investor in this company, you may get a kick out of this update, as we look first at IHL kicking goals with one of the best midfielders and a top goal-kickers... let's catch up with:

Impression Healthcare Limited
ASX:IHL
In December, Impression Healthcare (ASX:IHL) made the attention-grabbing announcement that Brownlow medallist and dual AFL premiership player Gary Ablett Jr had become an ambassador for Gameday International – the wholly owned subsidiary of IHL which produces its key mouthguard product.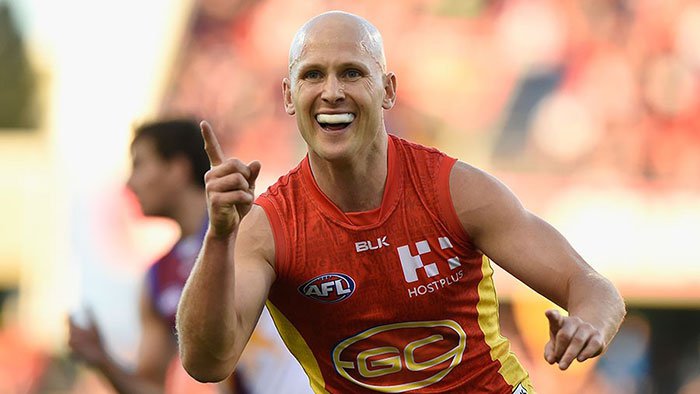 The AFL legend, who this year relinquishes the Gold Coast Suns captaincy since leaving the Geelong Cats in 2010, will be promoting the mouthguards as well as Gameday's future products via advertising and other marketing campaigns.
No doubt Ablett's involvement will bring awareness to this unique product offering, at a grassroots level through to senior leagues considering he has the potential to influence fans and industry professionals alike.
His message will be along the lines of promoting both safe play among school-aged children and adults and as well as the specific benefits of wearing a custom-made mouthguard. The intended grassroots campaign could easily penetrate any neighbourhoods, city and regional, for which community life revolves around sporting clubs. In Australia, that would be most.
Of course, no celebrity endorsement would be complete without a limited edition product made just for fans – Gameday has plans to get Ablett's help creating a special mouthguard named after the champion. We'd be willing to bet that will sell well considering the player's high profile and immense popularity, along with his family's.
Gameday passes to Hockey Australia. Scores.
In January IHL announced that its total partnership marketing reach had surpassed 1 million sporting club members and participants as a result of a brand new partnership with national sports body Hockey Australia.
The deal won the company access to 90,000 hockey players across the country... and builds on IHL's existing partnerships with Hockey NSW, Hockey Victoria and Hockey WA.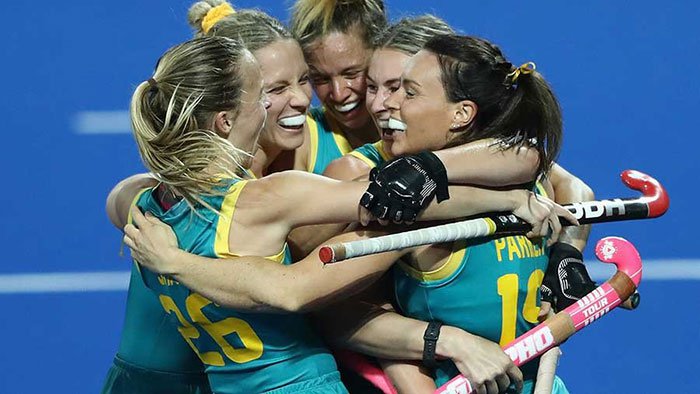 So that's a whole extra subset of people who'll now hear about a new product making traditionally expensive custom mouthguards accessible to everyday Australians... through convenient online engagement, and an end to end process whereby customers take their own dental impressions at home and receive a superior, custom-fit product.
The two-year agreement currently provides Gameday with direct marketing access to Hockey Australia's 160,000 participants to directly market and promote its mouthguards nationwide with over 70,000 of these participants already accessed via existing relationships.
Hockey is a fast-moving and generally high-contact sport with plenty of opportunities to administer and receive some nasty blows. Protective gear is a must.
Imagine playing hockey in this day and age without a mouthguard. You wouldn't even consider it.
As mentioned earlier, another sporting climate which unequivocally demands decent mouth protection is AFL. And that's why Ablett is on board, but IHL did not stop there...
SANFL to bring more publicity, boost Gameday sales
IHL announced the partnership between its subsidiary Gameday International and the South Australian National Football League (SANFL) in December .
That's right, even more eyes looking at the Gameday mouthguard product, with a total reach of 980,000 grassroots club members. In a show of support, SANFL has named Gameday as their preferred supplier.
The SANFL agreement boosted Gameday's exclusive marketing client base by more than 100,000.
Importantly, a licensing agreement has been negotiated which sees Gameday Mouthguards elevated to the position of preferred supplier of mouthguards to SANFL and affiliated leagues.
So if you're not a Gary Ablett Jnr fan – well firstly, you're in the minority – but maybe you live in SA or you barrack for Port Adelaide or the Adelaide Crows...
With the AFLW (the new women's AFL league) as well as rugby league star Matt Ballin, and Essendon coach John Worsfold on the books already, that's a lot of exposure among the sporting community.
Of course it should be remembered that IHL is still in its early stages and therefore has much to do to break into these markets. Investors looking at this stock should seek professional financial advice before making an investment decision.
Affordability is key to Gameday's model
IHL believe that personalised mouthguards should be available to just about everyone – not just well-sponsored or highly-paid professional sportspeople.
Currently, a customised mouthguard for every member of the family is an expensive exercise. It requires several trips to the dentist and often hundreds of dollars to arrive at a final product – which may need changing after 12 months anyway.
IHL has made its Gameday Mouthguards available online to customers across the world, in a range of colours and sizes. It's the opposite of the generic mouthguard you pick up from your nearest chemist; it's specific to what you need.
The biggest clincher is the affordability in comparison to traditional customised mouthguards. Take a look at the comparison below: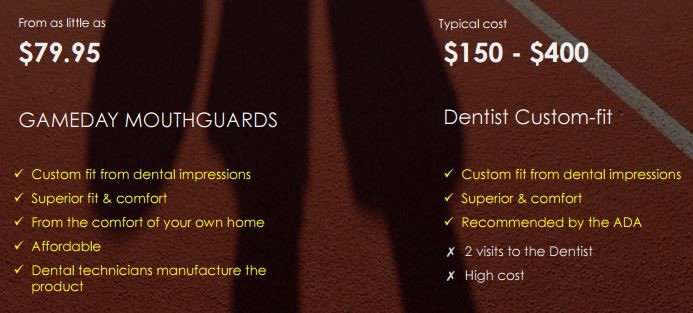 For parents of school-aged children, or grassroots sports communities without a lot of cash to splash around, affordable customisable mouthguards (far superior in terms of efficacy and safety) could be a vital service.
Imagine footy players, basketball and rugby players, boxers and netballers – of whatever age and skill level – having access to state-of-the-art tailor-made mouthguards.
Profitability aside, this could have a fairly dramatic impact on the prevalence of jaw, mouth and head injuries, as well as saving ordinary Australians costly trips to the dentist.
Let's take a visual look at the addressable market IHL is looking at: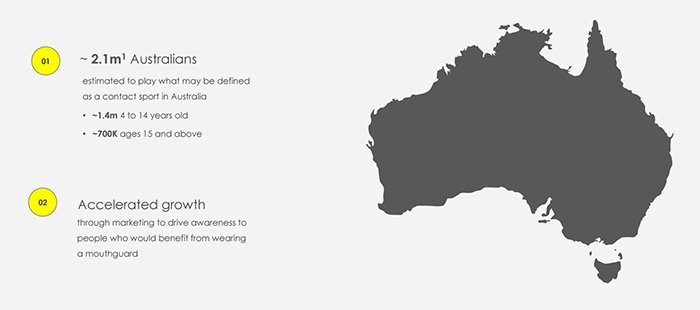 The company currently has the capacity to produce 50,000 mouthguards a year, but with the ability to scale. As market share increases, IHL has stated it can meet further demand due to its highly scalable production model at its Melbourne facility...
... and as demand goes up, volume play will likely lead to decreasing manufacturing and distribution costs.
At the same time, demand is speculative and should not form the basis of your investment decision with regard to this stock. You should take the information in this article and all publicly available information into account and a cautious approach if considering this stock for your portfolio.
Below is a neat summary of all the reasons the model is proving to be as smart as it is simple: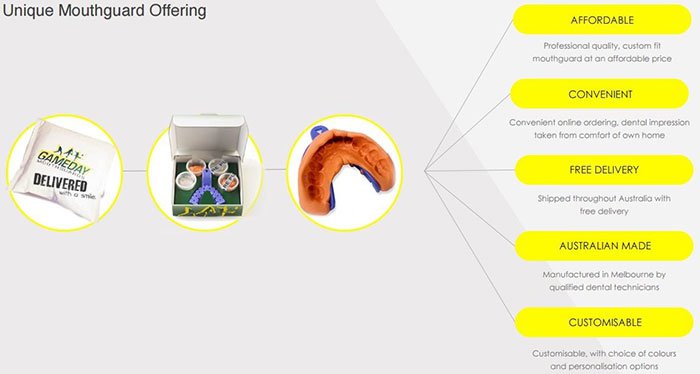 The question for IHL is what it plans to do next in order to expand its market share, increase exposure and sales, and volumise its output and profit margins... all the while providing confirmation of its value to existing shareholders, and persuading prospective investors.
It's not just the Ablett win that's expected to garner sales – at this rate, IHL will have so many sporting bodies and ambassadors on board to set them up for years of endorsement and resulting sales.
So what next?
It's been a big six months for IHL, and there's plenty of activity in the pipeline for the year ahead.
It will be looking to build on sales and revenue through increasing brand awareness, particularly in getting the product into grassroots sports country-wide.
The success of the product will be aided by Gameday's two-step 'go to market' strategy. The first step is consumer direct – online purchases, catering to parents of school aged kids, and social athletes. The second avenue focuses on bulk orders made through schools and clubs, with discounts applied accordingly (up to 15%).
Beyond that, IHL plan to build the product range, potentially branching into teeth whitening solutions, oral and healthcare devices and complementary sporting goods.
The idea is there will be a few levels of customer engagement, as outlined below: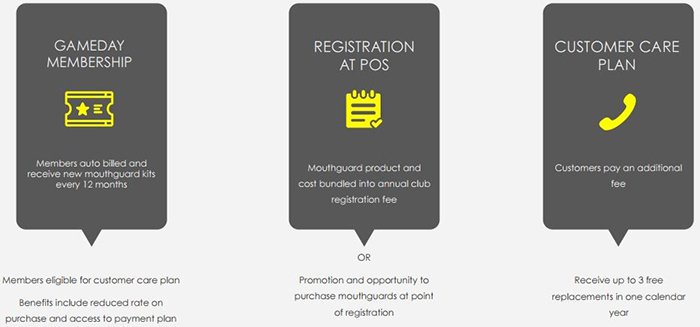 It's obviously a high priority for IHL to accommodate as broad a range of people as possible through offering online convenience, price affordability, and marketing access that cuts through a range of demographics to cater to as many groups and individuals as possible.
While the initial effect on your own mouth may be the urge to yawn at the term 'mouthguard company'... don't be fooled by the sensible, even unoriginal-sounding description.
Because IHL's key product offering (a custom-made mouthguard) may not be new in and of itself, however the simplified steps and reduced cost is something that could build intense momentum as more and more ambassadors come on board during the height of the country's sporting season.
---