ACP Set for Graphite Drilling: Beside Much Larger Neighbours
PUBLISHED: 27-07-2016 14:17 p.m.
The Next Small Cap presents this information for the use of readers in their decision to engage with this product. Please be aware that this is a very high risk product. We stress that this article should only be used as one part of this decision making process. You need to fully inform yourself of all factors and information relating to this product before engaging with it.
There's a thunder being heard down under.
In the junior market, graphite appears to be the name of the game as ASX investors fall over themselves to reward early-stage plays seeking to take advantage of graphite's portrayal as a material very much of the future as a part of lithium ion electric car batteries.
While UK investors appear to be solely focused on lithium stocks, Tesla CEO Elon Musk recently played down the metal's role in the lithium ion battery – explaining that one of the most important cost factors in a lithium ion battery is not necessarily the lithium, but the cost of the graphite anode.
In fact Elon Musk was quoted as saying " Our cells should be called Nickel-Graphite " – not lithium-ion...
All this appears to have been overlooked by the wider market somewhat and it may be only a matter of time before the 'herd' cottons onto this.
So, it seems graphite exploration is a pretty good space to be in. Yet thus far, British investors have by and large been missing out on the action, with very little in the way of early stage graphite explorers on the AIM and LSE boards.
Enter Armadale Capital (LSE:ACP) – a company which has recently transformed into a graphite hopeful.
ACP recently confirmed that it's moving into graphite lock, stock, and has just released its first plans for the recently acquired Liandu Project in Tanzania, identifying 2.6km of main graphite strike, while also identifying over 3.7km of secondary targets to pour over in the future.
Before we go too far, it should be noted that for political and social reasons, this is a very high-risk stock. Getting mining projects up and running in countries such as Tanzania is no simple feat, and there may be challenges ahead.
ACP has outlined its intention to start drilling in six to eight weeks – suffice to say any numbers from this campaign could very well be considered a catalyst moment for this small company...
Also working in its favour is its nearology.
The project is right next door to the £29.1MN capped (fully diluted) Kibaran Resources' (ASX:KNL) Epanko project and the £20M capped Black Rock Mining (ASX:BKT), which has recorded exceptional results from its graphite play to date.
What also sets KNL apart is its binding offtake agreements to the tune of 30,000 tpa, including 20,000 tpa with the €11.18BN multi-national conglomerate ThyssenKrupp.
If its exploration can prove up something material in terms of a graphite resource, ACP is hoping to achieve a similar growth trajectory from its current low base.
With a market cap of just over £4.4 million and a share price of around 2.20p for ACP, the price is certainly right to give this one a second look...
Re-introducing: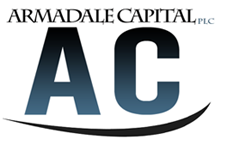 Armadale Capital PLC

Armadale Capital
LSE:ACP
For those of you tuning in late...
ACP had traditionally been a gold explorer but of late has attempted to cash in on the graphite buzz sweeping through the Australian market, by way of picking up ground in a graphite exploration hotspot in Tanzania.
At the moment it has two tenements covering just under 30 sq.km next to the town of Mahenge – ACP's ground is red in the map below, BKT's is green, and KNL's is orange: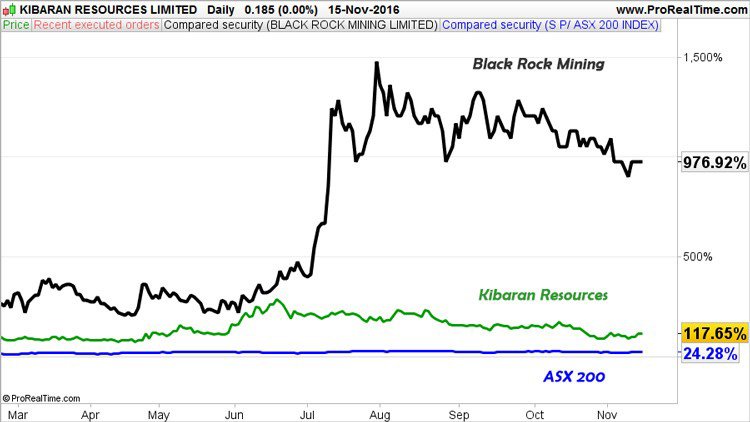 A map showing ACP's project location
Reconnaissance mapping done late last year defined a mineralized trend more than 1.5 km in strike length and up to 500m in width.
From this initial mapping, ACP has been able to obtain some initial drill hole data as an indicator of future potential.
Three RC drill holes drilled late last year by the previous vendors of the tenements showed intercepts of 24m @ 12.9% TGC, 5m @ 21.5% TGC and 10m @ 6.54% TGC.
ACP has subsequently done its rock chip sampling, and has just finished up on an electromagnetic survey which has put the project on supercharge...
2.6km of strike length to chew on (and even more)
ACP has revealed its first drill targets as it attempts to become the newest graphite resource holder in Tanzania, telling its shareholders recently that a ground electromagnetic survey had firmed up conductive targets of over 2.6km in length.
Usually when a ground EM survey finds conductivity – it means mineralisation isn't too far behind, and given rock chip sampling of outcropping had found high grade mineralisation of up to 33.8% total graphitic content, ACP may well be quietly confident that the strike will contain at least some graphite to chew on.
Please note that this will not be known until ACP actually sinks the drill bit – and finding mineralisation is not guaranteed. Consult a professional before considering investing.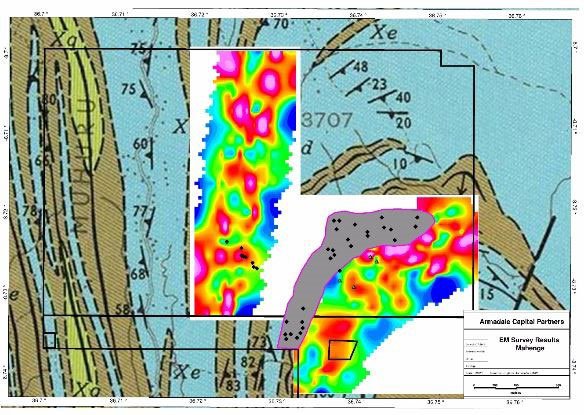 For those of you not experts in mining electromagnetic surveys (and no judgement if you're not), the 'red bits' are thought to be the most conducive and potentially highly mineralised bits.
So the primary area ACP will be testing with a reverse circulation drill is on the right, and the grab sample assay results so far are highlighted in the grey area.
There's still a bit of work to do before the company has its exact drilling sites down for the upcoming drilling.
What ACP will have at the end of the drilling is a whole bunch of rock chips to analyse at the lab because it's going with reverse circulation (RC) drilling – whereas if it elected to go the diamond drilling route it would have complete cores to analyse.
The reason why ACP is starting out with RC is because it's quite a bit cheaper than diamond drilling – therefore conserving capital for shareholders.
Minerals exploration can also be a bit hit and miss by definition, so ACP want to make absolutely sure they're sitting on something good before going in with the diamond drill – which it also has in its plans at this stage.
The initial strike it will test is 2.6km in length, meaning that it will have plenty to chew on into the future.
It's focusing on just the northern part of the strike initially, but the strike is also open – meaning that the actual confirmed end of the strike has not yet been found, and could continue for quite a distance more than first thought.
What ACP has found in reconnaissance drilling is rock chip samples grading up to 38.8%, and drill results up to 60m @ 10.7%, including 24m @ 12.9%.
If the upcoming drilling hits anything like that, then ACP is well and truly off to the races.
We'd also be willing to wager that reconnaissance drilling of that potential extension is in the longer terms plans for ACP – but that's not all it will have on its mind.
As you can see from the map, there's also a fairly large EM anomaly to the west – in fact that one measures 3.7km in strike length according to ACP – and that also remains open to the south.
Visual estimates have found that the graphite at the 3.7km strike is similar in nature to that of the primary 2.7km strike – but this is a visual only.
It's only when ACP tests the site with the drill rig that it will be able to garner solid information about the anomaly picked up on the EM.
That's not on the immediate menu, but it will make for an exciting future prospect.
For now ACP is content to test the 2.6km strike, with drilling to start in six to eight weeks.
It will be hoping that the drilling is the start of something great, as it has been for immediate neighbours....
Going from a penny dreadful to promising junior explorer: the BKT story
We talked about this earlier, but one of the things ACP is banking on is a bit of old fashioned nearology to whet the appetite of investors.
In both KNL and BKT it has two immediate examples of companies developing a graphite resource in the immediate vicinity – and by proxy offering ACP investors a sneak peek of the path to development.
In the case of BKT, it's gone from exploration to a point where it has managed to book a resource of 131Mt @ 7.9% – adding roughly 80% of its resource in the past eight months.
Back in March, BKT firmed up a scoping study which indicated, based on a project with a 25 year life at 52,000 tonnes per annum throughput, that the project would have cash costs of $US458 per tonne.
At the moment, the sales price through the regional Dar es Salaam port is averaging $1236/t...
Please note that's a static price only and is not guaranteed to stay at the same level into the future, so don't make this the basis of your investment decision and apply caution if considering this stock for your portfolio.
In fact, in Tanzania more broadly there are clutch of Australian graphite players.

As you can see, they all have JORC resources under their belts while ACP simply doesn't... yet.
This makes ACP an early-stage play, to be sure, but it means that it also has the potential to room to grow as it follows the path of other companies in the region...
Our track record in graphite
ACP reminds us of something that we have seen before in Volt Resources (ASX:VRC), a stock we have been telling regular readers about since back in February 2015 , when it was trading under an old ticker code ASX:MOZ – at the time that little company was capped at a very similar level to ACP today.
VRC has gone up as high as 1,150% since then as it proved up its Tanzanian graphite resource :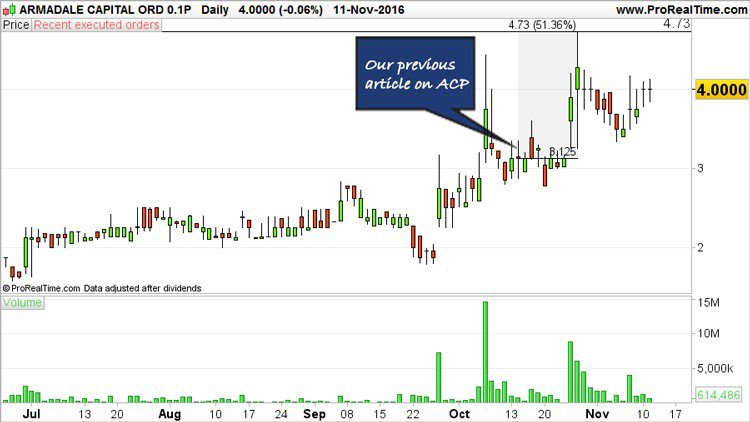 The past performance of this product is not and should not be taken as an indication of future performance. Caution should be exercised in assessing past performance. This product, like all other financial products, is subject to market forces and unpredictable events that may adversely affect future performance.
We are hoping ACP will be able to repeat something similar in the UK
To give you even more of an idea about what's happening in Tanzania – have a look at how the share prices of these companies have tracked.
Using BKT as a base, you can see that the more established KNL and MNS have added more than 50% over the past year:
The past performance of this product is not and should not be taken as an indication of future performance. Caution should be exercised in assessing past performance. This product, like all other financial products, is subject to market forces and unpredictable events that may adversely affect future performance.
Both BKT and VRC however have had fairly big events in recent times which has caused a sharp spike in their share prices.
In the case of VRC it's managed to bag offtake agreements in China – read by investors as a fairly positive move.
In the case of BKT, it's declared a resource from its scoping study – which is one of the things which can act as a catalyst for companies in this space.
Both VRC and BKT are smaller companies at an earlier stage of their development than MNS and KNL – meaning that an event such as a JORC resource declaration or an offtake deal has more potential to make these companies jump.
For investors in ACP, any moves BKT or KNL make are likely to reflect on ACP as well.
Just take another look at the location of their respective projects in the map at the top of the page – ACP is wedged right in between KNL and BKT.
There's even the prospect that in the future either BKT or KNL would make a move for ACP, either that or a truly big fish makes a play for all three of them.
After all, Tanzania is shaping up as a graphite hotspot, and graphite in itself is shaping up as one of the hottest commodities out there...
The 'wonder material'
You've probably heard a bit about graphite in the past – and for good reason.
The buzz is being generated by two things: number one the role it has to play in the mass production of lithium-ion batteries and how it will be generally used for a whole stack of applications into the future, and number two, the fact that 'graphene' can be produced from it – which we will get to further down this article.
Now regarding point 1, Tesla founder Elon Musk recently played down the role of lithium in the lithium-ion battery and said Tesla's battery should be renamed "nickel-graphite".
He said: "Our cells should be called Nickel-Graphite, because primarily the cathode is nickel and the anode side is graphite with silicon oxide... [there's] a little bit of lithium in there, but it's like the salt on the salad," the CEO explained."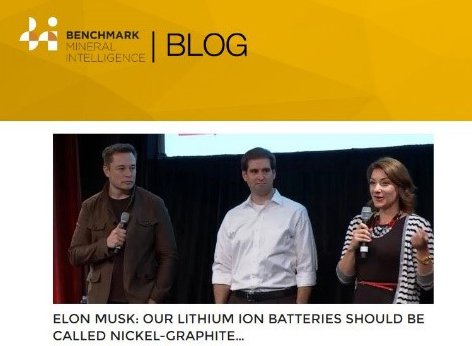 This gives you an idea of how important graphite is to Tesla's intentions...
Driving the future
Despite the name, graphite is actually one of the major components of lithium-ion batteries – acting as an anode because of its peerless conductivity properties.
That's why Benchmark Minerals expects graphite demand driven by lithium-ion batteries to more than treble within just four years .
Benchmark forecast the anode market, which is almost exclusively served by spherical graphite and synthetic graphite, to increase from 80,000 tonnes per annum in 2015 to at least 250,000 tpa by the end of 2020.
Even its most conservative forecast has demand doubling within that timeframe.
At the moment, China produces close to 100% of the world's spherical graphite – and suffice to say that creates a bit of competitive tension between superpowers.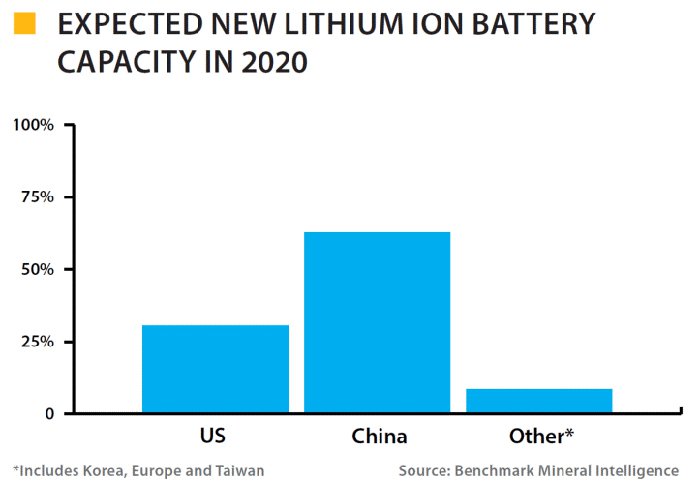 The above is a demonstration of the expected split out of demand through to 2020 – and as you can see the US is forming a fair chunk of it.
Suffice to say, both China and the US will be competing to tie down all the graphite that can be produced over the coming years.
Just take ACP's Tanzanian compatriot in VRC for instance – the offtake deals it has managed to strike have been done exclusively in China – and you'll find that with a lot of companies.
The US on the other hand is being driven by the very visible Elon Musk and his 'master plan' for world domination market penetration.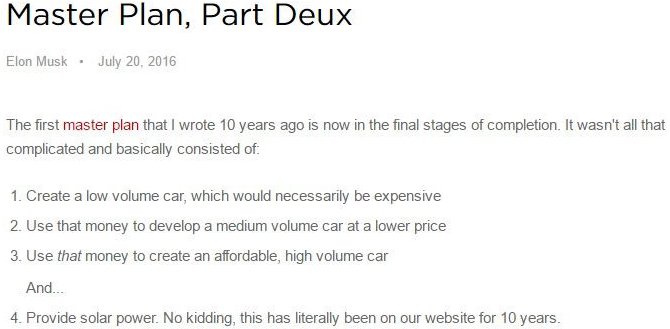 In short, beyond creating a fleet of market-leading electric cars, Elon Musk wants to:
Create stunning solar roofs with seamlessly integrated battery storage
Expand the electric vehicle product line to address all major segments
Develop a self-driving capability that is 10X safer than manual via massive fleet learning
Enable your car to make money for you when you aren't using it
Graphite explorers and producers are especially interested in the first two points.
What's been talked about for years but is now only being realised by Tesla and others is the need for battery power storage – and it's potential to quite literally save the world.
For years solar energy has been quite promising – working in places such as Australia better than it does in Britain. That's mostly because Australia gets more sun, ask any backpacker.
What has held it back though is the fact that for about 12 hours a day the sun goes down – which happens to be a pretty key ingredient in generating power from solar panels.
So, it really only works for about 12 hours a day – not a great baseload power solution. The thing is though, during the 12 hours of the day, solar panels often produce more power than a home or business actually needs.
That's why people with solar panels are able to sell power back to the grid for a tidy sum – but what if you could store that excess energy in a battery for future use and then use that battery to power your home at night?
To now, that's been a pipe dream – but Tesla's Powerwall has potentially changed the game.
Again, guess what happens to be a key component of the Powerwall? Lithium-ion batteries.
Guess what happens to be a major part of lithium-ion batteries? Graphite.
Guess who happens to be an early-stage play in graphite? ACP.
But of course, lithium-ion batteries aren't the only reason why people are excited by graphite – as its properties mean it is linked to a so-called 'wonder material'.
That's what graphene has been dubbed – a material of the future.
Graphene is essentially microscopically thin, one atom thick layers of graphite – and it turns out if you layer several sheets of graphene together in a honeycomb fashion something cool happens.
It becomes one of the lightest, strongest, thinnest, best heat and electricity-conducting materials ever discovered.
Nano engineers and scientists in labs around the world are falling over themselves to experiment with the material.
Suffice to say, graphite is one of the hottest commodities in the market at the moment – but ACP also has its foot one on of the other hottest commodities...
With a tinge of gold
While all the buzz is around ACP's graphite play at the moment, what's been missing from the analysis is that it also has a fairly decent gold project in its purview.
In fact, it's conducted a DFS study on its Mpokoto Gold Project in the Democratic Republic of the Congo and is now talking to potential financiers about getting the project up and running.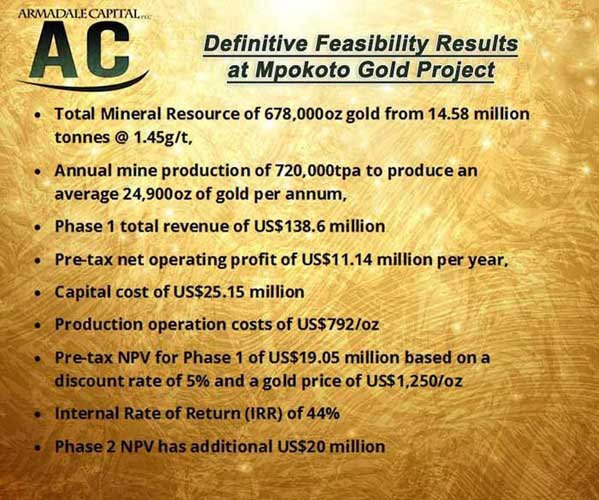 Fairly recent auger drilling and qualitative sampling of 150 auger holes at Mpokoto shows extensions to previously identified mineralisation, to both the north-west and south-east. That means as good as the DFS is, should ACP get busy with the drill bit there could be even more resource in the wind.
The objective of the overall exploration programme is increasing the planned life of mine, which currently stands at four years for Phase 1 production, expanding the current Total Resource beyond the current 678,000oz.
Now consider what's happened to the gold price in recent times...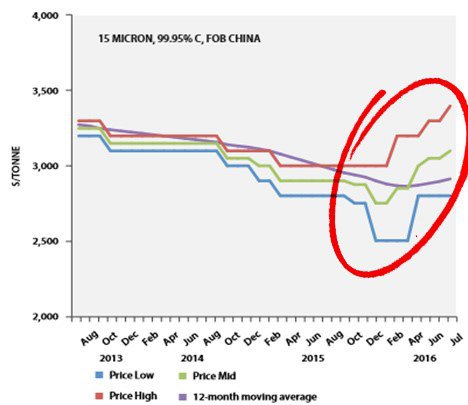 The past performance of this product is not and should not be taken as an indication of future performance. Caution should be exercised in assessing past performance. This product, like all other financial products, is subject to market forces and unpredictable events that may adversely affect future performance.
Unfortunately we're living in quite unstable geopolitical times – and when that happens people flee to gold as a store of wealth.
That's been happening a lot this year, and with the US presidential campaign now in full swing we can reasonably expect investors to be pretty nervous about the outcome of that election.
So, it's a pretty good time to have a promising gold project in the works as well...
The Final Word
ACP stands out as one of the more distinctive opportunities on the London market.
Very few, if any, UK companies are taking advantage of the graphite buzz running through global markets at the moment, particularly in Australia, and with a low entry price for ACP it could be considered ripe for entry.
However this is no guarantee that an investment in ACP would be successful. This is a small company and it is recommended you seek professional financial advice if considering for your portfolio.
ACP is quietly going through the gears at its graphite project, with a potentially company-making drilling campaign to start in six to eight weeks.
Meanwhile, a clutch of explorers nearby aren't going to stand still.
Positive developments from the like of VRC and KNL have the potential to flow onto ACP as well...
Then, of course, there's gold – one of the strongest performing commodities of the year.
On both fronts it looks as if ACP could be one to watch in the small cap space.
---