Davenport Resources (ASX:DAV)
Davenport Resources' (ASX:DAV) aim is to reinvigorate Germany's South Harz region as a globally significant potash producing province.
With a history of over 120 years of production, the South Harz basin has produced more than 180 million tonnes of potash, and at one time it accounted for a large proportion of the global supply of the crop fertiliser.
The company has acquired three new perpetual mining licences with historic high grade resources in 'next to be mined' parts of the potash basin. The three perpetual mining licences add to DAV's two exploration licences, meaning that DAV now holds exploration licences and perpetual mining licences covering well in excess of 650 square metres in the South Harz potash basin.
DAV also has its hands on an extensive supporting exploration database that would cost over €100 million (A$155M) to replicate today. This extensive historic exploration with historic resources will allow evaluation to be fast tracked as DAV works towards establishing a JORC 2012 compliant resource.
The timing of the acquisition comes as the global potash supply-demand balance looks to be swinging in favour of producers.
DAV is building a strategic position in the South Harz potash basin and is looking towards drilling and building a meaningful German potash business. As the amount of arable land continues to decline and food demand rises, crop yields must increase. For this reason potash will play a vital role in helping to feed the world's growing population.
The information on this page should not be the only trigger for your investment decision. Click on the links below for a more in-depth and informed examination of the company. We strongly recommend you seek professional financial advice whenever making financial investment decisions.
Using historic resource estimates, supported by high quality data, DAV can undertake targeted exploration to confirm JORC 2012 resources on the South Harz project. The quality of this historic data will allow DAV to rapidly advance evaluation of South Harz resources and achieve JORC compliance. This is an exceptional starting point to fast track evaluation with the aim of recommencing potash production in the South Harz region.
With a market cap of just $6.3 million and a share price of 8.5 cents, DAV compares well to its potash peers.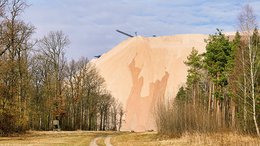 Related Davenport Resources (ASX:DAV) articles