Avalon Minerals Limited (ASX:AVI)
Via the recent addition of a highly prospective gold-copper project, Avalon Minerals (ASX: AVI) is now the only ASX junior to provide investors exposure to Ecuador's untapped resource potential.
AVI has just signed an earn-in agreement in regards to the Bramaderos gold-copper concession in southern Ecuador.
The project puts AVI in good company with the likes of BHP, Newcrest and Fortescue also seeing the potential of the region, as this once closed off country opens its doors to foreign investment and becomes a mining friendly jurisdiction with solid infrastructure.
Importantly for AVI, Bramaderos contains fertile mineralised systems with strong potential to host a world class discovery.
The AVI team behind the Bramaderos move was responsible for major discoveries including the giant Tujuh Bujit and Cascabel copper gold discoveries and are hoping for similar success in Ecuador.
However, AVI is also still working diligently towards positive results at its existing projects in Sweden and Finland where ongoing drilling and results continue to flow in.
The information on this page should not be the only trigger for your investment decision. Click on the links below for a more in-depth and informed examination of the company. We strongly recommend you seek professional financial advice whenever making financial investment decisions.
Geophysical survey results at AVI's Southern Finland Gold Project's Satulinmäki prospect and have exceeded expectations, highlighting the potential for a large gold system, while in northern Sweden, AVI has commenced diamond drilling at its 100% owned Viscaria Copper Project with assay results due imminently.
With plenty of newsflow to continue for the $9.7 million capped AVI through at least the rest of this year, AVI looks to be tracking nicely towards its goal of production and commercialisation of its assets.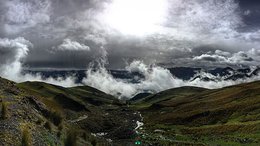 AVI Now the Only ASX Listed Junior with Exposure to Ecuador
May 25, 2017
When we last updated you on AVI back in December last year, the company was squarely focused on advancing its Viscaria Copper Project in northern Sweden. Since then, it has updated the market with a significant volume of news. Much of it relates to the Viscaria project, but there's also been highly promising geophysical results from its Southern Finland Gold Project, along with news of the acquisition of the Bramaderos concession in Ecuador.
Related Avalon Minerals Limited (ASX:AVI) articles