Artemis Resources (ASX:ARV)
With the largest tenement holding in the Karratha region of WA, and a portfolio of gold, copper, zinc, and cobalt projects, Artemis Resources (ASX:ARV) is now well on track to achieve its ambition of starting metals production as soon as possible.
These ambitions are being aided by its recent acquisition of the fully approved and permitted Radio Hill Processing Plant, a 425,000 t.pa processing plant that is the hub to all ARV's projects and commodities.
ARV has six projects covering 938km 2 of tenure in the region.
Radio Hill is pivotal to ARV being able to hoover up as much mined ore from the local area as it can, as it looks to feed a handful of different metals into the processing facility which is expected to come back online very soon and without delay.
Along with the acquisition of radio Hill, ARV has been busy at its projects with news flowing heavier than a Melbourne weather event.
There has been significant news flow specifically regarding its Carlow Castle Project, Nickol River Gold Project and Whundo Copper-Zinc Project. In fact, drilling has already detected ample amounts of high-grade cobalt, copper and gold at its Carlow Castle Project.
These results put ARV on track to meet its goal of starting gold and copper production this year.
The information on this page should not be the only trigger for your investment decision. Click on the links below for a more in-depth and informed examination of the company. We strongly recommend you seek professional financial advice whenever making financial investment decisions.
The highly promising Carlow Castle Cobalt Project has recorded drilling grades over 1% cobalt, while ARV has a combined 110,000 ounces of gold Resources at Weerianna and Carlow Castle.
Furthermore, gold operations at the Nickol River Gold Project have now been commissioned and full mining operations are expected to commence in coming weeks. ARV's gold production is being fastracked courtesy of a 50.50 JV with C$94 million capped Novo Resources (TSX-V: NVO), a huge project developer in metals mining and a company with the backing of the $20 billion capped Newmont Mining Corp (NYSE:NEM).
With all this going on, there could be significant catalysts to look out for in the near term.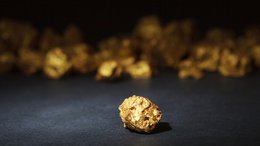 Hub & Spoke Model Keeps ARV Turning
Jun 13, 2017
It's been just a few months since our crosshairs first fell upon Artemis Resources (ASX: ARV). This $24 million-capped WA-based minerals developer has some big ambitions — to develop into a global multi-metals producer, able to ride out commodities cycles. It is already the largest tenement holder in the Karratha region, with a portfolio of gold, copper, zinc, and cobalt projects.
Related Artemis Resources (ASX:ARV) articles