Argent Minerals Ltd. (ASX:ARD)
One ASX company has set up camp at three base and precious metals projects in NSW as it accumulates some of the state's most prospective land.
Argent Minerals Ltd (ASX: ARD) is exploring in an area which plays host to multi-billion dollar deposits like $15.7 billion-capped Newcrest's Cadia Valley Operations – which produced 2.4 million ounces of gold in 2016, and has over 40+ million ounces remaining…
ARD recently completed its diamond drilling programme at the West Wyalong project in this highly prospective area and has budgeted to assay 70% of the diamond drilling samples, which covers six holes for 2,427 metres.
The upcoming results from these holes should provide significant clarity around the project's potential, but as companies typically usually only assay less than one-third of the drill core, assaying 70% of the core indicates ARD clearly likes what it sees.
Following a recent, heavily oversubscribed $2 million private placement, ARD also expanded its holding at its West Wyalong Project from 51% to 70%, where it has identified a substantial porphyry copper-gold target.
Yet, while it is buoyed by its West Wyalong gold play, it is also progressing well at its Kempfield project, where findings from its eight-hole diamond drilling campaign have been very positive.
The information on this page should not be the only trigger for your investment decision. Click on the links below for a more in-depth and informed examination of the company. We strongly recommend you seek professional financial advice whenever making financial investment decisions.
The drilling programme at Kempfield could well lead a JORC Resource update, a stated objective of the company.
The $12 million capped ARD now has the opportunity to follow up on all of its previous drilling results with more targeted campaigns, meaning greater news flow to come.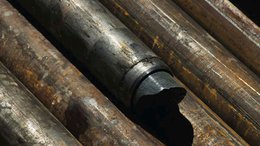 Pedal to the Metal: ARD Cashed up and Drilling Right Now
May 17, 2017
We get the feeling that good times are ahead for today's ASX explorer, which has set up camp at three base and precious metals projects in NSW. The company is accumulating some of the state's most prospective land, in a domain famous for the fact that it boasts Australia's first discovery of gold.
Related Argent Minerals Ltd. (ASX:ARD) articles